Local manufacturer Jolta has successfully launched its fully operational e-bikes in Pakistan. Jolta Electric Bikes Price in Pakistan 2021 is here. These E-Bikes are quite similar to normal bikes in Pakistan. It is offered in three variants – E70, E100, and E125. According to company officials, these e-bikes are highly cost-effective and are tailored specifically for Pakistani customers. All-new Jolta electric bikes are fuel-free, noiseless, smoke-free, and pollution-free with environmentally friendly because there is no mechanical engine.
These bikes will gain an amazing reputation which will help the company to increase its customer base all around the country as these bikes will cause less pollution as compared to the bikes working on petrol.
Jolta Electric Bikes Price in Pakistan 2021:
The price of these bikes in Pakistan ranges from 82500 PKR as it is an electric bike.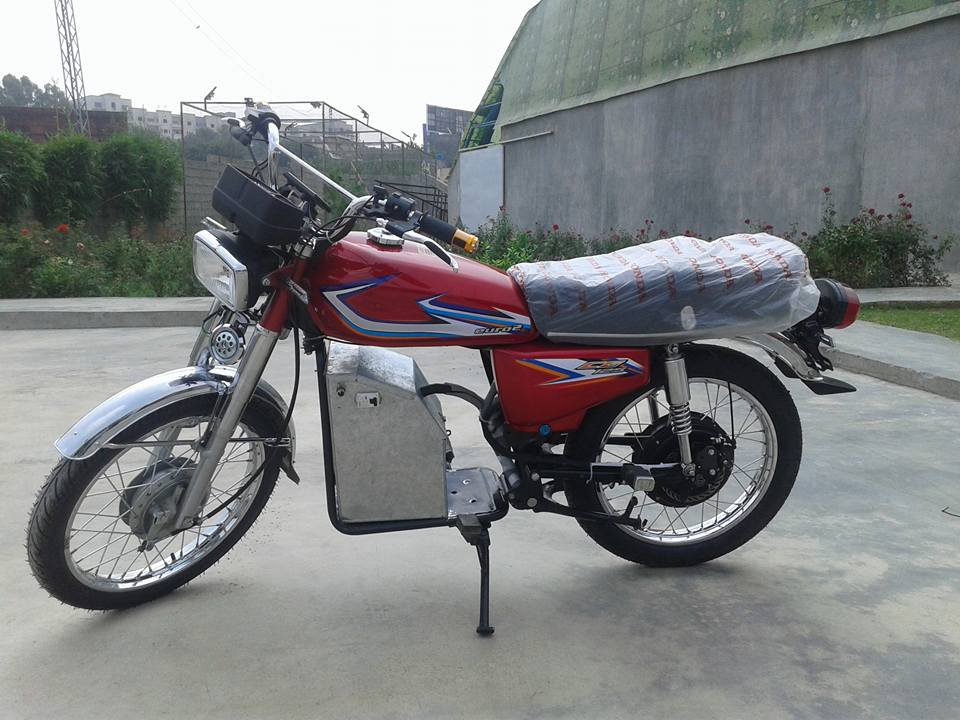 These e-bikes are equipped with motorized engines without any piston or fuel emissions. Jolta International is in fact in collaboration with Hong Kong-based company. Now the company plans to invest $10 million in Pakistan in two phases by setting up an assembly to produce e-cars and shuttle buses. Jolta E70 bike is offered with the expected price of 35,000 to Rs. 40,000.
Specifications of Jolta Electric Bikes:
The specifications of this bike are as follows:
| | | | |
| --- | --- | --- | --- |
| Specs | E70 | E100 | E125 |
| Motor | 48v, 1500W | 60v, 3000W | 72v, 5000W |
| Motor RPM | 550 | 720 | 800 |
| Max torque | 45 – 48Nm | 55- 60Nm | 75 – 80Nm |
| Max Power | 2HP | 4HP | 6.8HP |
| Motor Current | 1.2-1.4A | 1.5-1.8A | 2.2-4A |
| Charge Time | 5 Hours | 6 Hours | 7-8 Hours |
| Travel in Single Charge | 50KM | 70KM | 120KM |
| Top Speed | 50km/hour | 60km/hour | 80km/hour |
| Electricity cost for one charge | Rs 15 (1.7 units) | Rs 20 (2.5 units) | Rs 32 (4 units) |
| Starter | Self Starter | Self Starter | Self Starter |
| Final drive | Rear Wheel Hub Motor | Rear Wheel Hub Motor | Rear Wheel Hub Motor |
| Frame Type | Back Bone Type | Back Bone Type | Back Bone Type |
| Measurement | 1897x751x1040mm | 1897x751x1040mm | 1911x732x1016mm |
| Ground Clearance | 136mm | 136mm | 140mm |
| Seat Hight | 771mm | 771mm | 771mm |
| Wheel base | 1215mm | 1215mm | 1213mm |
| Tyre Front | 2.25-17(4 R) | 2.25-17(4 R) | 2.50-18 PR |
| Tyre Rear | 2.50-17(4 R) | 2.50-17(4 R) | 3.00-17.6 PR |
| Suspensions Front | Tele Scopic For 103 mm Travel | Tele Scopic For 103 mm Travel | Tele Scopic For 103 mm Travel |
| Suspensions Rear | N/A | N/A | Swing Arm 68mm Travel |
| Weight | 70kg | 72kg | 93kg |
These are all the specifications of this bike. Jolta Electric Bikes Price in Pakistan 2021