Honda presents its newest creation New Honda Pridor 2020 for setting new trend in motorcycles World. Honda Pridor Price in Pakistan New Model 2020 is available here. Atlas Honda a joint company of Honda Pakistan and Honda Japan group made this adventure bike for fans. They got a huge response on it look and awesome looking shape. The Honda 100CC is update of Honda CD 100 but hi layout like a Honda heavy bikes. This motorbike is the most excellent possible travel partner on all sorts of terrain journey. Honda Pridor newly designed front dashboard with twin panel paring the speed indicator and fuel gauge. The design is enhanced but still expect the same RPM display in the previous CD 100.
Honda Pridor Price in Pakistan New Model 2020:
The price of this bike in Pakistan is Rs 104,500 PKR.
Together with front dashboard, there is newly styled head light that is another impressive move replacing the old round designed front light with modern sporty one that compliments the overall appearance of the bike. The head light repeats the same crystal glass. bike Magnet covers changed with Black color so this make his engine look most attractive. New design winkers and back light with aerodynamic cowl also represents his design and shape. New carburetor, quick start system with stable acceleration and ignition starting mode.With the fuel storage capacity of 9.7 liters, you should just fill it once and keep on going for long distances without just thinking about it.The high strength and capability of the engine gives you a smooth drive over versatile terrains of bike. Honda Pridor price in Pakistan  mention but more features and details here given below.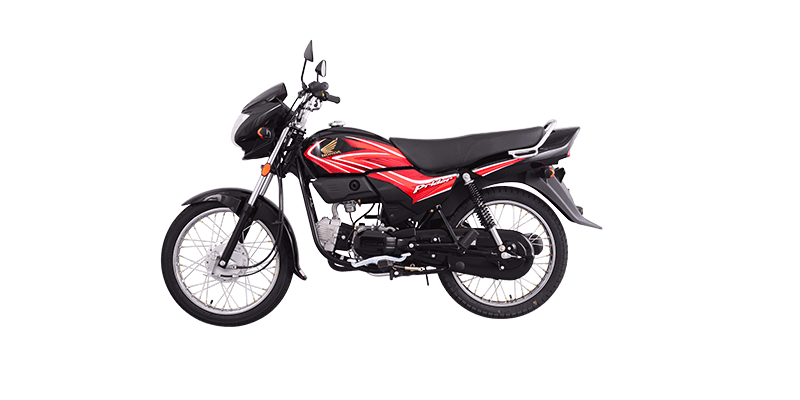 Honda Pridor New Model 2020 Features:
The features of this bike are as follows:
» Comfortable height and

relaxing

seat with seat bar
» Sleek design contoured fuel tank with garnished side covers
» Brightly lit new dashboard design

speedometer
» Stylish, bright headlight with visor
» New design winkers and back light with aerodynamic cowl
» New Black-painted

muffler exhaust

with garnish
» Modern value added design fuel cock
» New

carburetor

, immediate start with stable idling and optimum acceleration
These were all the features of this bike.
Honda Pridor 2020 Specifications:
The specifications of this bike are as follows:
Honda Motorcycle is the best match of the product of the country where people cycling for multiple purposes such as for commercial purposes or personal or family. But even partnership for multipurpose use your own, you sure you want to get rewarded with a higher resale value. This bike resale value very low so first think about this bike then done for buy. About Honda Pridor every feature shape and price list available if you wants to know any other information then write us in comments section below.