Honda CG 125 New Model 2019 Price in Pakistan = PKR 110,900/.
Honda CG 125 new model 2019 price specs & features details. Latest new model Honda CG 125 Euro-2 price in Pakistan specifications update features, new logo shape, look, colors, Technology changes check here from. Honda Motorcycles is result of the advanced Japanese technology which are best in quality, performance, speed, resale value and economy mileage and that's why Honda is the one of the best company and manufacturers in the world.
Honda has lunched the new model CG 125.You can see a little but importance change in the technology of this latest model of the powerful bike which comes from of the uniqueness of the Euro-2 technology. It is the development and addition of new cutting-edge technology that makes a motorbike or some other automobile take lead.
The latest power 4 stroke engine gives fuel economy. Its engine generates 11 horse powers with low fuel consumption. Its Mileage average is also very good which is45 km/L and dry weight is 99 kg. Honda CG 125 also tachometer with fuel gauge which tells how amount of fuel is remaining which help the riders to refill the fuel before the tank get empty.
Honda CG 125 Euro-2 New Shape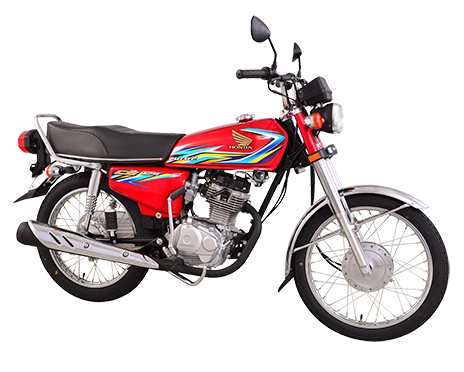 Latest Model Honda CG 125 2019 Shape, Feature

Honda CG 125 New Model 2019 Price in Pakistan Specs & Features Details

It has heavy duty front 130 mm drum brakes with non asbestos brake shoes, stylish contoured seat for better riding position. Honda CG 125 has great elastic shocks which remove the vibration of the bad roads. Honda CG 125 is their first ever bike launched with 5 gear power technology in Pakistan.
Honda CG 125 is the most popular bike in all over the Pakistan. About 41%of the total bikes in the Pakistan are the Honda's bike. The general details of the Honda CG 125 are,
Comfortable Seat with Rear Grip,
New Beautiful Petrol Tank with Graphics,
Strong 4-Stroke Smoke less Engine,
Stylish Speedometer with Economy Zone,
Elegant Front Light,
New Shape for Back Light.
New Model available with 3 Year warranty.
More information about Honda CG 125 New Model 2019:

   The headlights are brighter than those found in the preceding versions. The motorcycle has a 12 volt battery instead of 6 volts to meet its increased power demands. The superb ignition and braking systems make CG 125 one of the best bikes available in the auto market of Pakistan. Both the wheels (front and back) have been provided with a suspension system in order to keep the bumps and jolts away and make the riding an ever pleasing experience. The multiple wet-plate clutch system and smooth gear box together add many positive points to the overall efficiency and value of this modern bike.
Honda CG 125 New Model 2019 Specs
   Engine:                                    4-stroke OH V air-cooled
   Displacement:                      125cc
   Bore & Stroke:                      5 x 49.5 mm
   Starting:                                   Kick Starter
   Overall Length:                    1964mm
   Overall Width:                      747mm
   Overall Height:                    1044mm
   Petrol Capacity:                    12 liters
   Wheel Base:                         1197 mm
   Tyre at Back:                         0 -17 6 PR
   Tyre at Front:                        50 -18 4 PR
   Transmission:                       4-speed constant mesh
   Ground Clearance:              135m
   Dry Weight:                            99 KG
   Suspension at front:           Telescopic Fork 103 mm travel
   Suspension at back:            Swing is 68 mm travel
   Final Drive:                              Roller Chain
   Colors:                                     Red and Black
   Fuel Efficiency:                     45+KM/1L
Honda CG 125 New Model 2019 Price in Pakistan = PKR 110,900/.