Are you not satisfied with the performance and power of previous models of Fiat tractors? If your answer is yes, then just take a review of the Fiat Tractor 640 specifications. Along with the specs and features you are also getting the Fiat Tractor 640 Price in Pakistan with pictures. you can get Fiat Tractor 640 Price in Pakistan Specification details. This is the latest invention of New Holland Fiat tractor manufacturers which are now also available in Pakistan for sale. This influential set of techniques will hopefully meet your requirements and will also be within your budget range. But driver. pk always suggests you first read out the features and specs before buying any product.
Fiat Tractor 640 Price in Pakistan 2023
Fiat Tractor Manufacturing has been closed by the company as well the old price is mentioned below. Moreover, this is not the latest but if they continue in the future then we will share them on this page.
| | |
| --- | --- |
| NH 640 Special (Discontinued in Dec-2020) | PKR. 1,472,100 |
| NH 640 Special with Disc Brake (Discontinued in 2020) | PKR. 2,746,000 |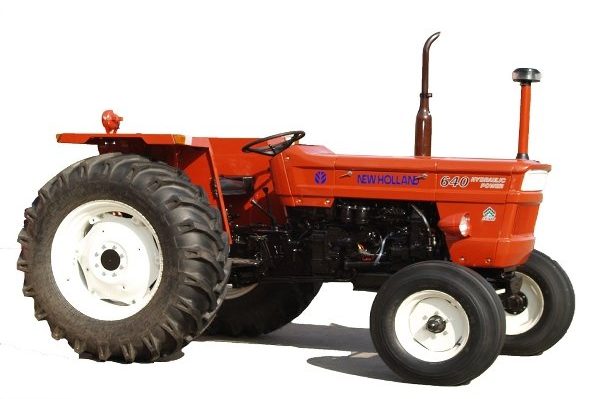 Fiat Tractor 640 Looks and Performance:
As we all know that such types of vehicles are being manufactured for just the tenacity of their work. So the company gives less attention to its looks but the engineers give full attention to its performance. This formal-looking Fiat 640 tractor has two 16.0/14-30 rear types and 7.50 – 16 front tires with an inverted U section telescopic front axle which gives it an aggressive look. The Fiat 8045.05 flywheel 85HP diesel engine can produce a maximum torque of 1600 rpm @29.70KG. Moreover, the performance of the NH 640 tractor is very powerful and amazing with the adjustmentable size. For its engine details, specs and price just scroll down this page and read out the entire article which is just about the Fiat Tractor 640 Price in Pakistan.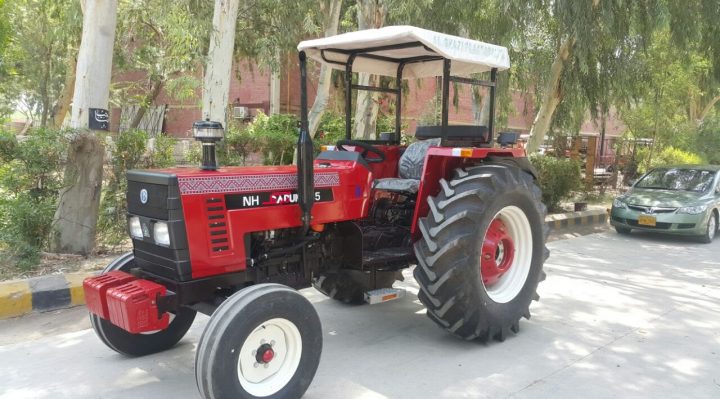 Fiat Tractor 640 Price in Pakistan= 1081500
Key Features of Fiat 640 Tractor
At Flywheel 85HP Engine
4 Stroke Direct Injection Fuel
Manual Transmission
Hydraulic Pump System
Diesel Fuel Type
Telescopic Front Axle
Bout Board Drum Brakes
Stabilizer Chain
Manual Steering
Tachometer With Fuel Levels
The driver Seat is Adjustable
Electrical Power System
LED Head Lamps
Power Take-Off
Fiat Tractor 640 Specifications:
ENGINE POWER:
Flywheel 85 HP
Fiat Tractor 640 ENGINE:
Fiat 8045.05
4 – Stroke, Direct Injection Diesel.
Number of Cylinders: 4
Bore and Stroke: 104 x 115 mm
Piston Displacement: 0,908 cm.
Flyweight-type dynamic balancer.
Compression Ratio: 17:1
Max. Power at 2,600 Rpm: 85HP
Max. Torque at 1,600 Rpm: 29.70 Kgm
Dry-type Cylinder Liners.
Cooling System: Water
Four-row, steel tube, and fin radiator force-feed lubricated system.
Two power outlets for the hydraulic pump on the timing cover.
Distributor-type injection pump with a mechanical or hydraulic speed governor.
Five-bearing crankshaft.
12 V Starting System.
400 Watt Alternator
110/120 Ah battery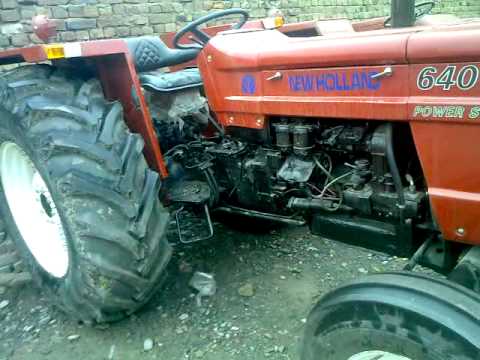 Fiat Tractor 640 FILTERS: 
1) Air Filter: Oil bath with pre-cleaner and automatic dust unloader;
2) Fuel Filter: 2 replaceable cartridges;
3) Oil Filter: Easy-to-change, full-flow cartridge.
Exhaust muffler: Vertical
The capacity of the fuel tank:  54 Liters
Fiat Tractor 640 CLUTCH:
Dual Plate, dry type with separate controls.
Plate facing of an asbestos compound.
Diameter of plates: 11in
Fiat Tractor 640 TRANSMISSION:
Gearbox with constant-mesh gears: 8 forward and 2 reverse speeds.
Synchromesh on 3rd, 4th, 7th, and 8th speeds.
Double control lever
Differential with pedal actuated lock and automatic disconnection.
Spur gear final drives.
Gearbox-mounted starter Safety Switch.
Fiat Tractor 640 BRAKES: 
Service: Dry, band-type, mechanically operated.
Parking: Manual lever on the right side of the operator.
STEERING: 
Hydro Static with Independent Circuit, Minimum turning radius:
– with brakes: 3,400 mm
– without brakes: 3,700mm
DRIVER'S SEAT:
Fully upholstered, with parallelogram suspension; adjustable.
Fiat Tractor 640 HYDRAULIC LIFT:
Gear-type pump driven from the engine crankshaft.
Pump capacity (at 2,400 engine rpm): 26.7 liter/min.
Relief valve opening pressure: 190 kg/sq.cm.
Response control
3 – Point linkage cat. 1 – 2
Sway chains and lower link retaining spring
Max. Lifting capacity: 2150 kg
Now, you gather Fiat Tractor 640 Price in Pakistan 2023 as well the complete information regarding specifications and features of this tractor is mentioned before buy people can take.