Pakistan is the developing country and most of our population has the low income. In all over the Pakistan the people want that they have the vehicle of 4 wheels. The fuel pricing are also increasing in Pakistan. So the people are looking that car which can save their amount. Suzuki Mehran is the best choice for them.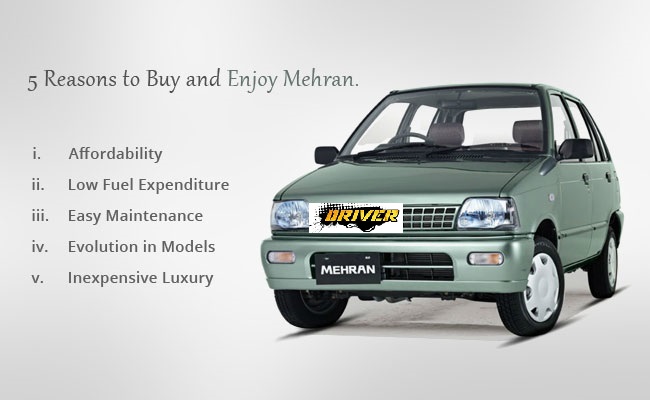 Top  reasons to buy Suzuki Mehran Car
Affordability:
Affordability is the main factor for popularity of Suzuki Mehran. A person with limited and fixed salary can't afford the Honda and Toyota cars because of high prices. Suzuki Mehran is best for him because it is affordable in prices and fuel consumption.
Low Fuel Cost:
Suzuki Mehran is a fuel efficient and economic car for the average car users. With the advanced technology now Suzuki Mehran is more fuel efficient. It carries the whole family on the cost of the two wheel bike.
Availability of Spare Parts:
The Suzuki Mehran is popular all over the Pakistan. So the spare parts of Mehran are available all over the Pakistan. The prices of the spare parts are also at low cost as compared to other cars.
Easy Maintenance:
Due to small size and light body structure, the maintenance of this car is easy. As spare parts are not so expensive also the service of this car mechanics are available at low and reasonable rates.
Evolution in Models:
Due to modern and advance technology the features are updated in Mehran. The latest model in the market is far better than its predecessors.
Inexpensive Luxury:
Suzuki Mehran is not so luxury like the other expensive models but comfortable seats, easy to drive superb air conditioning has made it one of most appealing yet cheapest luxury vehicle in Pakistan.