Toyota Corolla is a popular front engine front wheel drive system subcompact sedan. New Toyota Corolla is comprises of 3 engines, 4 transmissions options. It is offered in four variants – XLi, GLi, Altis and Altis Grande. Toyota Corolla 2018 comes with stylish features with premium design language. It gets the impressive shape narrow side swept headlights, a large grille with a chrome accent and a trapezium air intake. Toyota Corolla has high-end look with a large rear bumper, sharp side swept taillights and a chrome trim piece running the length of the trunk in the rear side.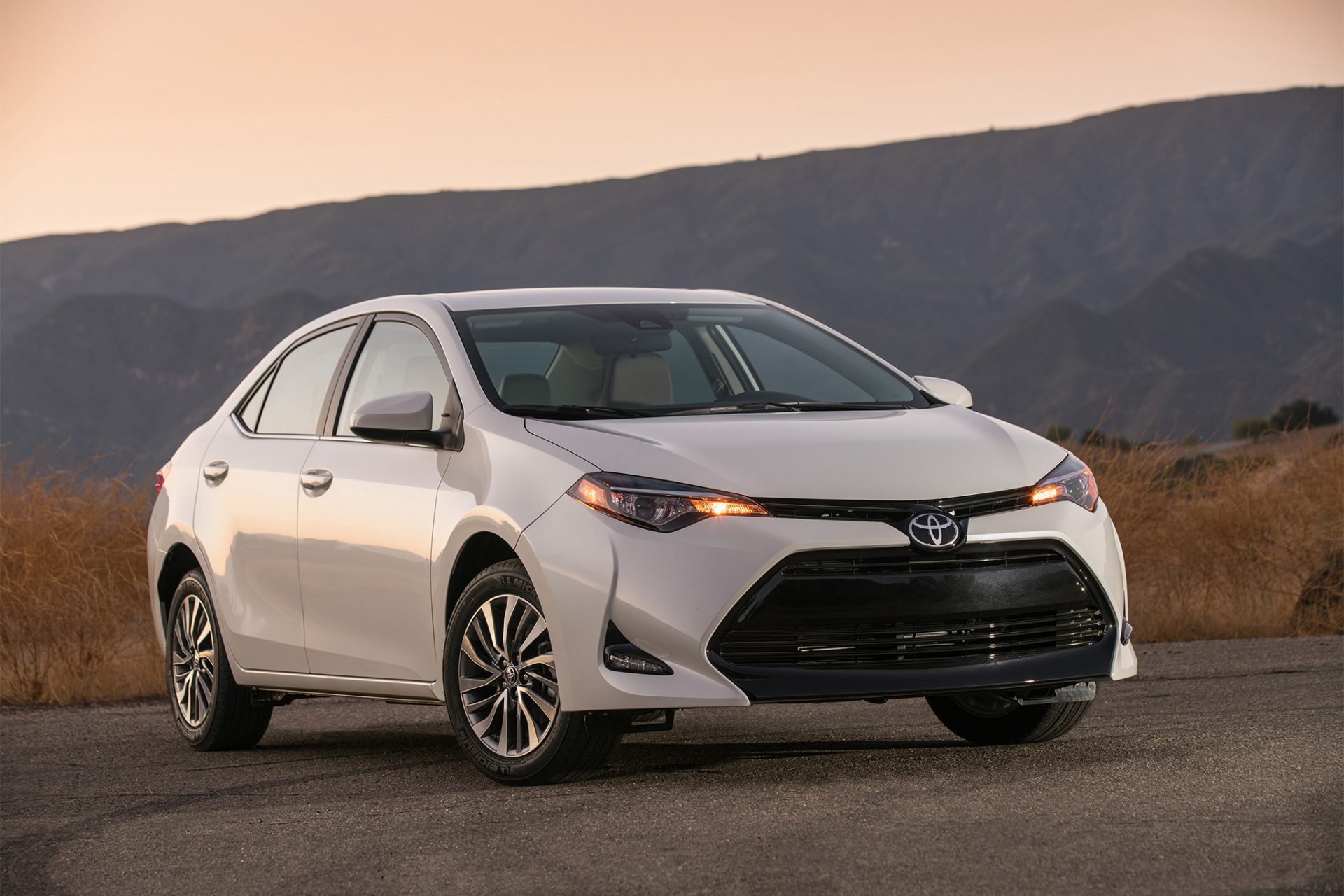 Toyota Corolla 2018 model is the combination of black and beige plastic trim pieces in interior. It is fully loaded with safety and comfort features with revised styling. The car provides the 2+3 seating configurations. There is also a satellite navigation, leather upholstery and multifunction steering wheel. Toyota Corolla XLi variant has air conditioning, a tachometer, power lock doors and power steering whereas the GLi variant gets the power windows and DVD input on the stereo speaker system. Toyota Corolla Altis comes with driver airbag, leather upholstery as standard and front fog lights while the Altis Grande variant has two airbags, sunroof and satellite navigation as standard.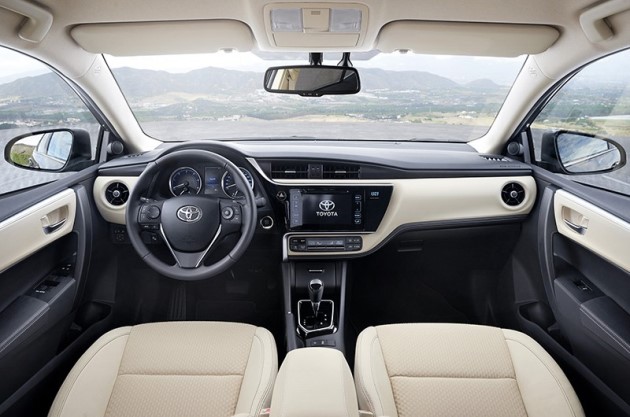 Toyota Corolla Xli and GLi variants are equipped with 1.3 Liter DOHC 16 Valve VVT-I engine, paired to five-speed Manual Transmission while the GLi variant has Super ECT Automatic Transmission. Toyota Corolla Altis has 1.6 Liter DOHC 16 Valve Dual VVT-I engine, mated to four-speed super ECT Automatic Transmission. However, the Altis Grande variant is powered with seven-speed Super CVTi Automatic Transmission. Toyota Corolla gives the mileage average of 12kmpl to 14kmpl.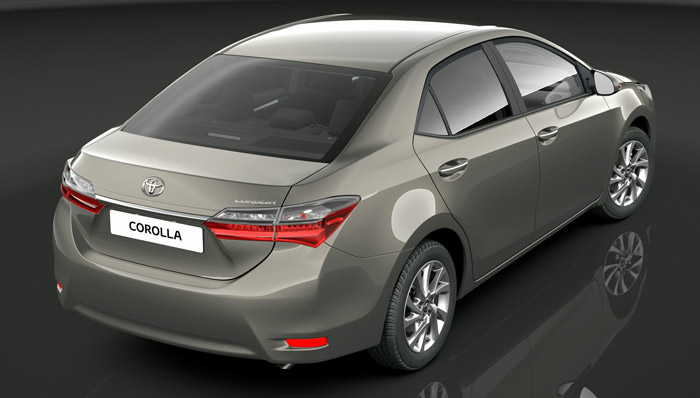 Features of Toyota Corolla
Toota Corolla Xli 2018:
Intelligent Aerodynamic Design
Immobilizer
Central Locking
Front Fog lights
Steering Adjustment
Integrated Hands-Free Telephony Technology
Auto Controls Steering
Eight Speaker With Bluetooth
USB & MP3 Connectivity
Four Power Outlets for Front
Rear Powered Seats
Cruise Control and Sun-Roof
Automated Air Conditioning System
Chrome Finished Agronomical AC Knobs
Fuel Consumption Meter and Warning
Anti-Lock Breaking System
Toyota Corolla GLi 2018:
Intelligent Aerodynamic Design
Immobilizer
Central Locking
Front Fog lights
Steering Adjustment
Integrated Hands-Free Telephony Technology
Auto Controls Steering
Eight Speaker With Bluetooth
USB & MP3 Connectivity
Four Power Outlets for Front
Rear Powered Seats
Cruise Control and Sun-Roof
Automated Air Conditioning System
Chrome Finished Agronomical AC Knobs
Fuel Consumption Meter and Warning
Anti-Lock Breaking System
Tubeless Tyres
AM/ FM Radio
Power Socket
Power Door locks
Rear Reading light
Cup Holders
Alloy Wheels
CD Player
Defogger (Rear)
DVD Player
Air Conditioner
Alloy Wheels
Anti-Lock Braking System
Immobilizer
Power Door Locks
Power Steering
Power Windows
Keyless Entry
Toyota Corolla 2018 Altis Grande:
Anti Lock Braking System:
Tubeless Tyres
AM/ FM Radio
Power Socket
Power Door locks
Rear Reading light
Cup Holders
Alloy Wheels
Air conditioner
Power Windows
CD Player
Driver Air Bag
Power Steering
Leather Seats
Toyota Corolla 2018 Specifications:
Variants
Engine & Transmission
Xli & GLi
1.3 Liter DOHC 16 Valve VVT-I

Transmission: 5 speed Manual or 4 Speed Super ECT Automatic

Altis
1.6 Liter DOHC 16 Valve Dual VVT-I

Transmission: 4 Speed Super ECT Automatic

Altis Grande
1.8 Liter DOHC 16 Valve Dual VVT-I

Transmission: 6 Speed M/T or 7 speed Super CVTi A/T
Dimensions
| | |
| --- | --- |
| Length | 4620 mm |
| Width | 1775 mm |
| Height | 1460 mm |
| Wight | 1210 kg |
| Seating Capacity | 5 Persons |
| No of Cylinders | 4 |
STEERING
| | |
| --- | --- |
| Minimum Turning Radius | 5.4 m |
| Steering Type | Rack & Pinion with Electronic Motor |
FUEL ECONOMY
| | |
| --- | --- |
| Mileage City | 12 KM/LITER |
| Mileage Highway | 16 KM/LITER |
Wheels and Tyres
| | |
| --- | --- |
| Tyres | 195/65/R15 |
| Wheel Size | 15 in |
| Wheel Type | Steel Rims with Wheels Caps |
Suspensions
| | |
| --- | --- |
| Suspension | Front: Macpherson Strut, Rear: Torsion Beam |
New Toyota Corolla 2018 Model Price in Pakistan
| | |
| --- | --- |
| Trim Levels | Prices |
| Toyota Corolla XLi VVTi | PKR 1,729,000 |
| Toyota Corolla GLi VVTi | PKR 1,859,000 |
| Toyota Corolla GLi VVTi Automatic | PKR 1,934,000 |
| Toyota Corolla Altis 1.6L | PKR 1,949,000 |
| Toyota Corolla Altis 1.8 | PKR 2,024,000 |
| Toyota Corolla Altis 1.8 Automatic | PKR 2,149,000 |
| Toyota Corolla Altis 1.8 Grande | PKR 2,149,000 |
| Toyota Corolla Altis 1.8 Grande Automatic | PKR 2,299,000 |