Super power is producing quality bikes from several years. Super Power SP 125 price in Pakistan 2020 latest new model features specifications detail shape pics are here. Super power SP-125 is the new model in SP range. It is one of those models that are modified to newest time technologies. It is assuming one of the best bikes that Pirani Group of companies has introduced in the market. The company has held its head high in dealing for two-wheelers and three-wheelers and Super power SP-125 being the newest model in two wheelers.
Super Power SP 125 Price in Pakistan 2020:
The price of this bike in Pakistan is 75,000 PKR the quality will be just average as it is a China bike but you will be able to use all features of 125cc engine.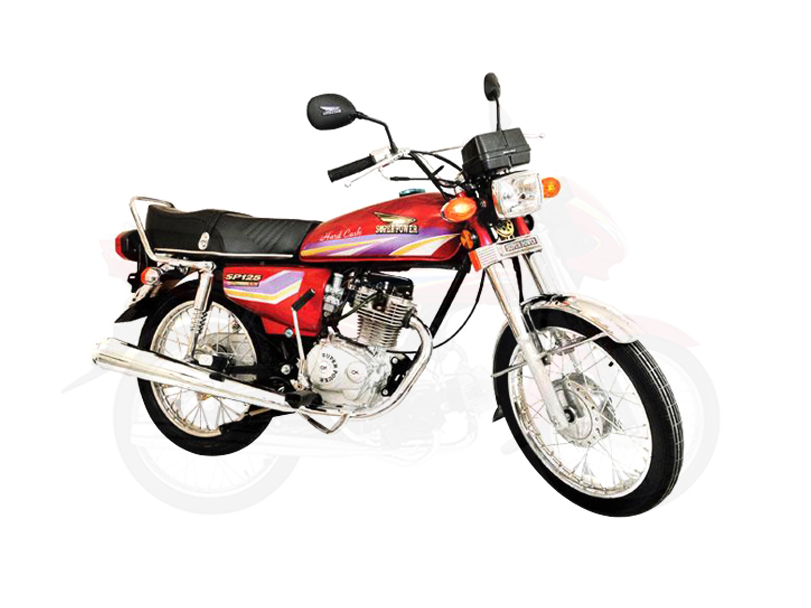 Super Power SP 125 Specifications and Features:
With an economical price in the market Super power SP-125 has following specifications that make it the best among other bikes.
Engine of bike is Single Cylinder and4 Stroke technologies that are accompanied wit hair-cooling property. The model of engine is SP-125.
Bore-Stroke of the bike is 56.5 x 49.5 (mm)
Piston Displacement of bike that makes up for another good feature is 124 cc
Compression Ratio of the bike is best being 9:1
Maximum Power that the bike takes is 8.0/8500(kw/r/min)
Transmission System in the bike is Chain Drive.
Ignition Type that makes it super good and classy is C.D.I
Starter System is not much modified and is Kick starter.
Total L x W x H of the bike is 2045x680x1120
Ground Clearance of the bike is 175
Dry Weight of bike is 120 KG which makes it a heavy bike but also perfect for the people who are not used to drive heavy bikes.
Brakes on Front/Rear both are Drum
Tire size of Front is 2.75- 18
Tire size of Rear is 3.25- 18
Fuel Tank Capacity (L) 12
Engine Oil Capacity is 1.1 L which is lesser than many other bikes making it economical for people.
Load Capacity that the bike an bear easily is 150 KG making it the best one for the people.
Speed on which the bike drives is 90 KM
Battery of 12 Volts is used in the bike.
With the better performance and reliability the bike Super power SP-125 is the one that is getting ahead of technology. The Italian technology merger has really made this bike a phenomenal one and the inspiration for many other bike companies to bring in market something more like it. The maximized torque and international standard quality is what sets Pirani bikes apart and make them the leaders of two-wheelers that are the bikes. The older version of bikes has been wonders of their time and Super power SP-125 is the new innovation.
Super Power SP 125 Price in Pakistan 2020 latest model with features specification detail new shape mileage fuel efficiency information is available here. If you have any superb idea for SP 125 new model then must share in comments section below.