Road Prince motorbike manufacturers are now assembling loader rickshaws for cargo services. Road Prince Loader 150cc Price In Pakistan 2023 is mentioned here. The company has not introduced the Road Prince loader 150cc rickshaw in Pakistani automobile markets. This is a 4-stroke manual gear with an extra feature of a hand brake loader. It has a wider cargo trolley that has a 1000kg maximum loading capacity. Its 150cc powerful engine generates maximum power towing which was a need for loading vehicles. Road Prince 150cc loader rickshaw is one of the best products for those people who are doing business for transportation as well as the engine location is below the seat of the driver. Through the way of this post, you are getting this Road Prince Loader 150cc Price In Pakistan with features and specifications.
Road Prince 150cc Loader Rickshaw Price in Pakistan 2023
The new model of road prince loader rickshaw 150cc is now available on outlets for sale. You can buy it in the price range of Rs. 255, 000/-
| | |
| --- | --- |
| Road Prince Loader 150cc | Rs. 255, 000/- |
This is a muscular-looking open-roof three-wheeler 2 x 1 with two back wheels that drive a rickshaw. Such vehicles are produced with their purpose instead of their looks. Although it provides a maximum cargo or loading capacity still it can be easily run in the narrow streets of towns. Hand acceleration, hand clutch with front hand brake, and rear foot brake make it easy to manage on tattered roads. Moreover, the shocks are powerful and sustainable as they can bear the stretch and flexibility in risky jumps and pits. Well, if we talk about its fuel consumption then we have a very efficient vehicle with 30KM per liter mileage. Further prices and specifications of Road Prince loader 150cc rickshaw are given below to this passage.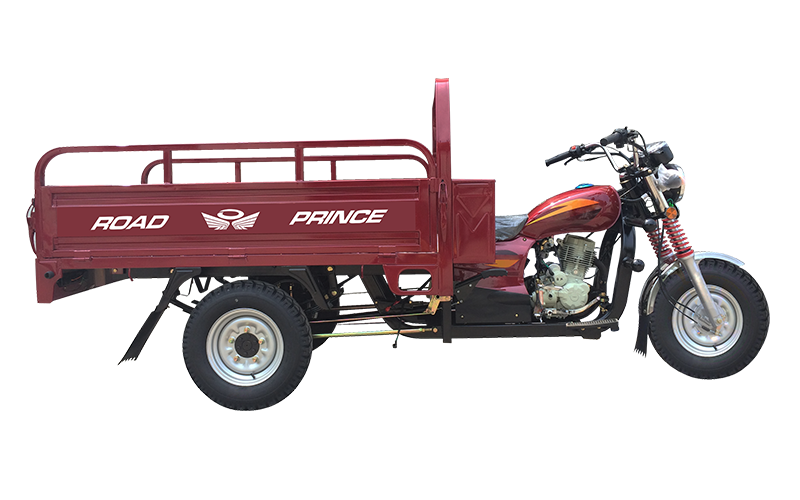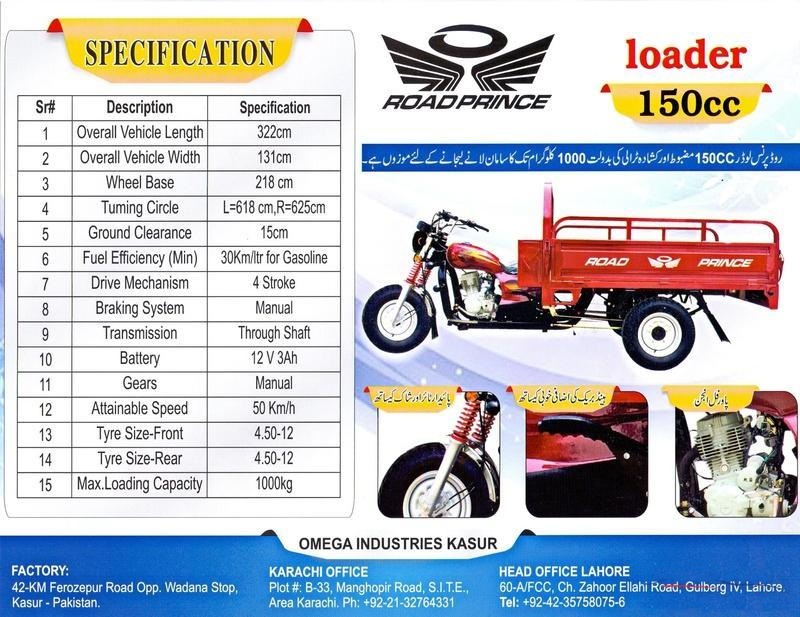 Check all the specifications of this loader here before buying it.
Specifications
| | |
| --- | --- |
| Overall Vehicle Length | 322cm |
| Overall Vehicle Width | 131cm |
| Wheel Base | 218 cm |
| Turning Circle | L=618 cm,R=625cm |
| Ground Clearance | 15cm |
| Fuel Efficiency (Min) | 30Km/Itr for Gasoline |
| Drive Mechanism | 4 Stroke |
| Braking System | Manual |
| Transmission | Through Shaft |
| Battery | 12 V 3Ah |
| Gears | Manual |
| Attainable Speed | 50 Km/h |
| Tyre Size-Front | 4.50-12 |
| Tyre Size-Rear | 4.50-12 |
| Max.Loading Capacity | 1000kg |
As Road Prince Loader 150cc Price In Pakistan 2023 is quite high but it is also one of the best leaders in the country. The majority of people are using loaders in the space of heavy vehicles because if we talk about the size so this is small but we can load goods too much as compared to other loaders.