HINO FG8J Truck & Prime Movers are truck manufactured by the Hinopak Motors Limited formed in 1985. Hinopak Motors manufactures and markets Hino diesel truck and buses in Pakistan. Hinopak has gained 70% market share making it the largest manufacturer in medium and heavy duty truck and bus industry in Pakistan.
HINO FG8J Truck & Prime Movers is power with Hino J08E-UG (EURO II) Diesel, 4-stroke, 6-cylinder, vertical, in-line, overhead cam with 24 valves, direct injection, turbo charged and intercooler, water cooled. This truck has bendable, energy absorbing steering wheel and collapsible steering column which helps for the better drive.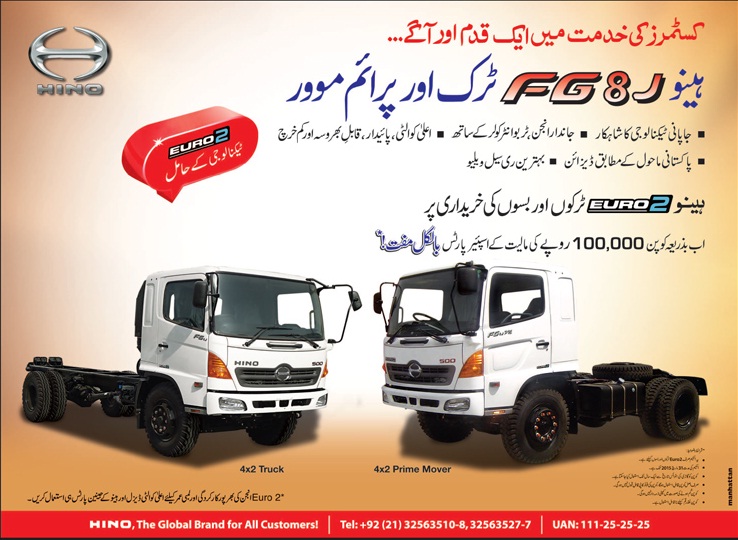 HINO FG8J Truck & Prime Movers Load Capacity Features Pictures
HINO FG8J Truck & Prime Movers new larger air intake duct and water separator reduces air intake resistance and water intake to improve fuel efficiency and engine life. Driver seat can be adjusted forward/backward, left or right side. It gives the most comfortable driving position. Highly rigid door impact beams on both driver and passenger side; helps prevent bending of door frame in an accident, protecting those on board facilitating exit.
Specifications of HINO FG8J Truck & Prime Movers:
Engine
Model
Type

Max. output
Max. torque
Displacement


Hino J08E-UG (EURO II) Diesel,
4-stroke, 6-cylinder, vertical,
in-line , overhead cam with 24
valves, direct injection, turbo charged and
intercooler, water cooled.
235 PS (231 HP) @ 2, 500 rpm
72.0 Kgf.m @ 1,500 rpm
7684 cc

| | |
| --- | --- |
| Drive |  4X2 |
| Control |  Forward |
| Max. speed(km/h) |  93 |
| Max. Gradeability (Tan ?) % @ 35 tons GCW |  17.4 % |
| | |
| Transmission Gear Ratios | mf065 |
| | Ratios |
| 1st | 8.189 |
| 2nd | 5.340 |
| 3rd | 3.076 |
| 4th | 1.936 |
| 5th | 1.341 |
| 6th. | 1.00 |
| Rev. | 7.142 |
| Rear axle ratio SH17 | 5.857 |

DIMENSIONS AND WEIGHTS (Chassis only) approx.

Wheelbase (WB)
mm
3,200
Weight
Total
kg
4,945
Front
kg
2,890
Rear
kg
2,055
Max. Load on 5th Wheel at

500mm offset

kg
9,000
Overall Length
mm
5,315
Overall Width
mm
2,445
Overall Height
mm
2,630
Turning Radius
On tire
mm
5,836
Overhang
Front
mm
1,235
Rear
mm
880
Road Clearance
mm
255