Eagle company is well known for bikes. Eagle Fire Bolt Euro II price in Pakistan 2020 specs & mileage details are available here. Eagle Fire Bolt 70cc bike price in Pakistan specifications latest model features with new look also check here from colors fuel average measurements. Eagle Fire Bolt price in Pakistan of model also in reasonable range so this year their riders also get their motorcycles in any conditions. Eagle Fire Bolt ES 70 is the latest gossip in the world of bikers.
Eagle Fire Bolt Euro II Price in Pakistan 2020:
The price of this bike in Pakistan is 44,000 PKR. This is the best range of price for this kind of bikes.
The bike has now been introduced to stun the world with its dynamic performance and stylish appearance. The design of the bike is strengthened by a durable steel metal frame. The bike has a displacement of 78cc. its efficient front and rear drum brakes that stop the vehicle without a jolt. The front brake 2.25-17-4PR has an air pressure equal to 26 lbs per square inch and on the other hand the rear brake 2.50-17-4PR maintains an air pressure of 32 lbs per square inch.
Eagle Fire Bolt 70cc fuel tank capacity is 10.5 liters. You can easily travel 700 kilometers or more than distance. A digital speedometer updates you about your current speed. You can find out the time at a single glance therefore a digital clock is also available in this bike. Eagle Fire Bolt 70cc is available in red black and blue color giving a beautiful look to the bike.
Its ground clearance equal to 135mm with the wheel base being 1210 mm the bike provides sufficient road grip. The bike weight is 82 kg and it measures 1885 x 760 x 990 mm with a convenient seat height of 760 mm. its mileage average is almost 85 kilometer per liter.Eagle Fire Bolt Euro II Price in Pakistan Latest Models Shape Pics New Latest Features, latest changes in seat, meter, light, tyre, head, engine, all things of new bike details check now.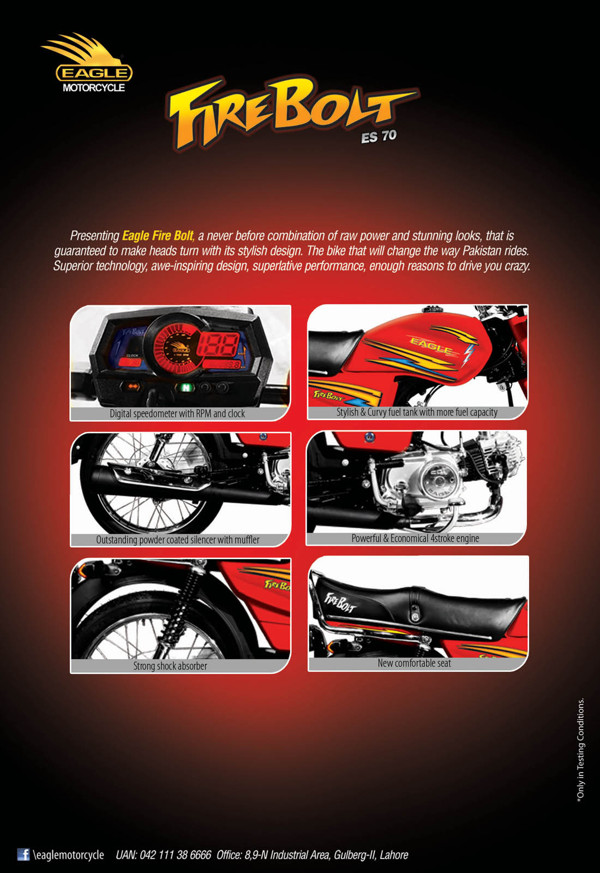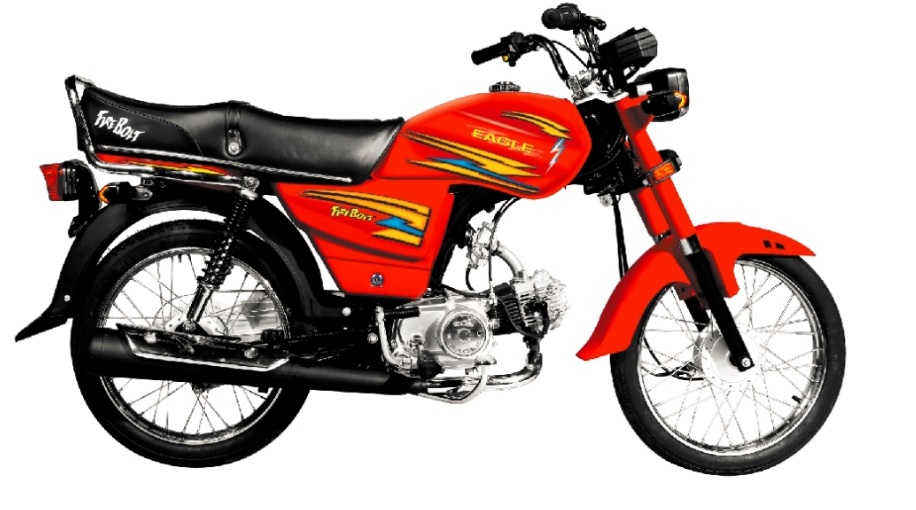 Eagle Fire Bolt Euro II Price in Pakistan 2020 Latest Models Shape Pics
Eagle Fire Bolt 70cc Bike Specifications:
The specifications of this bike are as follows for ease of users tending to buy this bike.
Engine:                                   4 stroke single cylinder over head cam air cooled
Displacement:                        78cc
Compression ratio:                9.1:1
Max. Horse Power:                7.0 PS 6500rpm (5.3 KW)
Max. Torque:                         5.4 n.m 6500 rpm (0.55 kgm)
Transmission:                         4 speed constant mesh, (N-1-2-3-4)
Lubrication:                            Pressure and Splash
Clutch Type:                           Wet multi plate, left had operated
Engine capacity:                    0.8 liter (20W40 Grade)
Starting:                                 Kick start
Overall Length:                      1885 mm
Overall Width:                       760 mm
Overall Height:                      990 mm
Wheel base:                           1210 mm
Seat height:                            760 mm
Ground Clearance:                135 mm
Net weight:                            82 kg
Petrol capacity:                     10.5 liters
Front Brake:                           Drum
Rear Brake:                             Drum
Battery:                                  12V, 2.5Ah
Head light:                             12V, 35/35W
Make sure to check Latest model Eagle Fire Bolt Euro II price in Pakistan 2020 specifications and new features details here from with their new launched colors scheme, mileage and fuel average details and availability in market before going to any dealer. If you need any other query then write us in comments section below.