Crown is working in Pakistan for many years. Crown CRLF Spoke Wheel 70 Bike Price in Pakistan 2020 specs feature complete detail is here. Crown CRLF Spoke Wheel 70 Bike Price in Pakistan Review Pics. Crown CRLF motor motor company is well known and bestselling brand in Pakistan they are launch new model of their CDI 70cc in market. Crown Lifan is a manufacturer of motorcycle and CNG rickshaw parts as well as producer of motorcycles. This bike is one of their classy styles upgraded so that the lay men can enjoy them and have a way of their life made easy with their very own conveyance problem sorted out. The design of the motorcycle is very beautiful and descent. To its attractive graphics a perfect artistic touch is given.
Crown CRLF Spoke Wheel 70 Bike Price in Pakistan 2020:
The price of this bike was 47,500 when it was newly launched but now the company has stopped making this model but if you still wish to buy this model you can buy it in used condition at comparatively less price from different online buying and selling sites.
The feature that best suites the long rides is that seat is also very comfortable with a back crawl. The perfect aerodynamic shape of the bike comes up to the expectations of the modern day youth and that is why it has become a first choice bike for them. Its petrol is 10 L it will never stop on the way to your longest of the journeys and its mileage average is almost 60 km/L. Its dry weight is almost 82 kg and the displacement of the bike is 70cc. It is available in two colors red and black. It will take time to make the company popular and trustworthy among the bike riders in Pakistan because the bike is new in the market.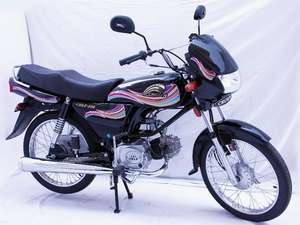 Crown CRLF Spoke Wheel Front Shape Light View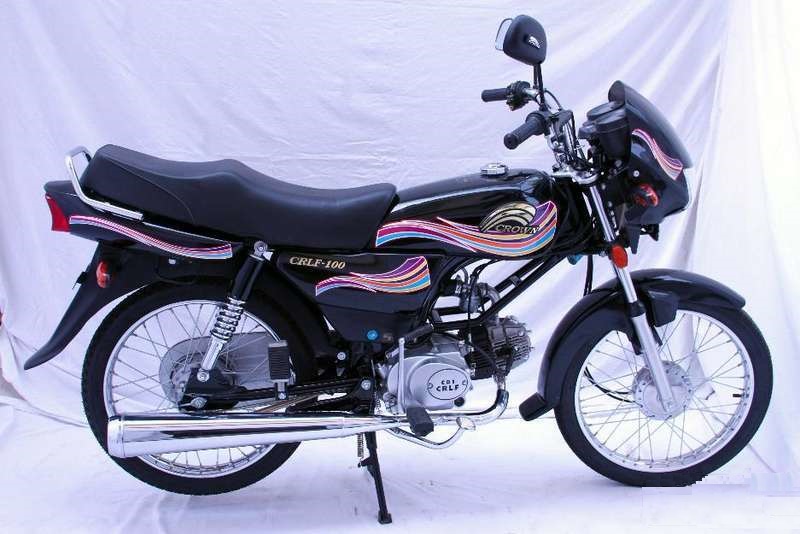 Crown CRLF Spoke Wheel Logo, Shape, Color Look
Crown CRLF Spoke Wheel 70cc Bike Specifications:
The specifications of this bike are as follows:
Engine: 4 Stroke Air cooled Single Cylinder OHV
Bore & Stroke: 0mm x 41.4mm
Clutch: Wet Multi Plate Type
Starting: Self Start
Overall Length: 1900mm
Overall Width: 760mm
Overall Height: 995mm
Petrol Capacity: 10L
Tyre at Back: 5-17 4PR
Tyre at Front: 25-17 4PR
Displacement: 72cc
Compression Ratio: 8:1
Transmission: 4 speed
Frame: Backbone Type
Ground Clearance: 144mm
Dry Weight: 82Kg
Crown CRLF Spoke Wheel Latest model 2020 price is mentioned above in Pakistan with features specifications, fuel average, mileage details, fuel tank capacity, logo shape color look details with engine measurements check here from. If you need any other related information then write us in comments selection below.