Pak Hero Company is the newest company yet in the market. Pak Hero Bikes Prices in Pakistan 2021 of all types with specifications and details are available here. The company has produced and launched one motorcycle so far which is 70cc. it is expected that like other companies they will be releasing other bikes since the bike that they have released that is model Pak Hero PK 70 is going very well in the market. People are really getting to try this bike for their use. The bike has special settings and features like other companies' bikes and they are quite liked by everyone. All those people who are looking for a bike that delivers at the fewer price rates should really consider getting the Pak hero 70cc bike.
Pak Hero Bikes Prices in Pakistan 2021:
| | |
| --- | --- |
| Pak Hero Bikes Prices | PKR  38000 Thousand |
The specifications of this bike are mentioned below. Like other bike companies, it has the same features but the quality of this bike is much better as we know that quality matters a lot.
Model
Specifications
Price
Pak Hero PK 70
70 KM with 1 liter
45,000PKR
9 liters
4stroke OHC single cylinder
4-speed permanent mesh transmission
1800RPM speed
Backbone truss type
The specifications of this bike are perfectly fine. These all specifications are required for a good bike and are perfectly fine for this bike to use in Pakistan. This bike is highly fueled economic and gives great fuel mileage with a driving experience full of pleasure.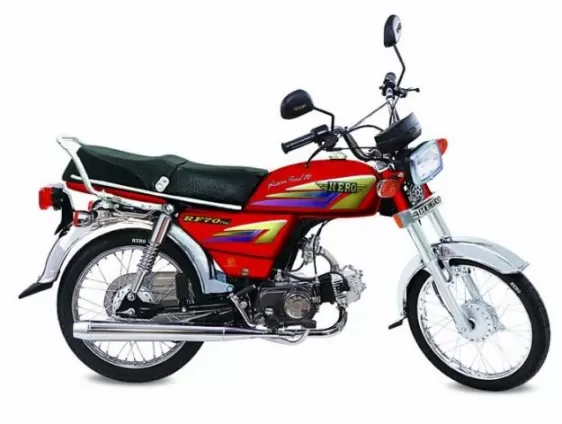 Features of Pak Hero PK70:
This is one of the great bikes that are designed such that they can drive for 70 KM by using just1 liter this makes them quite fuel consumption economic. In the energy crisis that Pakistan faces this is one of the top priorities of everyone.
9 liters of fuel capacity will be able to help you drive through at least 630KM in one refill.
4-stroke OHC single cylinder is powerful and will help you in better driveability.
4-speed permanent mesh transmission makes it a desirable bike so far.
1800RPM speed of the bike is top speed which will give you an experience you had never before in 70cc bikes.
The backbone truss type makes this bike a very beautiful one.
 Now that you have gone through all the details of the bike that Pak hero has launched yet, it is for sure that you will wait for the new bikes that they yet have to release. Many of the companies give you similar specs in their bikes while Pak hero has delivered it in 70cc which makes it a cost-efficient and fuel economic bike which is the priority of every person that you don't want to miss in any way.