IMT 577 Tractor Price in Pakistan = between 10.5 lac to 11.5 lac
We are here for IMT 577 Tractor Price in Pakistan and IMT 577 Tractor dealership in Pakistan details. Industry of Machinery and Tractors have maintained their name among the most reliable and the most power full tractors in Pakistan. The IMT 577 tractor is also one of them and it is the most power full variant they have yet released. With 76HP 4.1 liters 4 cylinders diesel engine power, the tractor has won the market in the performance and design. Its 23. 8 gallons diesel capacity tank provides a better ride in your farms and fields in agricultural department. Moreover the tractor is also perfect product for any kind of other heavy duty works in road construction loading or cargos. If you were also seeking to have the most powerful and the most upgraded product then must read the IMT 577 tractor price in Pakistan with specs and features. Further details will also explain IMT 577 Tractor Price in Pakistan and features.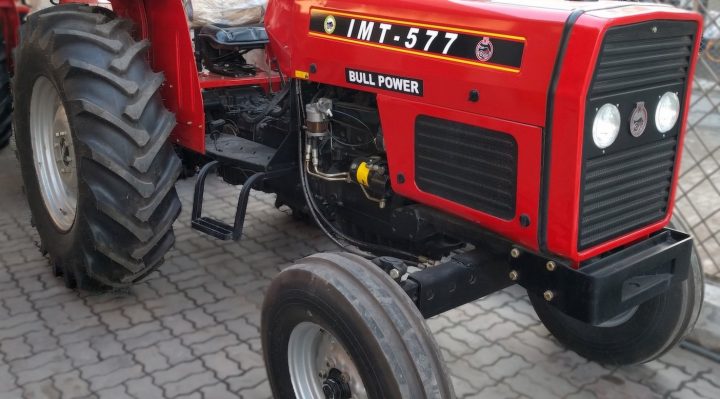 IMT 577 Tractor Design and Performance:
Truck has the usual identical IMT tractors design language with 2 rear bigger wheels and 2 frontal smaller wheels. Its front side engine has a single exhauster while a single air cooled doom is also place in front of the engine. Heavy duty head lights gives long through in dark to clearer the vision. Its single person seat is adjustable for driver manuals and power take off manual transmissions. It has 10 forwards and 2 reverse gears with 4630.5 rear lift of 3 point hitch that makes it efficient for hydraulic usage. Moreover with a longer wheelbase of 87.4 inches and net weight of 8, 015 lbs the truck gives powerful performance and inspirational design and bigger size. There are lots of upgraded functions and features are being installed in this new model of IMT tractor 577.
IMT 577 Tractor Price In Pakistan:
The price range for buying a new tractor from IMT showroom or dealer you have to arrange the budget between 10.5 lac to 11.5 lac. It is because the IMT tractors are imported so that is why the price is variable as per the dealer to dealer service charges and shipment charges.
IMT 577 Tractor Specifications:
Engine
Manufacturer
IMR
Model
S44/AT
Fuel
Diesel
Cylinder arrangement
4 cylinders Inline
Fuel injection
Direct injection
Rated RPM
2250 rpm
Horse Power
77HP
Bore/Stroke:
3.98×5.00 inches
Torque
200 lb-ft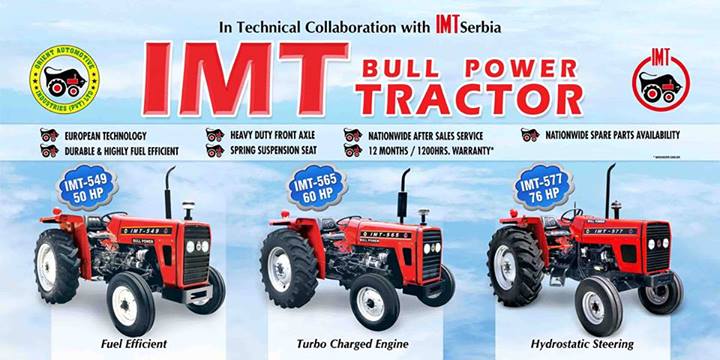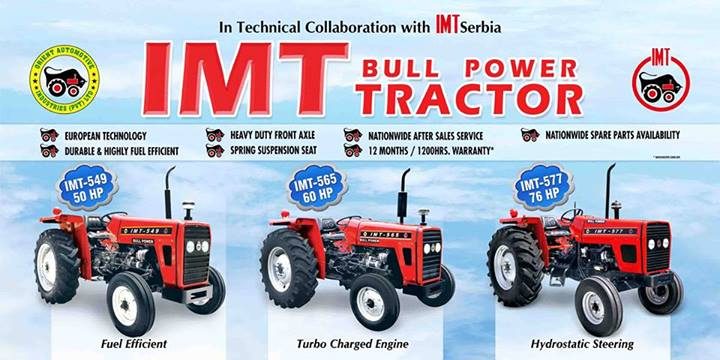 Transmission
Short name
10+2
Type
Manual / Non-synchronous
Gears Forward
10
Gears Reverse
2
Hydraulics
Rear lift capacity
6 gpm
Front lift capacity
8.7 gpm
Dimensions
Weight
3180 kg / 7011 lb
Length
392 cm / 154.3 inch
Width
192 cm / 75.6 inch
Height
263.5 cm / 103.7 inch
Ground clearance
34 cm / 13.4 inch
Track width min
130 cm / 51.2 inch
Track width max
210 cm / 82.7 inch
Tires
Tire size back
7.50
Tire size front
7.5-16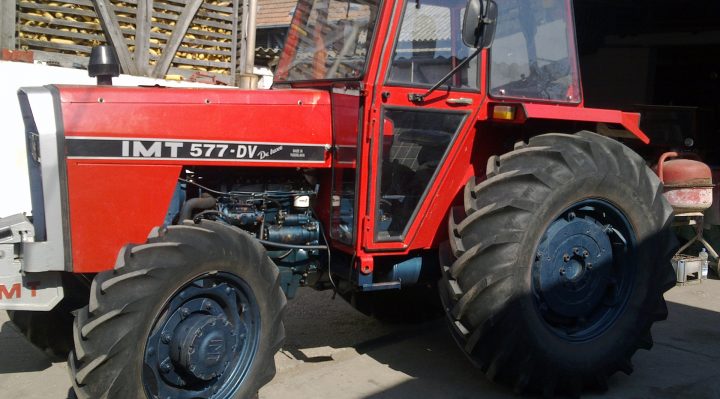 General
Weight
8, 015 lbs i.e. 3635 KG
Chassis
2 wheel drive (2WD)
Cabin type
Safety cabin
Steering
Hydrostatic
Brakes type
Hydraulic (Disk)
Braking wheels
Braking on 2 wheels
IMT 577 Tractor Price in Pakistan = between 10.5 lac to 11.5 lac