When we talk about a powerful and aggressive multipurpose vehicle then the name Massey Ferguson Tractor Mf 240 Price in Pakistan 2023 comes to the top of the list. Millat Ferguson or MF is a long-running name in the production of tractors in Pakistan. These tractors are being used for different purposes like harvesting, and heavy-duty cargo, and of course, nowadays the road construction industry is intending to buy powerful and robust machines that can merge with the nature of their work. For all these purposes the MF 240 tractor is the best option in the most economical price range. After getting its specifications and picture views you will get this Massey Ferguson Tractor Mf 240 Price in Pakistan 2023.
Massey Ferguson Tractor Mf 240 Price in Pakistan 2023
With a new facelift, Massey Ferguson Tractor MF 240 has been launched in Pakistan and people are seeking the Massey Ferguson. Moreover, this is the official price besides other specs and features of this tractor, and engine power is mentioned in below.
| | |
| --- | --- |
| Massey Ferguson Tractor MF 240 Price in PKR | PKR 2,020,000 |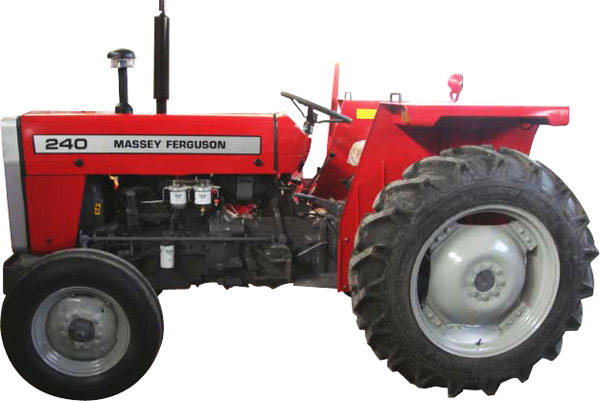 Massey Ferguson Tractor Mf 240 Looks and Performance:
Such types of vehicles are not designed after undertaking the looks or you can say their exterior. Like other tractors, this also has a traditional appearance with front-engine, 6.00 – 16 (6 PR) front tires, and 12.4 / 11 – 28 (6 PR) rear tires. The single driver seat has a totally manual transmission and braking system that is easier to access for the driver. Now when we talk about its performance or engine then we have a 50Hp engine with thermostats under Perkins / AD 3.152 technology. Dual high capacity fuel filter has 3 in-line cylinders which produce power on petrol and diesel.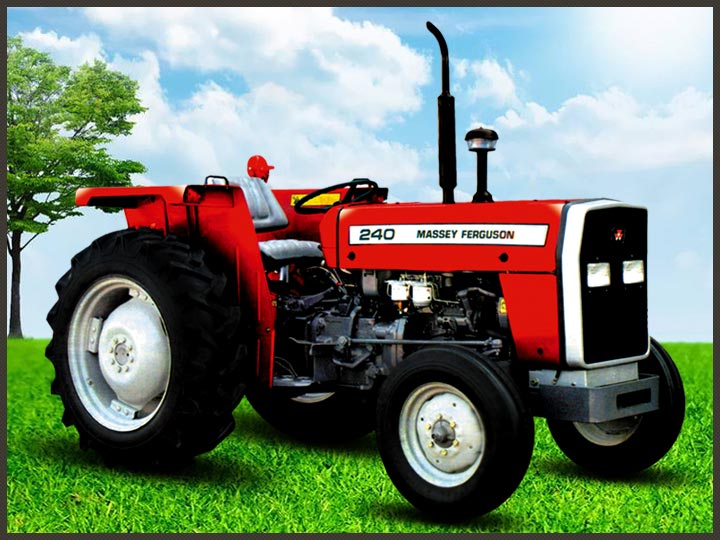 Massey Ferguson 240 Features
Reciprocating Ferguson Pump
Perkins / AD 3.152 engine type
Direct Injection
Box Section Adjustable Front Axle
Manual Steering
Outboard drum brakes
Tachometer with Fuel Levels
Ohmmeter with battery condition and water temperature
Warning lights
Chain Stabilizers
Spring Suspension Seat
Flat Top Fenders
Standard Tool Box With Set of Tools
Operators Manual
Weight Frame Without Weights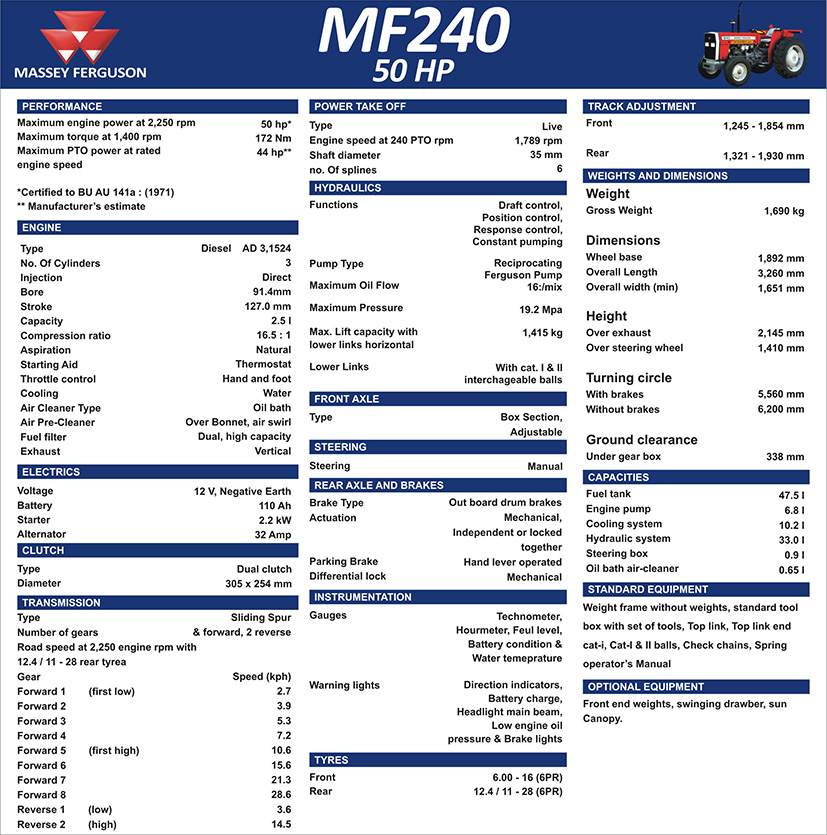 Massey Ferguson Tractor Mf 240 Specifications:
ENGINE & TRANSMISSION
Maximum Power
50hp
Maximum Torque
173.5NM @ 1350 RPM
Engine Description

Certified to BS AU 141a
Manufacturer's Estimate

Turning Radius

With Brakes 5560mm
Without Brakes 6200mm

No. of Cylinders
3
Compression Ratio
16.5 : 1
Gearbox
8 Forward and 2 Reverse
Steering Gear Type
Rack & Pinion
Bore/ Stroke
91mm /127.0mm
Throttle Control
Hand and Foot
Air Cleaner
Oil Batch
Exhaust
Vertical on Front Bonnet
Transmissions
Manual (Sliding Spur)
Clutch
Dual with 305 x 254 Diameter
CAPACITY
Fuel Tank
47.5 Liter
Engine Sump
6.8 L
Cooling System
10.2 L
Hydraulic System
33 L
Steering Box
0.9L
Oil Batch Air Cleaner
0.65 L
Dimensions
Length
3,260mm
Width
1,651mm
Height With Exhaust
2,145mm
Height Over Steering Wheel
1,410mm
Wheel Base
1,892mm
Ground Clearance
338mm
Now, take the all information about Massey Ferguson Tractor Mf 240 Price in Pakistan 2023 is mentioned in the content as well if the company launches a new tractor in this model then we will update this page.