Now check the Massey Ferguson MF 260 Tractor Price in Pakistan 2023 issued by the official. Massey Ferguson 260 tractor is ready for sale in Pakistan. But before buying this high-performance, diesel-efficient, and turbocharged engine tractor, you should have read out its features, specs, and complete data which is available on this page. MF 260 tractor is equipped with Perkins/ T3.1524 direct injection 2.5 L engine which can produce 48HP @ 2250 RPM under a maximum 1600 RPM of torque @ 212 NM. The tractor is also loaded with a 12 V 96 AMP i.e. 2.2 KW electrical battery and gauges with a tachometer that indicates the fuel level, battery condition, and water temperature. Besides this, there are lots of features and specs of this powerful machine which are discussed below in this passage. Now scroll down this page and get the Massey Ferguson MF 260 Tractor Price in Pakistan Specification with pictures.
Massey Ferguson MF 260 Tractor Price in Pakistan 2023
Massey Ferguson MF 260 Tractor Price in Pakistan 2023 has launched and people can gather from this page. As well people can gather from this page while the other specifications and features of this tractor are mentioned on this page.
| | |
| --- | --- |
| Massey Ferguson MF 260 Tractor Price in PKR | Rs. 2,185,000 |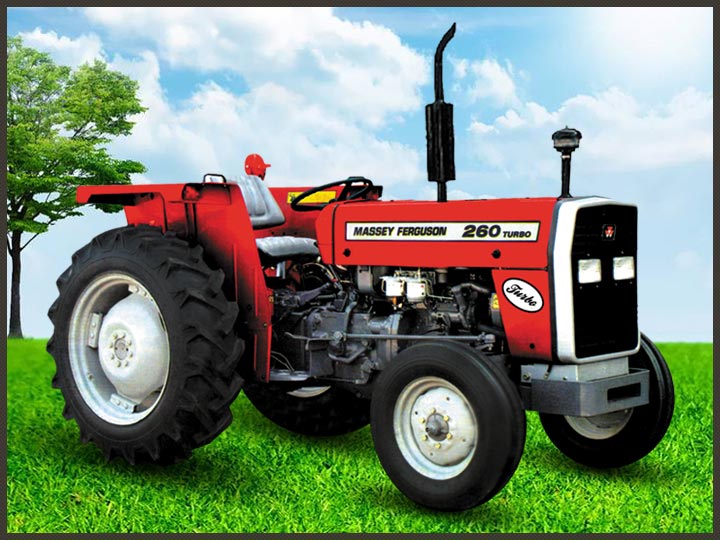 Tractors are specially designed for meeting their purposes like agriculture, loading, and other heavy-duty loadings. Aggressive-looking Massey Ferguson 260 turbo tractor has all these qualities and meets the initial requirements. Its adjustable size, gripping tires, and absorbable suspension make it able to complete your tasks in easier and smoother ways. If we talk about its purchasing then you can buy this tractor from an authorized tractor dealer in Pakistan while you can also place your order online for checking the Massey Ferguson MF 260 tractor for-sale status.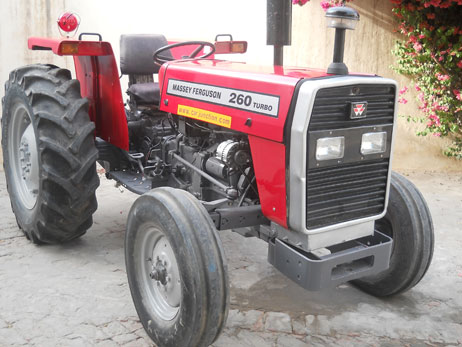 Massey Ferguson MF 260 Tractor Features
Perkins/ T3.1524
3 cylinders diesel
Reciprocating Ferguson Pump
Warning lights
Chain Stabilizers
Manual Steering
Manual operators
Tachometer with Fuel Levels
Throttle Control System
Single Air Exhauster
45 liters fuel tank capacity
Spring Suspension Seat
Standard Tool Box With Set of Tools
Weight Frame Without Weights
Direct Injection
Dual exhauster
Water Engine Cooling Technology
Massey Ferguson MF 260 Tractor Specification
MF 260 PERFORMANCE:
 Engine HP @ 2250 RPM
Max. Torque @ 1600 RPM
Max. P.T.O Power @ rated Engine Speed
 60 (BS)
212 Nm
48 hp
MF 260 ENGINE:
Make/Type
No. of Cylinders
Injection
Bore
Stroke
Capacity
Aspiration
Compression Ratio
Starting Aid
Throttle Control
Cooling
Air Cleaner Type
Air pre-cleaner
Fuel Filter
Exhaust
Oil Cooler
Perkins/T3.1524
3
Direct Injection
91.4 mm
127 mm (5.0 in)
2.5 Liter (152.7 Cu. Ins.) Turbo
16.5:1
Thermostat
Hand and Foot
Water
Oil Bath
Over-bonnet air swirl
Dual High Capacity
Vertical
Air-coated, Fin Type
MF 260 ELECTRICS:
Voltage
Battery
Starter
Alternator
12 V, Negative Earth
96 Amp. Hour
2.2 kW
32 Amp
MF 260 CLUTCH:
Type
Diameter
Dual
305 x 254 mm (12 x 10 in)
MF 260 TRANSMISSION:
Type
Number of Gears
Road Speed at 2250 engine rpm with 14-/13-28 rear tyres
Sliding spur
8 Forward, 2 Reverse
MF 260 POWER TAKE-OFF:
Type
Engine Speed @ 540 PTO rpm
Shaft Diameter
No. of Splines
Live
1789 rpm
35 mm (1.375 in)
6
MF 260 HYDRAULICS:
FunctionsPump Type
Maximum Oil Flow
Maximum PressureMax. lift capacity with lower links Horizontal lower links
Draft Control
Position Control
Response Control
Constant PumpingReciprocating Ferguson Pump
16 liters/min. (3.52 lmp.gal/min)
19.2 Mpa (192.5 bars) at normal operating temperature
1415 Kg (3120 lbs.)
Category 1 & 2 Interchangeable Balls
MF 260 TYRES:
Front

Rear

7.50 – 16 (6PR) Pressed Wheels

14.9/13 – 28 (6PR) Pressed Wheels

MF 260 WEIGHT AND DIMENSIONS:
Weight:
Gross WeightDimension:
Wheel Base
Overall Length
Overall Width MinimumHeight:
– Over Exhaust
– Over Steering WheelTurning Circle:
– With Brakes
– Without BrakesGround Clearance:
1890 kg1892 mm
3260 mm
1753 mm2145 mm
1410 mm5970 mm
6700 mm338 mm
MF 260 CAPACITIES:
Fuel Tank
47.5 liters
Massey company already has launched many tractors in Pakistan and people are using them. All tractors have come into the market with powerful engines. Moreover, Massey Ferguson MF 260 Tractor Price in Pakistan 2023 is mentioned on this page.