Now you can take the Belarus 510 Tractor Price in Pakistan 2023. The new model of the Belarus 510 tractor is ready for sale in Pakistan now. The company has designed and upgraded this machine with all new specs and features. The D-244 57HP horsepower engine has some latest capacities of 271 H.M torque and single disk friction spring-loaded clutch which is an assurance of power and reliability. It is an imported tractor company that is manufacturing and meeting the real needs and deeds of the market. They deal, especially in agricultural tractors. So if you also have some land and want to do harvesting to produce maximum revenue with less investment then Belarus 510 tractor prices in Pakistan 2023 are very affordable in front of its performance and specifications. Just read out this post to watch pics and a table of technical characteristics of this machine.
Belarus 510 Tractor Price in Pakistan 2023
Belarus is the most powerful tractor in Pakistan and especially in the agriculture field. But previous few months its prices have too much increased. The latest approximate price of this tractor is given below.
| | |
| --- | --- |
| Model | Price |
| 510 Simple | 4,800,000 |
| 510 Simple | 4,900,000 |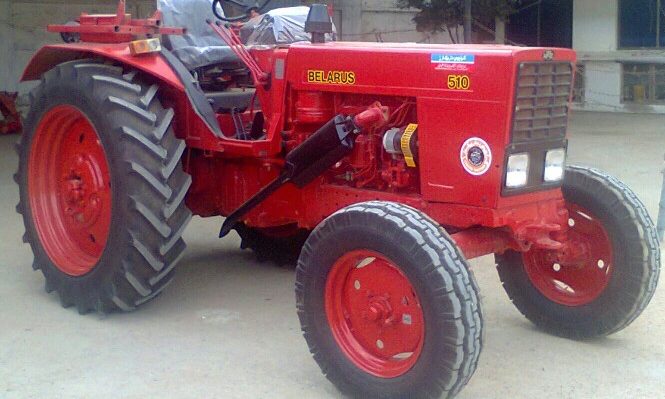 Belarus 510 Tractor Design and Performance:
The design and performance of this tractor are all new and innovative. Its powerful engine is power tack off on diesel power. The front tire is 7.50-20mm x 9.00-20mm while the rear tire is bigger with 15.5R38mm x 18.4R30/ 9.50-42mm size that giving it a bigger ground clearance. Moreover, the tractor is loaded with a hydraulic system and climatic modifications, the manual transmission has a selective gear system and the flywheel clutch has single disk friction which is easier for manual gear transmission. Similarly, there are lots of features and functions of this new model of Belarus 510 tractor which are discussed below.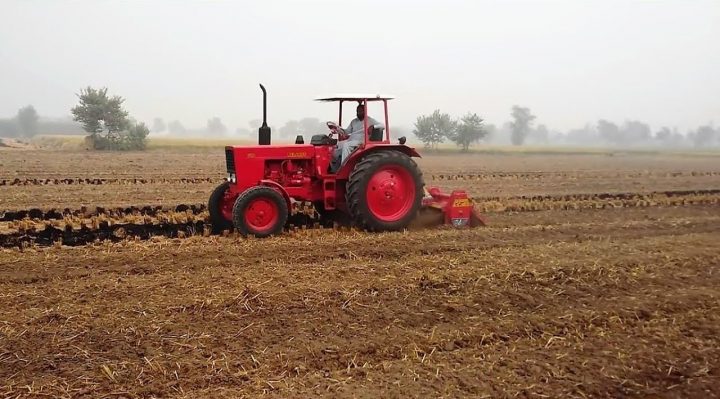 Belarus 510 Tractor Price In Pakistan:
This is an imported tractor so that is why the company has set some other prices but after shipment and service charge the price range touch with the price of Rs. 4,800,000/- rupees. These prices are not yet confirmed because different dealers have different price ranges according to their service charges and expenditures. We suggest that you must visit the office's website and then place the order to buy a new Belarus 510 tractor in Pakistan.
Belarus 510 Tractor Specifications:
Engine
Type
without turbocharging
Capacity, h.p./kW
57/41,9
Brandmark
D-244
Fuel use, g/(kW·h)
229,0+6,9
Torque capacity, ?·m2
271
Transmission system
Selective gear
Manual, with reduced gear

that doubles the number of gears

Flywheel clutch
single-disk, friction, spring-loaded
Number of gears FWD/BWD
9/2
Back PTO shaft, min-1
540
Hydraulics
The load-carrying capacity of a back suspension

gear on the suspension axis, kg, minimum

3200
Full-scale pressure, MPa
20-2
Pump displacement at nominal speed

of diesel crankshaft, l/min, minimum

45
Undercarriage
Type
wheeled
Axle arrangement
4?2
Maximum weight, kg
5800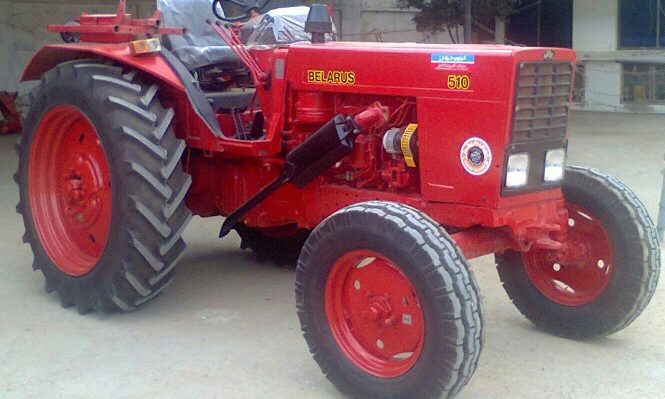 Tyres
front
7.50-20/9.00-20
back
15.5R38/18.4R30/9.50-42
Climatic modification
?1/?1
Minimum and maximum speed FWD/BWD, km/h
Min 1,44/3.18
Max 26,50/7,10
Additional options
TSU-2 drawbar device (hydraulic hook);
Combined drawbar hitch (floating drawbar and hydraulic hook);
Balance weights of back wheels;
Front balance weights;
Fast-coupling cutoff clutches;
Hitching flexible pipes.
This is the complete knowledge about Belarus 510 Tractor Price in Pakistan 2023.