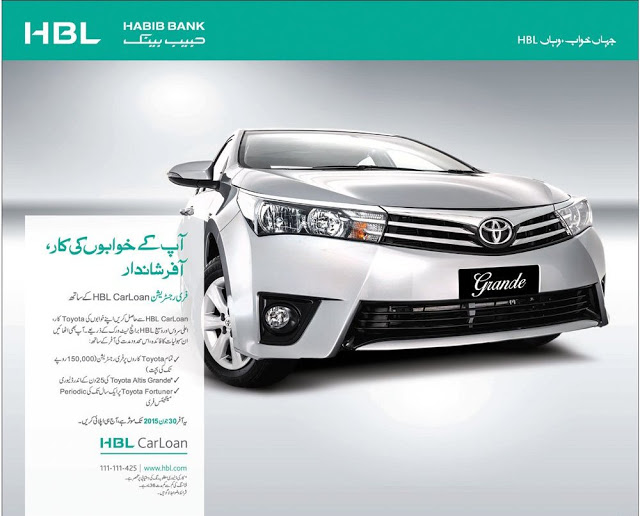 Habib Bank Limited is the one the leading bank and financer in the Pakistan. The last year the HBL has introduced the car loan scheme to its customer. Complete details of HBL Car Loan Calculator is under.
Features and Benefits
Choose any type of car – New, used, local or imported car.
Repay within a 7 year time period (5 years for used car financing).
Receive up to 85% of financing for your preferred car.
Secured insurance at all times for peace of mind (with or without tracker option available).
Take advantage of our 24-hour support available through HBL PhoneBanking. HBL PhoneBanking also allows you to track your repayment/loan account status and avail other value-added services
Documents Required
Salaried Individuals
Copy of CNIC.
2 recent passport size photographs.
Latest original salary slip and personal bank statement for last 3 months.
Self-Employed Business persons/Professionals
Copy of CNIC.
2 recent passport size photographs.
Bank statement for last 6 months and bank letter confirming details of account.
Proof of business.
Eligibility HBL Car Loan Calculator & Finance Services
Salaried Individuals:
Citizenship: Pakistani
Age: 22-60 years
Monthly Income: Rs. 20,000
Self-Employeed Business persons/Professionals:
Citizenship: Pakistani
Age: 22-70 years
Monthly Income: Rs. 25,000