Ravi bikes are widely used in Pakistan. Ravi PIAGGIO 125 Price in Pakistan 2023 is discussed here with a brief description of this bike. Ravi was launched in Pakistan by Ravi Motors of Pakistan with the partnership of PIAGGIO of Italy and here we will tell you its specifications that how it differs from other bikes. It was first manufactured and launched in Pakistan in 2009 and it was the first Euro 2 bike in Pakistan. Ravi PIAGGIO STORM 125 is compatible and approved as well by the Pakistan Standard Quality Control Authority and Pakistan Engineering Development Board.
Ravi PIAGGIO 125 Price in Pakistan 2023
The price of this bike in Pakistan is 112,000 PKR which is extremely reliable if we see the shape and specifications of this bike. Other info about the specification of this bike and its features are going to mention below.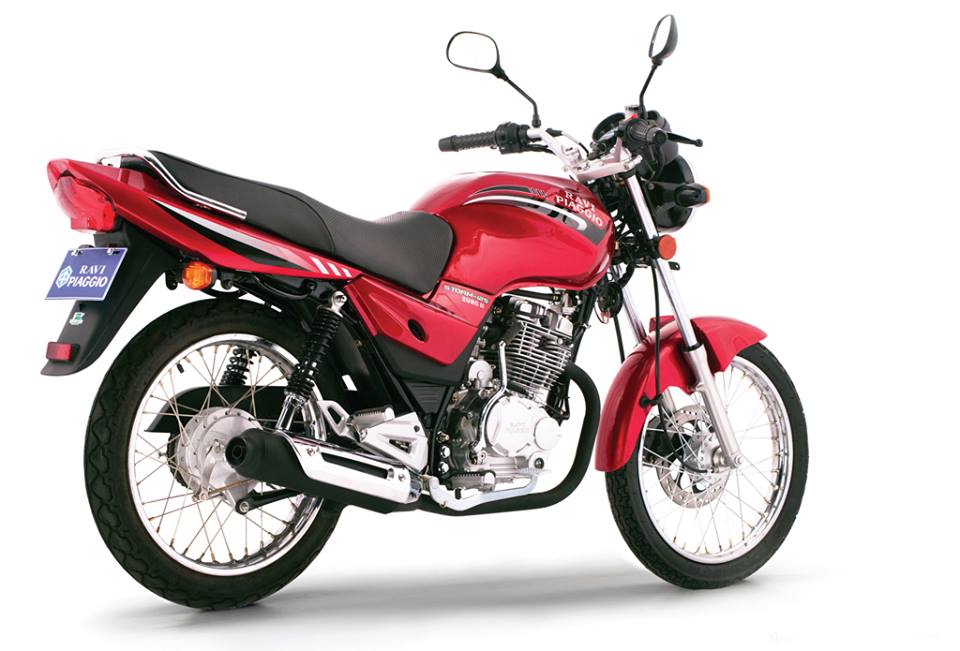 Ravi PIAGGIO STORM 125 model 12 horsepower 125cc engine with pushrod-actuated valves (two cylinders). Ravi PIAGGIO STORM 125 to incorporate a five-speed gearbox, self-starting system along with kick start. It has a great fuel tank capacity which can store 16.5 liters of fuel. You no need to worry about the fuel just get rid of refilling problems. Ravi PIAGGIO STORM 125 is the result of the latest Italian technology PIAGGIO with the best performance.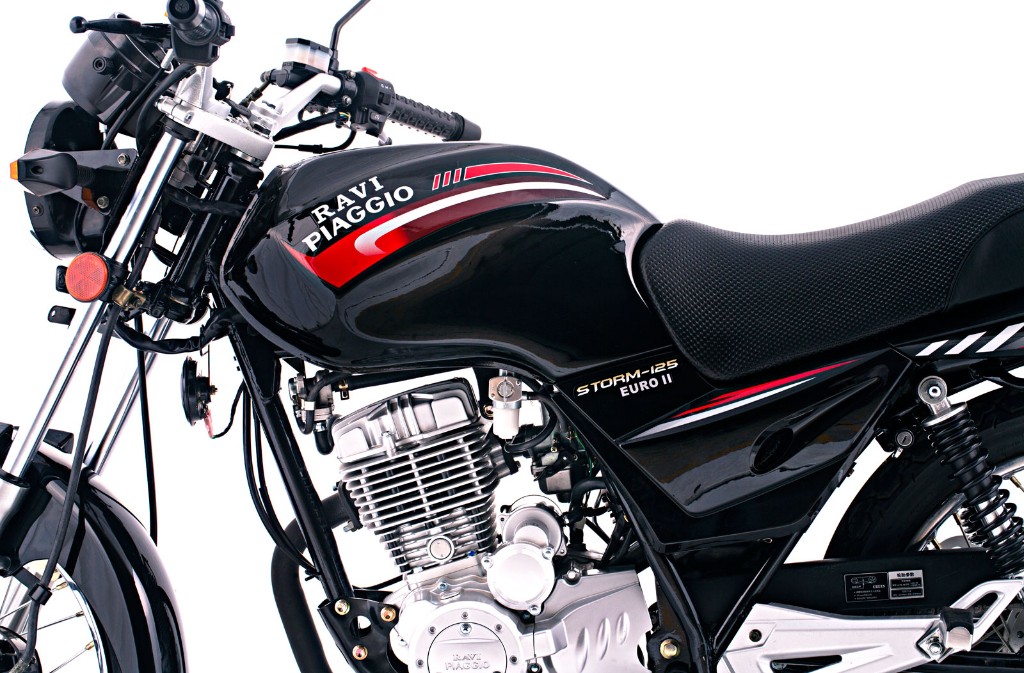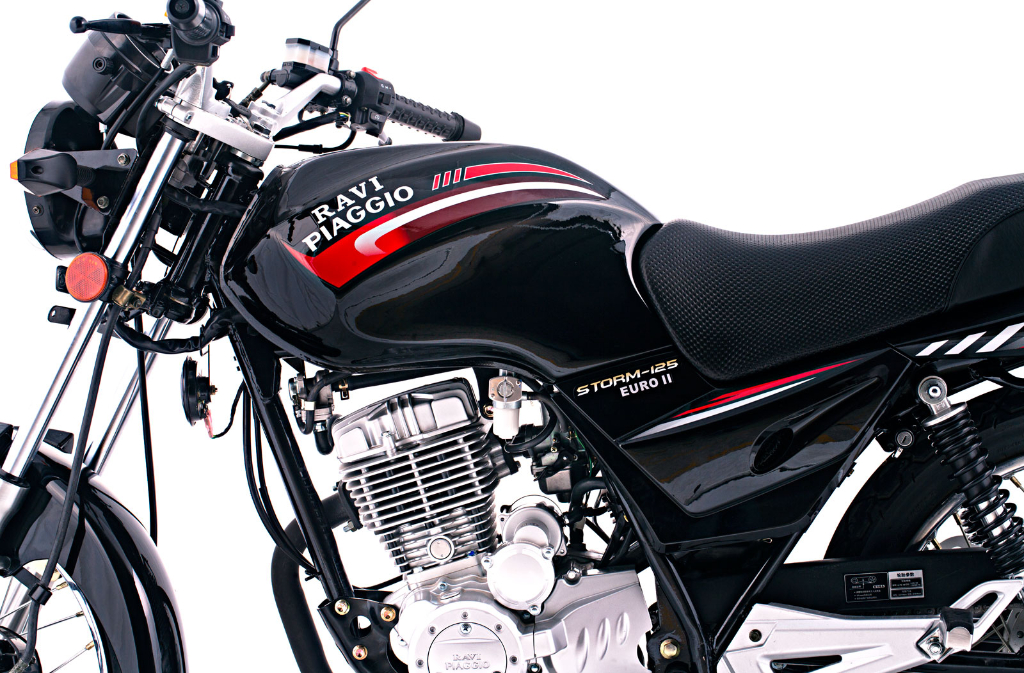 Ravi PIAGGIO STORM 125 has fuel and engine oil gauges for your in-depth information. It has a sleek design along with the latest graphics. Ravi PIAGGIO STORM 125 has an elegant front light with a new shape for the backlight. The ride shocks and comfortable seat with rear grip give a great blend of enjoyable riding experience. It gives 60 km/l of fuel mileage efficiency which is the best of all 125cc bikes.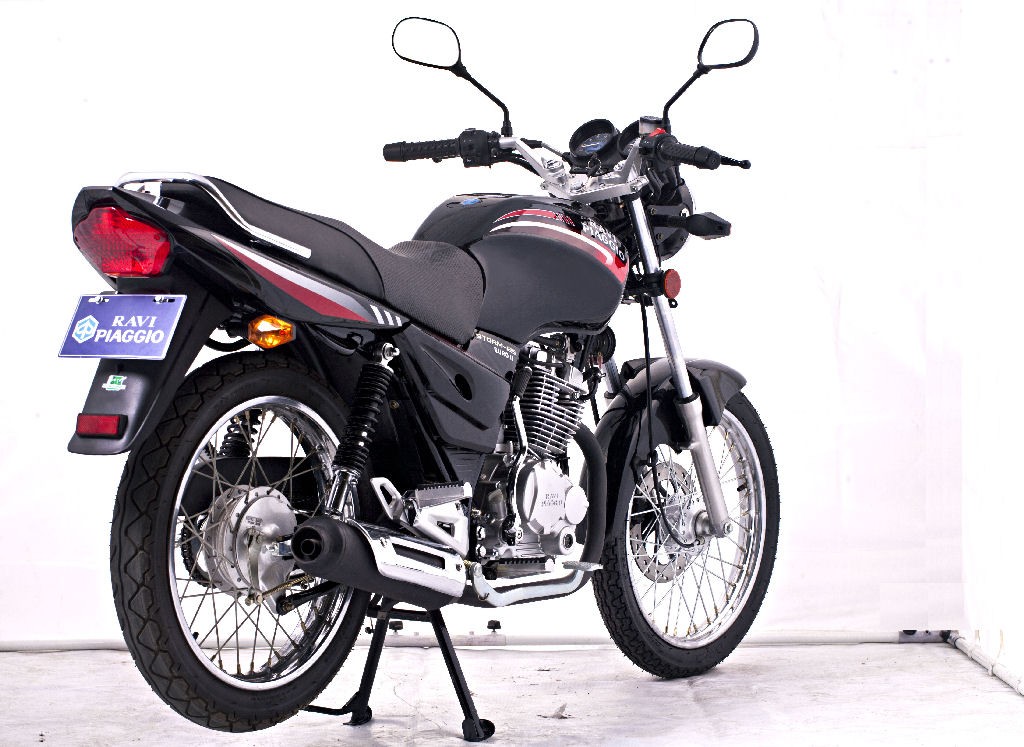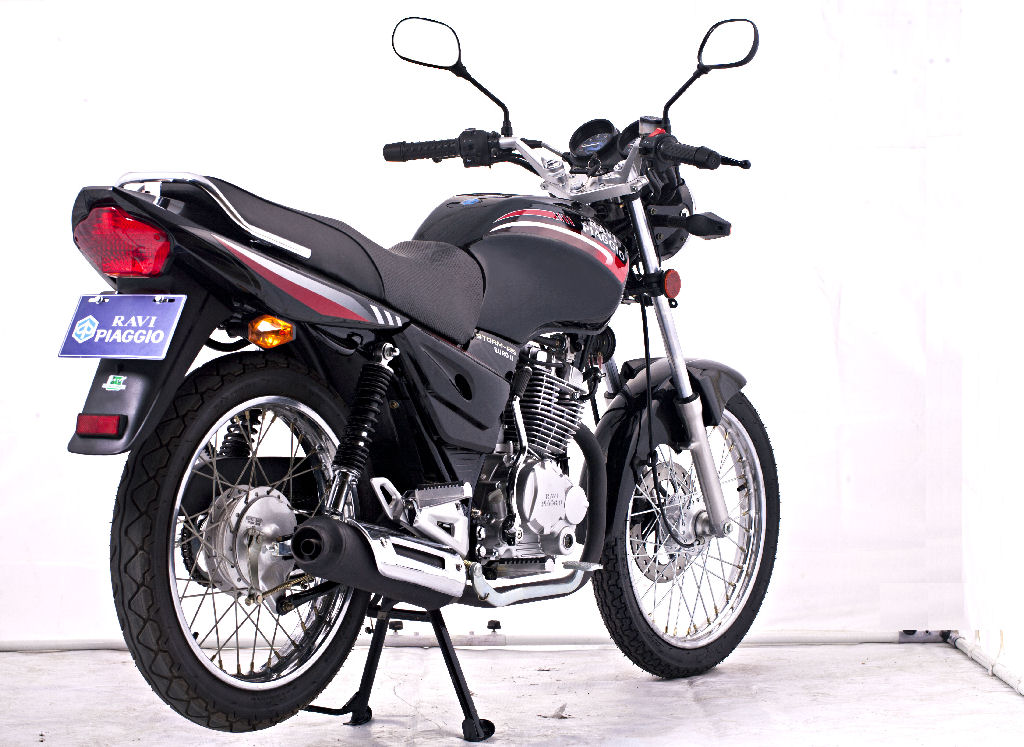 Specifications of the Ravi PIAGGIO 125
Below are the specifications of this model. Customers can consult this table for their satisfaction that which things have been installed and which features of this bike have been updated by the company.
Engine
126 CM, 4 strokes, single-cylinder, overhead-valve,
Bore X Stroke
air-cooled with external emission control unit
Compression Ratio
57 x 49.5 mm
Max Hors Power
10.2:1
Max Torque
8.3 kw at 8500 rpm (11.13 PS)
Transmission
9.2 n.m at 8000 rpm (0.93 kgm)
Carburetor
5-speed constant mesh, all forward down
Clutch Type
PZ26 (Shengwei)
Engine oil capacity
Wet multi-plate, left-hand operated
Starting
1 liter (10W40)
Chassis / Frame
Self-start & kick start (dual)
Size (length, width, height)
Diamond-type pipe frame
Wheelbase
2010 x 770 x 1240 mm
Seat height
840 mm (min)
Ground clearance
180 mm (min)
Dry weight
117 kg
Patrol tank capacity
16 liters
Tyre size & air pressure
Front: 2.75 x 18, Air pressure: 25-28 PSI,

Rear: 3.50 x 18, Air pressure: 35-40 PSI

Brakes
Front: Single-caliper disk brake, Rear: Drum brake
Ignition System
Capacitor discharge ignition system
Battery
12V, 7Ah
By seeing all the specifications of this bike mentioned in the table you will be more anxious to buy this bike. Ravi PIAGGIO 125 Price in Pakistan 2023 is really economical. These all features are a must that a good bike should have. So what are you waiting for go to the nearest dealer near you can buy the bike of your dreams.