Korean vehicle manufacturers Hyundai have released the new model of Hyundai H1 Van 2019 Price in Pakistan. This is a perfect family and passengers unit which is coming in three different variants; Hyundai H1 Bus 2.4L 9-seater, Hyundai H1 Multicab wagon 2.5 Diesel 6-seater, and the H1 Bus 2.5 diesel 9-seater. All these models of Hyundai H1 wagon have different drivetrains and powertrains which I have discussed in this post. Well this vehicle is the most awaiting unit in Pakistan too due to its dimensions and market demand. Scroll down this page to get Hyundai H1 Van 2019 price in Pakistan, launch date and pictures.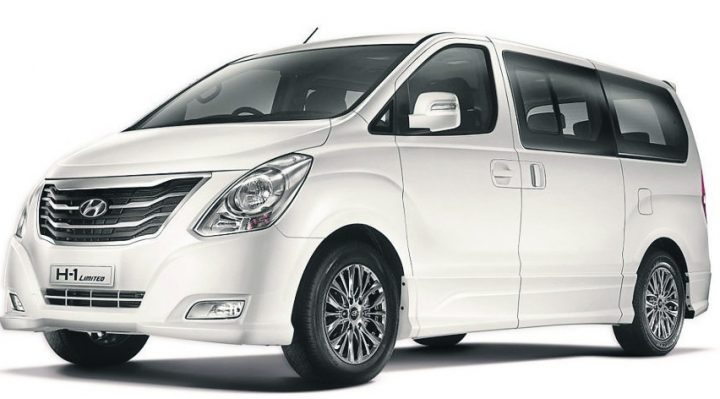 Hyundai H1 Van 2019 Exterior:
As you can see in following images that the exterior of 2019 Hyundai H1 is extensive and tough. On the front side there is a chrome grille with fog lamps and ample round focusing head lamps with part distance control system. Black colored door mirrors have flush glass mounted with tilting doors. Wagon have both side sliding doors which allows you to enter freely and easily inside the wagon. Six spokes 15" inches steel rim wheels have maximum turning radius which allows driver to turn the vehicle on 300 degree angle which is amazing. Moreover, it is a longer, wider and stylish good looking wagon. For more about dimension sizes see the following table.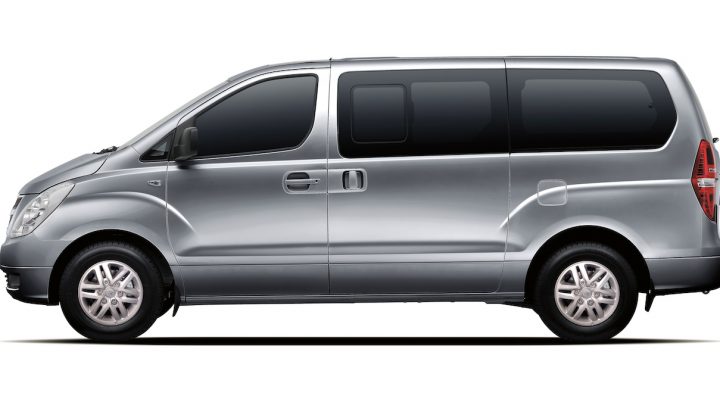 Hyundai H1 Van 2019 Interior:
Same like the exterior, the interior of the Hyundai H1 van 2019 is also awesome with a spacious environment. 9 or 6 persons seating capacity have ample rooms for hip, legs and head to provide maximum comfortability and safety. Seats are upholstered with optional leather finish matched with the color you choose. Front seats have air bags while all the seats have seat belts option which is safer way of journey. Front and rear seats have Aircon while all the cab is air conditioned. Besides these, there are lots of interior features of this Hyundai H1 Wagon which I have discussed in the following side.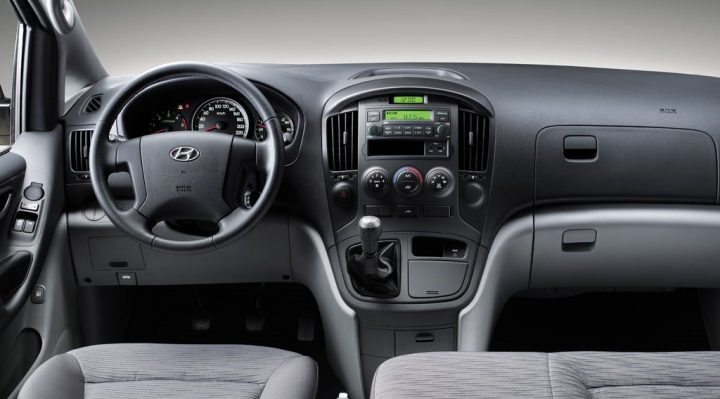 Hyundai H1 Van 2019 Launch Date in Pakistan:
This powerful, dynamic and full of safety features wagon will be release in Pakistan till the second half of 2019. The most expected month is October 2019 but under the consideration of its pre-orders and response by the customers we are hoping that the van will be launch earlier then the expecting month of October. In order to get the update about its Hyundai H1 Van 2019 Launch Date in Pakistan you have to frequently visit or bookmark this site.
Hyundai H1 Van 2019 Price in Pakistan:
Yet the confirm prices are not generate by the dealers but we are giving you an estimating price until its official launch. So you can buy this pioneering van in the Hyundai H1 Van 2019 Price in Pakistan range of Rs. 55, 00, 000/- to 60, 00, 000/- PKR rupees.
Key Features of Hyundai H1 Van 2019

Remote Keyless Entry and Alarm
Bluetooth USB MP3 and iPod connectivity
Cruise Control
Air Con
Left and Right Sliding Doors
Electric Front Windows
Front Airbags
ABS with EBD
Large cargo capacity & versatility
Side Airbags
Auto Air-conditioner
USB MP3 and iPod connectivity
Cruise control for those long drives
Drop down DVD players for passengers
Rear park distance control
Optional leather interior finish
Cargo or passenger carrying versatility
Hyundai safety features
Uni-body construction
Roof Racks
Tow Bar
Sunglasses Case
Map Lights
Front & Rear Seat Aircon
Double Glovebox
Dual Door Pockets
Hyundai H1 Van 2019 Specifications:
Engine
H1 Passengers Bus
2.4 Liter Petrol Power (9 seater)
H1 Multicab
2.5 Diesel Power (6 seater)
H1 Commercial Wagon
2.5 Diesel Power (9 Seater)
Displacement
2496cc
Power and Torque
·          2.4L Petrol-126kW @ 6000-227Nm @ 4200

·          2.5L Diesel-125kW @ 3800-392Nm @ 2000-2500

Cylinders
4-Inlined
Transmission
Gears
6
Type
Manual
Capacities
Seating
6 Persona and 9 Persons (Depends Upon Variant You Choose)
Fuel Tank
55 Liter
Consumption/ Mileage:
H1 2.4 Wagon
GLS 12.2 l/100 km 8.2 km/liter
H1 2.5CRDi Wagon
GLS 11.8 l/100 km 8.4 km/liter
Dimensions:
Overall Length:
5125mm
Overall Width:
1710mm
Overall Height:
1925mm
Tyres/ Wheels
Rim
Alloy Rims
Number of Tyres
4
Brakes (Front)
Ventilated Discs
Brakes (Rear)
Drums
Color Options:
1
Ceramic White
2
Hyper Metallic Silver
3
Timeless Black