Al-Ghazi Tractors Ltd. presents the most powerful and most commanding tractor in Pakistan the name as NH Dabung 85 tractor. A powerful engine having a tractor is grabbing the contentment of buyers. The best unit for the sugarcane haulage and commercial use tractor is coming with the manual level on the right side of the operator. It has a 4-stroke direct injection at flywheel 85HP diesel engine. Maximum torque and heavy-duty displacement make it able to easily balance and carry the maximum 800 maund load in the tattered fields. Further, the NH Dabung 85 Tractor Price in Pakistan 2023 with specs and pics are laid down in this passage. So takes a look down at this passage for it.
NH Dabung 85 Tractor Price in Pakistan 2023
The latest price NH Dabung 85 Tractor Price in Pakistan 2023 is now available as well production of this tractor has been closed in Pakistan. But available in used condition. Used tractor price depends on condition and model.
| | |
| --- | --- |
| NH Dabung 85 Tractor Price in PKR | Rs. 3,178,000 |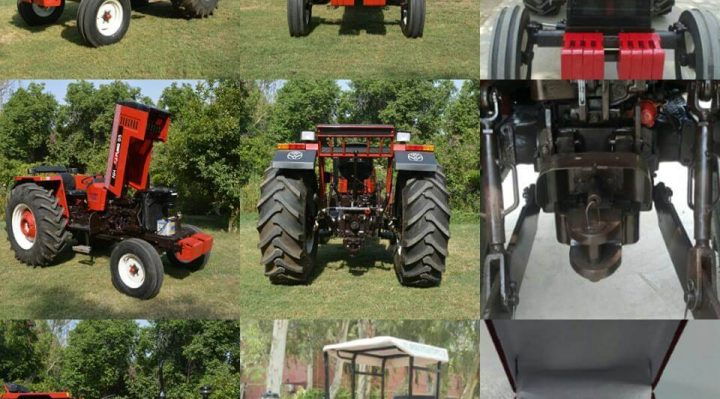 NH Dabung 85 Looks and Performance:
This heavy-duty 2WD and 4WD tractor has aggressive looks. From the front side, the manufacturers have loaded this truck with two iron balance equalizers which is a new technique in this model. Moreover, its tires are bigger thicker, and gripper with adjustable steering according to the height of the driver. All manual transmissions are easy to manage and regulate. The front lifting hood has three side access to the engine for ease of maintenance. Single air exhauster on the frontal beam on the front side and the blue high beam warning light on the instrument panel is a key feature in this new model of NH Dabung 85 tractor including the NH Dabung 85 Tractor Price in Pakistan 2023.

Key features:
At Flywheel 85HP engine
Manual transmissions
High PTO 85 Horsepower
Adjustable power steering
The driver Seat is Adjustable
Hydraulics system
SG Axle tubes
Fuel Efficient
Power Take Off (DTO technology)
Disk Brakes
Oil Cooler
Halogen Headlights
Tachometer With Fuel Levels
Engine Heat Deflector
Driver's Head Canopy
4 Stroke Direct Injection
Diesel Engine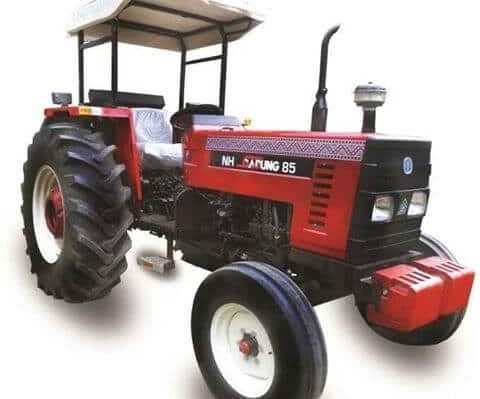 NH Dabung 85 Tractor Specifications
Engine Power:

At flywheel 85 HP

OPERATING WEIGHT

2865kg

Engine:

New Holland 8045.05

4-Stroke, direct injection diesel engine

Number of cylinders: 4

Bore and stroke: 104 x 115 mm

Piston Displacement: 3,908 cc

Flyweight-type dynamic balancer.

Compression ratio: 17:1

Max. Power at 2,600 rpm: 85 HP

Max. Torque at 1,600 rpm: 29.7 kgm

Dry-type cylinder liners.

Cooling system: water

Exhaust Muffler: Vertical

Transmission:

Gearbox with constant-mesh gears:

8 forward and 2 reverse speeds.

Synchromesh on 3rd, 4th, 7th and 8th speeds

Double control lever

Differential lock with pedal actuated and automatic

Gear Box mounted starter safety switch.

Clutch:

Dual plate, dry-type with separate controls (pedal

for transmission and a hand lever for PTO),

Diameter of plates: 11 inch

Cera Metallic Clutch Plate.

Tires:

Front: 7.50-16 Rear: 18.4/15-30

DRIVER'S SEAT

Fully upholstered, with parallelogram suspension,

Adjustable, footstep for ease

Lighting System:

3-position headlights; (parking, low & high beam).

Blue high-beam warning light on the instrument panel.

Adjustable headlight mounted in the front grill,

Indicators, parking & hazard lights.

Electrical System:

12 Volt starting system, 4hp (3KW) starter motor.

400 Watts alternator, 108 ah battery. 7 pin

Connector for trolley. Cold Starting aid, Provision

for mobile charger and MP3.

 

Capacity:

Fuel tank: 65 l

Engine oil: 11.5 l

Hydraulic Transmission: 29 l

Rear Axle: 4 l at each side

Air Cleaner: 1 l

Power Steering: 2 l

Brakes:

Oil-immersed disc brakes.

Parking: manual lever on right side of the operator.

Front Axle:

Inverted U section, telescopic type, front weight 160kg.

TRACKS

Front (8 positions):

1.320 – 1,420 – 1,520 – 1,620

1,720 – 1,820 – 1,920 – 2,020 mm.

Rear (8 positions):

1,320 – 1,420 – 1,520 – 1,620

1,720 – 1,820 – 1,920 – 2,020 mm.

Steering:

Hydrostatic power steering.

Minimum turning radius:

-with brakes: 3,600 mm

-without brakes: 4,400 mm

Power Take Off:

6 spline shaft – 35 mm dia / 1 – 3 8"

Fully independent: 540 rpm at 2,160 engine rpm

High-speed DTO (*) 35 mm dia / 1 – 3 8" same speed as the engine.

(*) for the application of high-speed implements

Hydraulic Lift:

With draft and position control,

Draft control through the top link.

Gear-type pump driven from the engine crankshaft.

Pump capacity (at 2,400 engine rpm). 26.7 l/min Relief valve opening pressure: 190kg/cm2

3-point linkage Cat I – II

Dimensions:

(With 7.50-16 and 18.4/15-30 tyres) a) Wheelbase: 2,070 mm b) Overall length: 3,330 mm c) Height to top of hood: 1,402 mm d) Height to the steering wheel: 1,675 mm

e) Front track (8 positions):

from 1,320 to 2,020 mm

f) Rear track (8 positions):

from 1,320 to 2,020 mm

g) Ground clearance under the front axle:

500 mm
We have mentioned the all possible information regarding NH Dabung 85 Tractor Price in Pakistan 2023 as well if import of this tractor start in Pakistan then definitely we will update on this page.