Massey Ferguson MF 385 4wd tractor is considered the king of tractor equipment. It is the most prestigious unit for meeting any type of heavy-duty loadings and dragging. Engineers have assembled this machine with lots of innovative and advanced features. And when we talk about the 385 Tractor Price in Pakistan 2023, then we have a purpose build product in a reasonable price range. You can get details about Massey Ferguson MF 385 4wd Tractor Price In Pakistan. But I suggest that you must buy this heavy-duty bigger size tractor when and only your requirements meet the deeds otherwise you have other options in Massey Ferguson tractors. Reading this post will tell you about how powerful the machine is and how you can book your order to buy it.
385 Tractor Price in Pakistan 2023
The price range of this powerful and advanced tractor is comparatively more expensive than the other available products. You can buy MF 385 Tractor in Pakistan in the price range between Rs. 3,213,000- to PKR 4,282,000. This is really an expensive vehicle but after readings its specs and features you will feel that the price is less in front of its facilities and functions.
| | |
| --- | --- |
| Massey Tractor 385 2WD Price in PKR | PKR 3,213,000 |
| Massey Tractor 4WD | PKR 4,282,000 |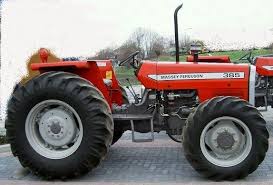 Massey Ferguson 385 4WD Tractor Specs:
MF 385 4WD Key Features:
Max. Engine power @ 2,200 rpm
Max. Torque at 1,600 engine rpm
Max. PTO power at 2,200
Engine rpm*Certified to BS AU 141a
** Manufacturer's Estimate
85 hp*

291 Nm

70 hp**

 MF 385 4WD Engine Data:
Make/Type
No. of Cylinders
Injection
Bore
Stroke
Capacity
Aspiration
Compression Ratio
Starting Aid
Throttle Control
Cooling
Air Cleaner Type
Air Pre-Cleaner
Fuel FilterExhaustOil Cooler
Perkins / 4.41
4
Direct
101 mm
127 mm
4.1
Natural
15.3:1
Thermo-start
Hand and Foot
Water
Oil Bath
Over bonnet air swirl
Dual high capacity
With sediment
Vertical; muffler
under bonnet
Water Cooled
MF 385 4WD Electrics:
Voltage
Battery
Alternator/Starter
12V, Negative Earth
96 Ah
45 A/2.8 KW
MF 385 4WD Clutch:
Type
Diameter
Lining Material
Dual
305×254 mm
Cerametallic
MF 385 4WD Power Acceleration:
Type
Engine Speed at 540 PTO rpm
Shaft Diameter
No. of Splines
Live
1,789 rpm
35 mm
6
MF 385 4WD Tires:
Front 7.50-16 (6PR)
Rear 18.4 / 15-30 (6PR)
7.50-16 (6PR)
18.4 / 15-30 (6PR)
MF 385 4WD Track Adjustments:
Front Axle
Rear Axle
1,376 – 1,944 mm
1,423-2,134 mm
MF 385 4WD Steering:
Type
Hydrostatic
MF 385 4WD Transmission:
Type
Number of Gears
Sliding spur
8 Forward, 2 Reverse
Gear Speed
Forward 1
Forward 2
Forward 3
Forward 4
Forward 5
Forward 6
Forward 7
Forward 8
Reverse 1
Reverse 2
(km/hr)
2.7
3.7
5.1
6.8
10.4
15.2
20.8
27.9
3.5
14.1
MF 385 4WD Hydraulic System:
Function

Pump Type
Maximum Out put

Maximum lift capacity
with Lower links
horizontal

Maximum pressure

Lower links

Draft , Position & Response
Control, Constant pumping4 Piston, Ferguson pump
16.7 liters / min2,145 kg21 MPa (205 bars) at Normal
Operating TemperatureCategory I & II
Interchangeable balls
MF 385 4WD Fuel Capacity:
Fuel Tank
Engine Sump
Air Cleaner Oil Bath
Cooling System
Hydraulic System
Power Steering Reservoir
4WD Front Axle Differential
Hub each Side
108 lit
7.5 lit
0.7 lit
15.2 lit
47.4 lit
2 lit
5.6 lit
1 lit
MF 385 4WD Weight and Dimensions:
Weight Front
Weight Rear
Weight TotalDimensions
Overall Length
Width (minimum)
Wheel BaseHeight
Over Exhaust
Over Steering WheelTurning Circle
Without Brakes
1,429 kg
1,582 kg
3,011 kg3,810 mm
1,871 mm
2,350 mm2,485 mm
1,781 mm8,518 mm501 mm
395 mm
MF 385 4WD Equipment & Tool Kit:

Chain Stabilizers
Spring Suspension Seat
Flat Top Fenders &amp
Operator's Manual
Weight Frame Without Weights
Top Link
Cat-I & II Balls
Check Chains
Swinging 9 Hole Drawbar
Hydraulic Control Outlets/Spool Valves
External Electric Switch
PTO Belt Pulley & International Warranty Tool Kit
Cabin (A/C or Non-A/C)
Sun Canopy (ROPS Style)
Front Ballast/Weights
Adjustable Pintle Hook
All the information on the 385 Tractor Price in Pakistan 2023 is available and you can get it. Further, MF 385 4WD tractor has engine power @ 2200 rpm Perkins 4.41 which can generate 85 horsepower. It is an all-wheel-drive (4WD) machine with manual transmissions including 8 forward and 2 reverse gears. Like its previous model MF 375 2WD, the MF 385 4WD has also regular functions and specifications but you can never compare its performance with the previous models. The multipurpose tractor is getting fame in the automobile market. People relating to agriculture or any other heavy-duty professions are happily buying this tractor. If you are also intending for Massey Ferguson MF 385 4wd Tractor Price In Pakistan for sale you can read out the following…