Small SUVs is most favorite vehicle in upper and middle class of Pakistan. Sports Utility Vehicles will be dominating in automobile industry, next coming few years. The popular SUVs Honda Vezel and Nissan Juke have been introduced in Pakistan. It increases in import quantity and presence on the roads is quite noticeable. Apart from that, the most of political and industrial icons prefer buying SUVs instead of other executive class sedans. These SUV's are are offered in different engine displacements and specifications. Check below the list of Small SUVs in Pakistan.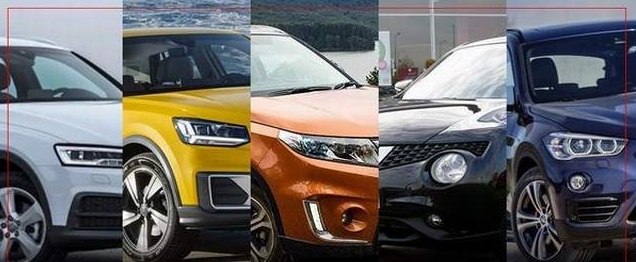 1.    Suzuki Vitara
Suzuki Vitara is a compact SUV produced by Japanese multinational corporation Suzuki. It is offered in two GL+ and GLX variants. Suzuki Vitara earned the title of the Best Ultralight Tow Car from the Tow Car Awards in the year of 2016. It is equipped with 2393 cc 4-cylinder VVT DOHC 16-Valves. Suzuki Vitara is the best choice due to its latest technology, economical and average-quality. It gets the advance features like automatic braking, collision detection, cruise control, seven airbags, hill hold, ISOFIX, electronic stability control.
2.    Toyota Rush
Toyota Rush has been introduced in collaboration by Toyota and Daihatsu. It comes with front engine, front and four wheel drive. Toyota Rush is offered in three variants – G, G LIMITED and X SMART EDITION. The second generation of the car is known as Daihatsu Terios in different regions of the world. Toyota Rush has unique design language with modern look features like sharp sleek trapezium styled side swept headlights, a rectangular shaped grille, a large front bumper, a rectangular air intake and standard fog lights. It is powered with 1495cc 1.5 Liter DOHC 16 Valve Inline-4 Petrol Engine, paired to 4-speed automatic transmission system.
3.    Honda Cross Road 1.8
Honda Cross Road 1.8 is a famous Sports utility Vehicle produced by Japanese automobiles manufacturer Honda. It is equipped with 1799 cc In-line straight 4 16-Values Petrol Engine. Honda Cross Road 1.8 gets the Five-speed Automatic transmission. It has stylish and boxy design language with advanced features such as Hill-Start Assist and an AWD that works in tandem with the traction control, stability control and ABS brakes. Honda Cross Road 1.8 has rectangular side swept headlights, a rectangular chrome grille, a rectangular air intake and dual standard circular fog lights.
4.    Honda Vazeel
Honda Vazeel is equipped with 4-cylinder 16 Valve Inline-4 EFI Engine with Hybrid Synergy. The 1496 cc engine is mated to 7-Speed Dual Clutch Automatic or CVT Automatic Transmission. The luxury and high-quality car is liked by the people of Pakistan in a great way. Honda Vazeel is based on the same Honda Global Compact Series platform and also known as the Honda HR-V in other regions of the world. It comes with sportier outlook with stylish features like narrow side swept headlights with tube designed LED daytime running light inserts, a small chrome grille, a trapezium air intake, dual fog lights and much more.
5.    BMW X1
BMW X1 is one of the top speed crossover sports utility vehicles. It was launched by Dewan Motors by the end of 2016 in Pakistan. BMW X1 is comprised on rear-wheel-drive and all-wheel-drive. The car is based on the concept of BMW's Sports Activity Vehicle and comes with urban life style. It gives the athletic and a stunning sporty look. BMW X1 gets the High-grade steel, aluminum body and intelligent lightweight construction. It is powered with 1.5 L Dual Turbocharged DOHC 3-cylinder engine. The 1499 cc engine is paired to 6-speed manual and an optional automatic transmission.
6.    Nissan Juke
Nissan Juke is a subcompact crossover SUV manufactured by the Japanese manufacturer Nissan since 2010. It is offered in three engine options- 1.6 Liter Inline-4, 1.6 Liter Turbocharged Inline-4 and 1.5 Liter Turbocharged Inline-4 Diesel. The 1500 cc engine is paired to Xtronic CVT Automatic Transmission. Nissan Juke comes with special and stylish design language with latest features like narrow upswept headlights, a black grille with chrome accents and very large secondary circular lights.
7.    Honda HR-V
Honda HR-V is a subcompact crossover SUV produced by Japanese automobiles manufacturer Honda. The body of the car is made up of 27% ultra-high strength steel. It gets the new grille with center chrome bar with Honda logo. Honda HR-V has some useful features like multi-information control switch, one push ignition switch, advanced touch audio, navigation system, seven inch touch screen head unit, SIRI & smart phone integration with Two USB & HDMI ports. It is equipped with In-line 4-cylinder EFI engine with 2400cc and 2000cc displacement. Honda HR-V is mated to five-speed automatic transmission.
8.    Audi Q3
Audi Q3 comes with 1400 cc In-line 4-cylinder EFI engine, paired to an automatic or manual transmission. It has athletic design language with modern features like trapezium styled side swept headlights, integrated daytime running LED lights, dual large slim narrow air intakes and a large hexagon grille accented by a chrome trim piece. Audi Q3 has also comfort interior features which include 2-zone automatic climate control, 12-way power front seats, power door mirrors, cruise control, keyless entry, 10-speaker stereo audio system, rain sensing windscreen wipers, traction control, and stability control. Features on the higher Premium Plus model include heated door mirrors and parking sensors.