A driving licence is legally essential for a driver to have while driving a motor vehicle on the road. The Punjab traffic police, the government of Punjab Pakistan has designed the Driving Licence Issuance Management System (DLIMS). Department has made it easier to get a learner permit or a regular driving licence. But before applying, you must be aware of the type of your vehicle and what type of licence you are required to have for it. So if you are having motorbike, car, rickshaw or light transport vehicle then you must acquire an LTV license. The other one is an HTV licence which is necessary in case of heavy-duty cargo trucks and buses etc. well, on this page we are telling the complete procedure about How To Apply for an LTV Licence in Punjab Pakistan with the required documents for an LTV license.
How To Apply LTV Licence in Punjab Pakistan
Now, people, who are driving light vehicles now they want to require driving licenses. Traffic police issue proper rules and regulations. As per the latest traffic rules, nobody can drive a vehicle in Pakistan without a driving license. Furthermore, the criteria for the driving licence are listed below.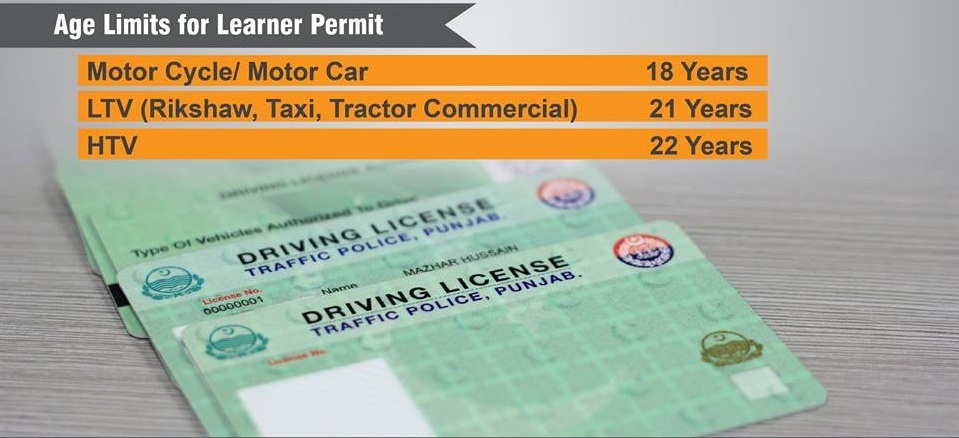 LTV Licence in Punjab Procedure:
One cannot directly apply for a regular driving licence. He or she has to get a learner permit first and after that one can apply for it. So the procedure is written step by step with headings.
First, apply for Learner Permit
Then You can Apply for LTV
LTV Licence in Punjab Learner Permit:
First of all, you have to get a learner permit from the traffic police headquarters anywhere in Punjab Pakistan. This document is issued on daily bases with a validity of 6 months which is written on it. In order to apply for this, learner certification you have to meet the following requirements and documents.
Age should be at least 21 years for LTV (Rikshaw, Tractor or Commercial Car)
1 photocopy of CNIC
Ticker of Rs. 60 from the nearest post office or learner permit office
Medical certificate (medical certificate should be issued by traffic police-authorized medical centres)
How to Apply LTV Licence in Punjab?
When you have obtained the learner document, now you can apply for the Light Transport Vehicle (LTV) license. You have to come into the traffic police officer with the fill-up application form. You have to attach the following documents with form A.
Original learner licence. (there must be at least 42 days remaining in its expiry date)
1 photocopy of valid CNIC
3 fresh passport-size photographs
Medical certificate
Medical fitness certificate (for performs over the age of 50 years)
LTV ticket of Rs. 900
After attaching these documents with your application form-A. You have to come at the traffic police office and meet the information desk and submit the application form after completely rechecking it. Generally, the officials give a time and date for the driving test. When you will pass the test you have to deposit Rs. 180 on the STR form in the branch.
Also Check:
Where to Apply LTV Licence in Punjab:
These days the traffic police have designed a smart app for smartphones. You can download this application from Play Store or AppStore. Either you are filling the form online from the app or you are applying physically you have to come to the traffic police officer at your nearest location. Generally, people visit the liberty traffic police officers at the liberty market near the parking.