Suzuki Cultus has been launched by the company in Pakistan and those who were waiting to buy this car now can take the Suzuki Cultus Price in Pakistan 2023. Further, Pakistan's Suzuki Cultus 2023 model is known as 'Celerio' in international markets. It is available in two variants VXR and VXL with top-of-the-line. It has received its first major upgrade in over 15 year period. Suzuki Cultus is powered with K Series K10B 12 Valve 3-Cylinder 1.0-litre Engine. The 1,000CC engine has five-speed manual transmission with a front-wheel-drive system and here down we will discuss the Suzuki Cultus Price in Pakistan.
Suzuki Cultus Price in Pakistan 2023
Now, Suzuki Cultus Price in Pakistan 2023 is going to be mentioned below. Besides Suzuki Cultus comes with a sportier look with comfort exterior and features. It has sports fog lights and alloy rims. The VXL variant gets some useful features like airbags, power windows, fog lights, and Anti-Lock Braking System while the VXR variant comes with optional upgrades. The perfect family vehicle provides five seating configurations. The interior look of the new model is completely different from the older Cultus.
| | |
| --- | --- |
| Variants | Price |
| Cultus VXR | PKR 2,754,000 |
| Cultus VXL | PKR 3,024,000 |
| Cultus AGS | PKR 3,234,000 |
Another Model of Suzuki Car: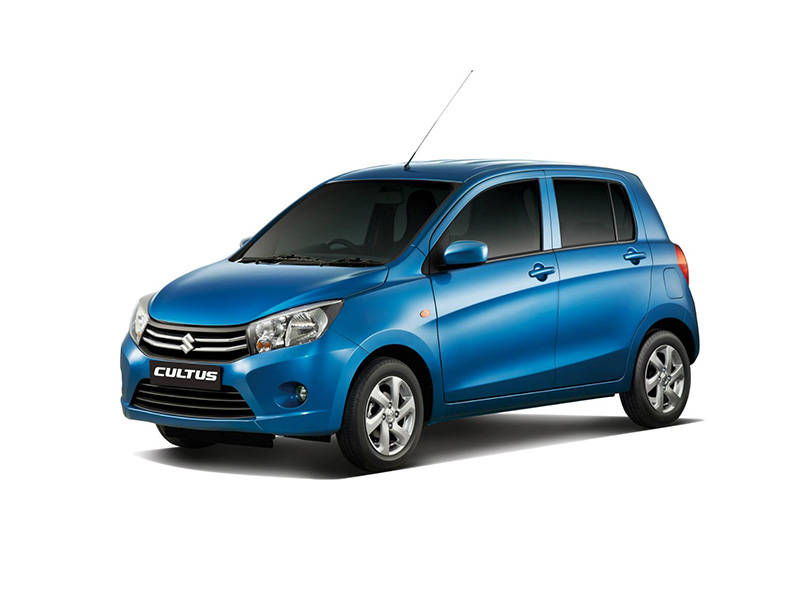 Suzuki Cultus has adjustable side mirrors, central door locking, and built-in multimedia Bluetooth connectivity along with new features. The new Cultus has easier gear shifts and a silent cabin. There are also seatbelts and rear-seat child locks. Both variants have standard power steering and keyless entry. Suzuki Cultus 2023 is more successful than the previous one because it received 5,000 orders within the first 12 months. All-new Suzuki Cultus comes with the standard 3 years or 60,000km warranty. Suzuki Cultus 2023 model is offered in Pearl Red, Cerulean Blue, Sand Beige, Graphite Gray, Silky Silver, Super Pearl Black, and White.
Suzuki Cultus VXR
Price
PKR 2,879,000
Engine Displacement
1000Cc
Transmission
Manual
Startup
Key
Suzuki Cultus VXL
Price
PKR 3,159,000
Engine Displacement
1000Cc
Transmission
Manual
Startup
Key
Suzuki Cultus AGS
Price
PKR 3,379,000
Engine Displacement
1000Cc
Transmission
Automatic
Startup
Key

Suzuki Cultus Automatic Exterior:
The exterior of the automatic Cultus 2023 gains a facelift front fascia with projector LED headlamps with DRL. The shreds style chrome grille has a Suzuki badge while the air-in-taker grille is in black colored plastic trims with right-left fog lamps. The door side has a dynamic trim line with wheel arches. The rear sidecar has a hatchback door and beveled doomed tail lights in beautiful dynamic end-ups. On the front side roof, there is an antenna that is better connectivity for navigation and Suzuki connection.
Suzuki Cultus Automatic Interior:
The interior of the Suzuki Cultus automatic 2023 is premium level with fabric seats and plastic trims. Sporty style dashboard has a mounted power steering with a cluster of the latest technologies. The center console of the dashboard has a multimedia infotainment system with 6 surrounding speakers. The whole inner cab is air-conditioned and ventilated which gives a soothing journey with comfortable sitting rooms. Behind the rear seats, there is a handsome place for cargo purposes where you can bring your luggage. Besides this, there are lots of interior features of this all-new auto gear shifter Suzuki Cultus automatic, which are written on the following side.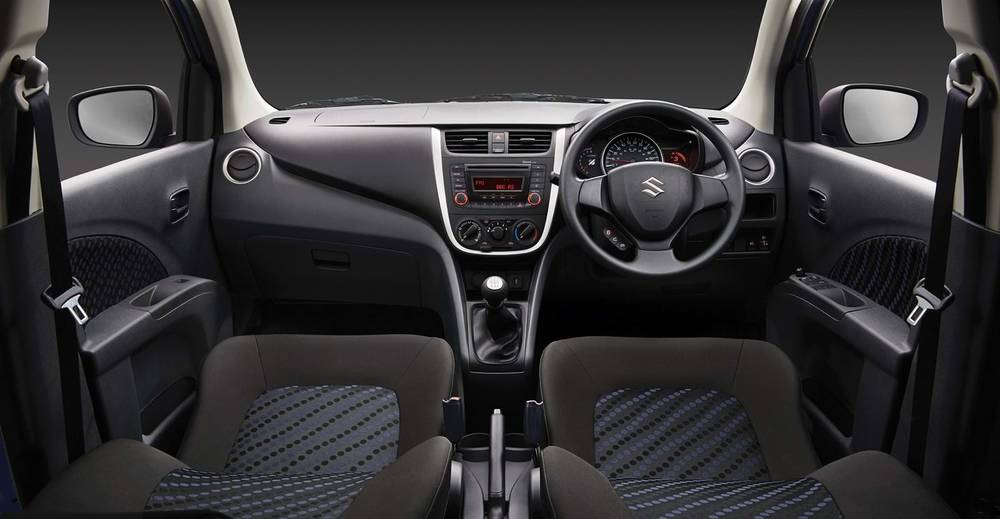 Suzuki Cultus Features
The latest Cultus Price in Pakistan given as well as the latest features that have been installed in the new model is here below and before buy, people can read.
Sr.
Features
Variants
VXR
VXL
1.
Power Steering
Yes
Yes
2.
Front Airbags
No
Yes
3.
Immobilizer
Yes
Yes
4.
Automatic Transmission
No
No
5.
Power Windows
Yes
Yes
6.
ABS
No
Yes
7.
Keyless entry
Yes
Yes
8.
Central Door
Yes
Yes
9.
Alloy wheels
No
Yes
10.
Multimedia
Yes
Yes
11.
Head Light leveling
No
No
Suzuki Cultus Specifications
| | |
| --- | --- |
| Engine | K10B 12 Valve 3-Cylinder 1.0-litre |
| Displacement | 1,000CC |
| No of Cylinder | 3-Cylinder |
| Transmission | Five-speed manual |
| Drivetrain | Front-wheel drive |
Suzuki Cultus engine cc
Suzuki Cultus come with a 998 Cc engine displacement as well the engine is powerful and fuel-efficient and gives good mileage to people.
Suzuki Cultus Mileage Per Liter
People want to know about Suzuki Cultus Mileage per liter that 14 to 16 km under one-liter petrol. In addition, the fuel mileage of this car is much better compared to others because if you go on a motorway then give more mileage to the people.
Suzuki Cultus Fuel Tank Capacity
The almost same fuel tank has been installed that inserted the Suzuki Wagon R because the Suzuki cultus Fuel tank capacity is 35 Liters. But according to company guidelines, people fill just only 33 or 34 liters petrol.
Suzuki Cultus Engine Oil Capacity
In all Suzuki cars, the engine oil capacity is totally different in every vehicle as well Suzuki Cultus engine oil capacity is around 3 Liters.
Suzuki Cultus Dimensions
Basically, this is a hatchback car but people compare it with Vitz and Wagon R. So, for the facilitation of the people now gets the dimensions that are available in Inches.
| | |
| --- | --- |
| Length | 151 Inches |
| Height | 54 Inches |
| Width | 62.5 Inches |
Suzuki Cultus Colors in Pakistan
Suzuki Cultus come in different colors as well totally of 5 colors have been introduced into this vehicle. Those people who are going to book now can choose the color and then book.
Pearl Black
Graphite Gray
Silky Silver
Solid White
Cerulean Blue
Suzuki Cultus Horsepower
Suzuki Cultus Horsepower is going to be written below while a powerful engine has been installed into this car.
Suzuki Cultus Accessories
Suzuki company gives different accessories with cultus. Furthermore, the accessories of Suzuki cultus are available in the top-of-the-line variant.
Top Cover
Low Grill Garnish Set
Mud Flap
Floor Mats
Rear Upper Spoiler
Seat Covers
Steering cover
Suzuki Cultus Ground Clearance in Pakistan
People are living in different areas of Pakistan while places exist where the roads are not comfortable. For the information of the people, the ground clearance of this car is 6.6 Inches.
Suzuki Cultus Booking price in Pakistan
The estimated price of Suzuki Cultus booking is 1 Million Rupees. On the other hand, if you want to confirm then visit the nearest showroom Suzuki where the representative will guide you properly.
Approximate 1 Million Rupees.
Suzuki Cultus Delivery Time in Pakistan
Those people who want to book Suzuki Cultus now are finding the delivery time of this car. So, Suzuki cultus delivery time in Pakistan is around 4 months.
All the information about Suzuki cultus that is available in new shape price is mentioned on this page and those people who want to buy a new car of 1000cc now can try Suzuki cultus and hopefully they will rememberable traveling with Suzuki cultus. This is the complete information about Suzuki Cultus Price in Pakistan 2023.
FAQ:
What is the difference between VXR and VXL?
ANS: The difference between VXR and VXL is clearly mentioned and those people who want to get the all information can readjust above the table.
What is the price of Cultus 2023 in Pakistan?
ANS: Suzuki Cultus price starts from PKR 2,030,000/- to till PKR 2,422,000/-. Furthermore, the price depends on the variant.
What is Cultus VXL?
ANS: Basically, VXL is a variant of Suzuki Cultus that was launched after VXR. So Suzuki Cultus VXL is better then VXR.