Recently, Hyundai company has launched a new vehicle, and people also seeking the Hyundai Staria Price in Pakistan 2023. Hyundai staria is a completely great family car with a luxurious, sophisticated, and decent design with large seating capacity and comfortable ride. Staria is all one by its feature with folding seats it can be used for different purposes like business trips and family days out. This is a completely futuristic car with modern features and looks. Staria is a perfect combination of car and technology with comfort and elegance. Staria is one that vehicle gives you premium look and feel both exterior and interior. Further, fuel mileage, fuel tank capacity and Hyundai Staria Price in Pakistan 2023 information is going to be mentioned below.
Hyundai Staria Price in Pakistan 2023
Hyundai Staria has launched in Pakistan and now people are seeking the Hyundai Staria Price in Pakistan 2023 which is going to be mentioned below. Hyundai Staria launched its top-of-the-line HGS variant in Pakistan which is full of features and specs. Staria X-factory price is 92, 99000 PKR. Customers book Hyundai Staria at half of the price and it's delivered in two to three months.
| | |
| --- | --- |
| Hyundai Staria Price in PKR | 92, 99000 PKR |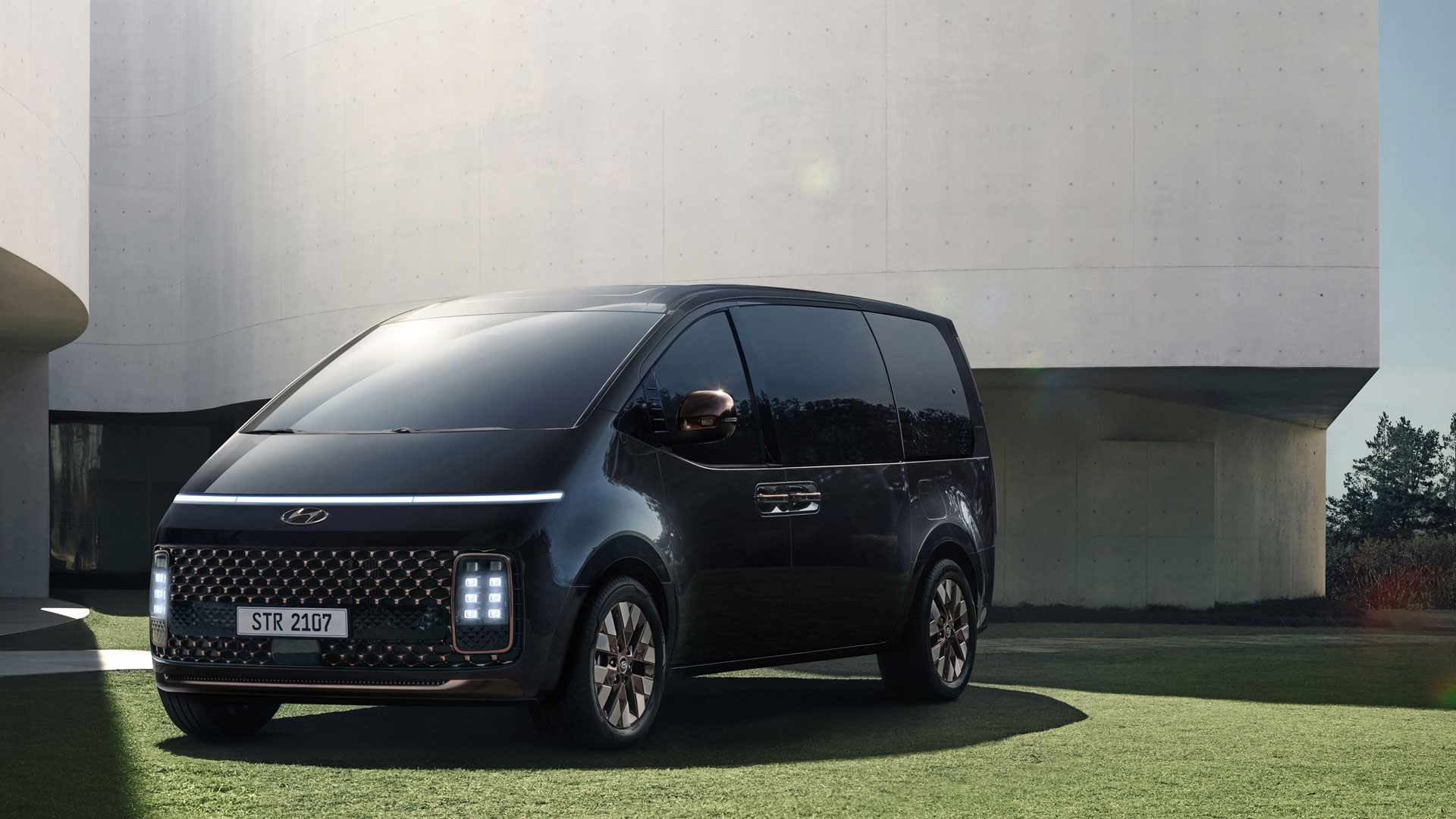 Hyundai Staria Exterior:
Staria's look is esthetic from the exterior with his modern design and beautiful shape. This vehicle looks extremely futuristic from the front, side and rear end the Full LED Headlamps, Retractable Side Mirrors with Turn Signal, And at the rear side Parametric Pixel Lights (LED Rear Combination Lamp) enhance his gorgeous look. Staria's 18'' alloy wheel design is totally new and in star shape which is looking very awesome from side profile of the car.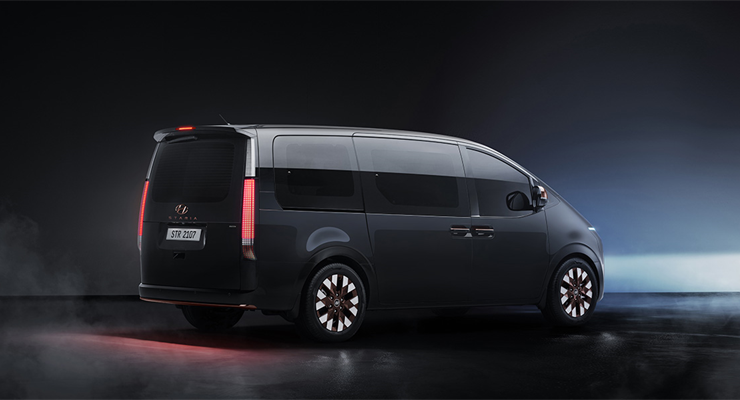 Hyundai Staria Interior:
When you sit in staria the first thing Passengers observe is Full length side windows and dual sunroof which look extremely luxurious. Heated and ventilated seats give a very comfortable and peaceful ride with 8'' floating infotainment display which help you to enjoy the moment of ride and also 10.25" TFT Info Digital Display for diver its help driver with all the necessary information on screen while driving. On the safety side there is 6 airbag in this car.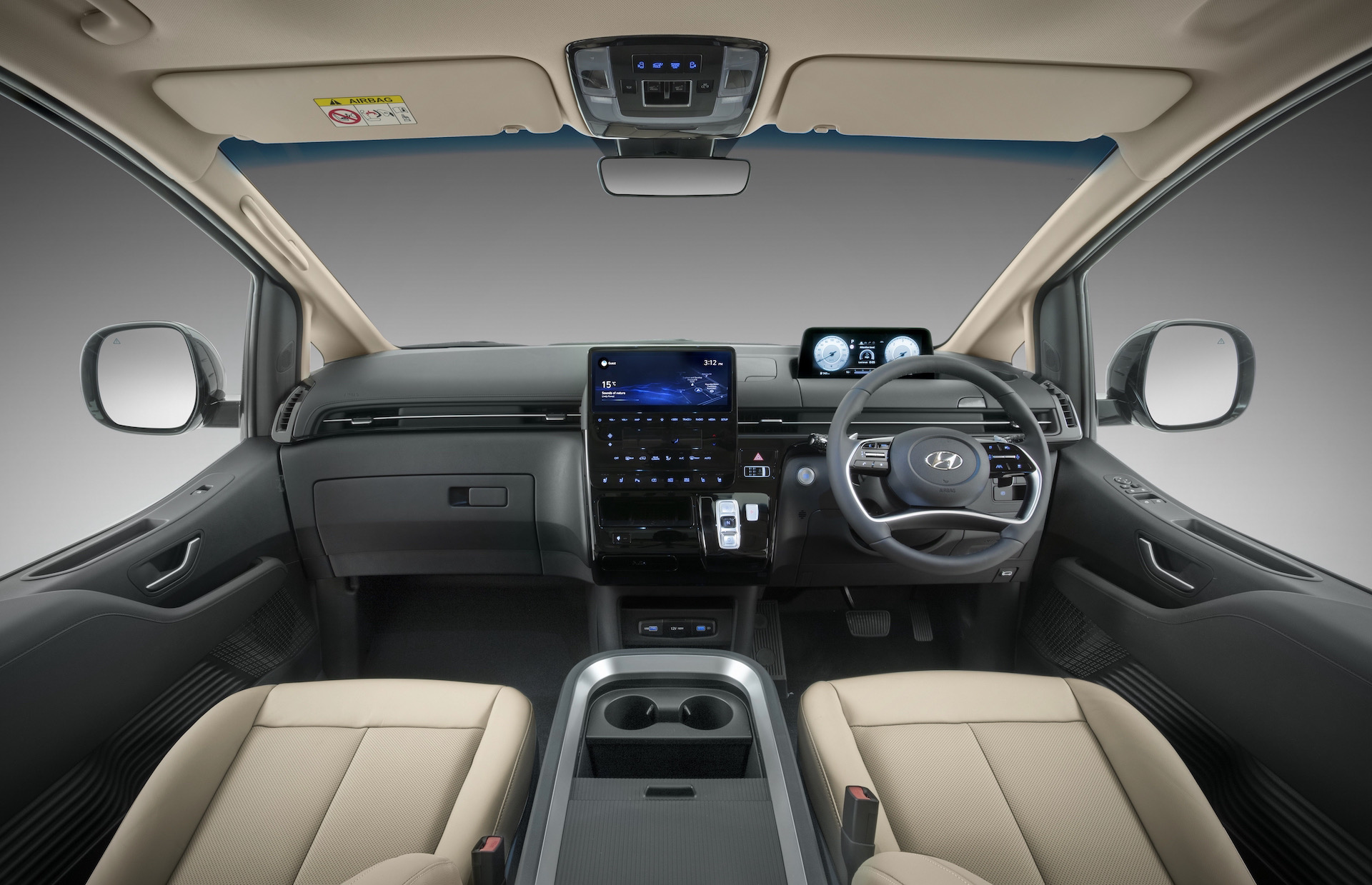 Hyundai Staria Features:
Staria is full of features it has 4 different driving moods such as ECO Mood ,SPORTS Mood ,NORMAL Mood and SMART Mood with V6 Engine size. His tyres size is also big it's come with 17'' tyres and halogen headlights with DRL'S. If we discuss Multimedia side there is TFT LCD and six good quality speakers with Bluetooth, AUX, and USB options also the dual zone manual air conditioner and heater available in this vehicle features are important with safety so there airbags, Traction control ABS + EBD and break assist BA also available.
4 different driving moods
V6 Engine size
TFT LCD
17'' tyres
Traction control
ABS + EBD and break assist BA
airbags
Hyundai Staria Specifications:
| | |
| --- | --- |
| Specifications | STARIA HGS 3.5 A/T |
| Engine Type | ? III 3.5 MPI (Smart stream G 3.5) |
| Cylinders | 6 (V Type) |
| Emission Standard | EURO 2 |
| Transmission | 8 Speed Automatic Transmission |
| Fuel Type | Petrol |
| Fuel Tank Capacity | 75L |
| Drive | 2WD |
| Drive Mode Select | Eco, Sports, Normal, Smart |
| Manual Shift Mode | (Paddle Shift) |
| Keyless Entry | Smart Entry |
| Wheel Size | 18″ |
| Tyre Size | 235/55 R18 |
| AIR Bags | 6 |
| Seating capacity | 11 persons |
| Parking Sensors | yes |
| Auto Light Control | yes |
| Auto Cruise Control | yes |
| Steering Wheel Remote Control | (Audio + BT with Voice Recognition) |
| Multimedia | 8'' Display |
| Rear and Front View Camera | yes |
| Number of speaker | 6 |
Hyundai Staria Dimensions
| | |
| --- | --- |
| Length | 5253  mm |
| Width | 1997 mm |
| Height | 1990 mm |
| Wheel base | 3273 mm |
| Ground Clearance | 186mm |
Hyundai Staria Top Speed
Due to the power full engine size Hyundai staria top speed is 210 km and its V6 engine produce 331 Newton meter of Torque.
Hyundai Staria Commercial Van
Staria also used as commercial van because of its cabin space and comfortable seats also this vehicle is use as loading vehicle because of power full engine size.
Hyundai Staria Fuel Consumption
Hyundai staria mileage per litter is 8 km on busy and traffic roads and 10 km on long routes such as highways or motorway.
Hyundai Staria Diesel
Some of the people are seeking the fuel type of this vehicle that are using commercial. So, Only petrol variant HGS of staria is launched in Pakistan which is petrol variant not a diesel variant.
Hyundai Staria Engine
In these days hybrid technology has introduced in Pakistan so those people who are interested into this vehicle now they want to know engine type that has inserted into this vehicle by company. In staria there is smart stream G 3.5 engine with 6 v type cylinder with 8 speed automatic transmissions.
Simple Engine installed not hybrid
1998 Cc
Hyundai Staria Competitors
Multiple Chinese companies have come in Pakistani automobile market that are giving the commercial vehicle as well Hyundai company launch one new big vehicle that you can use for commercial. Further competitors of this vehicle is going to list in below.
Toyota Alphard
Kia Carnival
Toyota Hi Ac
Hyundai Staria Accessories
Will updated soon as confirm from any official source.
Hyundai Staria Boot Space
Because its cabin size is very large there is 841 Liters boot space avaible in this type of vehicle which is sufficient. If you use it commercially you can remove the seats and increase the boot space.
Hyundai Staria Ground Clearance
People are living in rural and urban areas but those who are living in rural now seeking the ground clearance of this vehicle.so the ground clearance of Hyundai staria is 186 mm.
Now, you can take the complete information about Hyundai Staria Price in Pakistan 2023 is mentioned on this page as well till now just only one variant has been launched while when they will launch other variant then we will share on this page.
FAQ:
How much will the Hyundai Staria cost?
ANS: Hyundai Staria is now available in Pakistani market as well some of the audience are finding the how much will the Hyundai Staria cost that is 9.2 Million Rupees.
Is Hyundai Staria a 7 seater?
ANS: Hyundai Staria is not 7 seather while this is 11 seater vechile that launched by the Hyundai Company.