The world's number one professional vehicle manufacturer Hyundai has designed the new model of Hyundai H100 2023. Hyundai H100 2023 Price in Pakistan is available here. There are 3 different models including; H100 2.6 Euro ii C/C, H100 2.6 Euro ii Deck, and H100 2.6 Euro ii Deck A/C. Each model can generate a maximum of 58 horsepower @ 4000 RPM per min and a maximum torque of 167 @ 2200 R/Min.  You can get details about Hyundai H100 2023 Price in Pakistan Pickup Specs. Moreover, designers have put longer and wider dimensions which I have written in the following side with exterior and interior details. On this page, you are also getting the Hyundai H100 2023 Price in Pakistan, release date, and key features that are produced by the officials.
Hyundai H100 Price in Pakistan 2023

The Hyundai H100 price has been launched by the company as well showroom price of this car is 3 million rupees. Moreover, for commercial usage, this vehicle is the best, and fuel mileage is outclassed. Further, other information about the interior, exterior, specs, and features is given.
| | |
| --- | --- |
| Hyundai H100 Price in PKR | PKR 3000000 |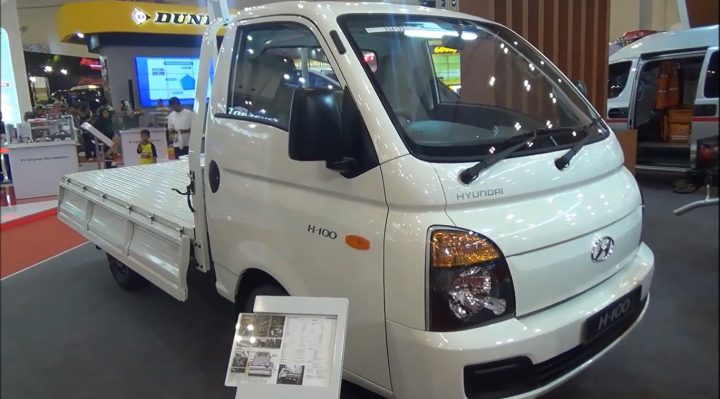 Hyundai H100 Exterior:
The 2018 H100 Hyundai comes with a wide windscreen a pair of large clear headlights and clear type front fog and rear spoilers. Moreover, the vehicle has a wide view outside panoramic mirrors which provides safety while driving. On the rear side, the unit has a wider and longer cargo space with a lower deck height of just 775mm which is very efficient for loading and unloading up to 1000KG load at once.
On the below side of the cab, there is a body-mounted toolbox which is very practical for small usage. Besides this, the vehicle has 15" steel rim tires with an extra tire that is mounted beneath the cab. Further, you can see the following images to get more details about the exterior of the Hyundai H100 2023 with the Hyundai H100 2023.
Hyundai H100 Interior:
The inner cab of the H100 is exceptionally efficient and functional with full comfort and safety features. Three-person seats are upholstered with leather. The driver seat is adjustable according to the steering and the size of the driver's legs and height.
The dashboard has a car-like console with a technology cluster of the tachometer, seat belts, and door side pockets. In short, you have key level features inside the cab that are interesting and totally new features that you can never find in any other purpose-built pick-up.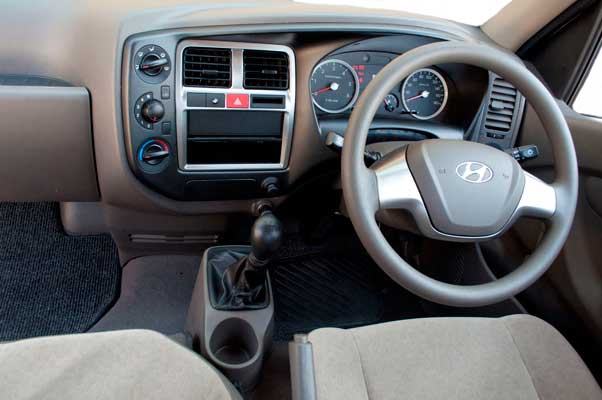 Hyundai H100 Specifications:
Below are some of the specifications of this car launched by Hyundai for the year 2023.
Engine
Make

Hyundai H100
Euro 2 technology
Diesel Power

Model Configuration
2.6D
Capacity
2607cc
Max Power – kW @ r/min
58/4000
Max Torque – Nm @ r/min
167/2200
Gears
5 forward 1 rear
Transmission
Manual gears
Mileage
12 to 14 KM
Dimension
Overall Length (mm)
4850
Overall Width (mm)
1740
Overall Height (mm)
1970
Front Overhang (mm)
1185
Rear Overhang (mm)
1235
Wheelbase (mm)
2430
Turning Radius (mm)
5040
Mass Data
Manufacturers' Gross Vehicle Mass (kg)
3000
Manufacturers' Gross Combination Mass (kg)
4250
Manufacturers Front Axle Mass (kg)
1500
Manufacturers Rear Axle Mass (kg)
1800
Permissible Maximum Vehicle Mass (kg)
3000
Permissible Maximum Front Axle Mass (kg)
1500
Permissible Maximum Rear Axle Mass (kg)
1800
Total Unlade Mass (kg)
1665
Permissible Max Drawing Vehicle Mass (kg)
4250
Tires
Size and ply rating
195/70 R15
Radial or cross-ply
Radial
These features are perfect for loading purposes as Hyundai always provides its customers with unique quality products.
About The Author