People can get the Daihatsu Move Price in Pakistan 2023. Daihatsu move is the king of entry-level cars. Daihatsu is the fastly growing brand in Pakistan people start to trust Daihatsu vehicles because it's affordable and fuel-efficient because of the small engine size it's a very good car for small middle-class families in developing countries fuel is one of the common problems because its small engine size it's a very good car with good quality. Its interior is modern and the design language is also very great and looks amazing. Daihatsu Move the Pakistani market in a very decent way and now can Daihatsu Move Price in Pakistan 2023.
Daihatsu Move Price in Pakistan 2023
| | |
| --- | --- |
| Variants | Price |
| Daihatsu Move Custom G | PKR 1,075,000 |
| Daihatsu Move Custom L | PKR 1,150,000 |
| Daihatsu Move Custom R | PKR 950,000 |
| Daihatsu Move Custom R VS | – |
| Daihatsu Move Custom RS | PKR 1,035,000 |
| Daihatsu Move Custom RS SA | PKR 1,550,000 |
| Daihatsu Move Custom S | – |
| Daihatsu Move Custom X | PKR 1,050,000 |
| Daihatsu Move Custom X Limited | PKR 720,000 |
| Daihatsu Move Custom X SA | PKR 1,485,000 |
The Daihatsu Move 2023 latest version is equipped with the second edition of e.S Technology, which made advances in fuel efficiency and affordability. It gives an impressive fuel mileage of 29km/l. Daihatsu Move comes with the power of a 660cc engine. Daihatsu Move Price in Pakistan 2023 and the new model features the latest design pictures, specifications, fuel mileage details, available colors, and review the information provided on this page.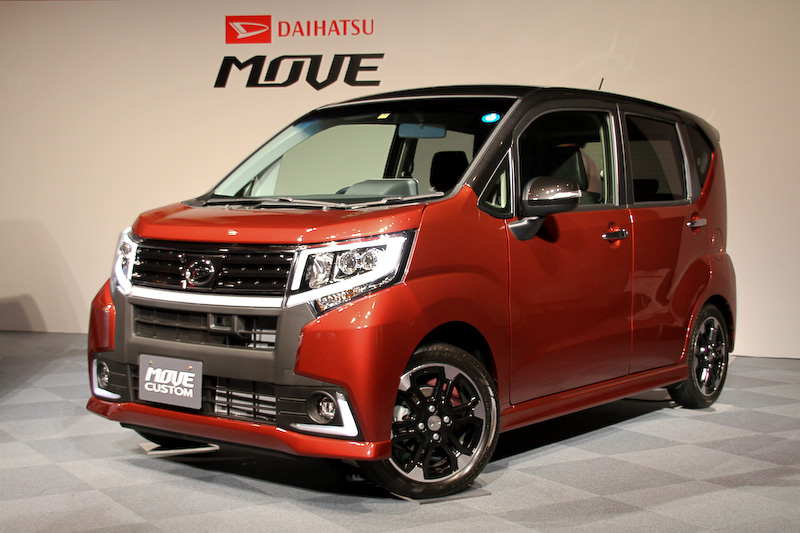 Daihatsu Move Exterior:
The exterior of any car is one of the most focal components in liking a car. As we are talking about the Daihatsu Move new model, here we have a quite new frontal face of a car than to usually existing cars on road and of course, this look is actually its identity. The frontal face is designed with a chrome grill and an identical Daihatsu logo in the midsection of the grille. Headlights are quite wider and the lower beam is placed with fog lamps and air in-taker traps.
Moreover, its 12" inches alloy wheels are also new in their design. Its roof is higher but the space between the road and the car is inferior which is pessimistic according to me for Pakistani D-curved speed breakers. Well, besides the front face and tires and rear spoilers have L-shaped taillights that start with the top edge to the end on a bumper curve. You can see its further looks in the following images.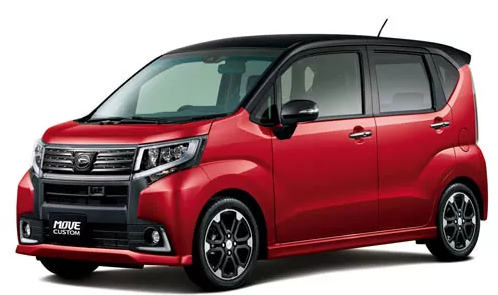 Daihatsu Move  Interior:
The inner side of this small hatchback Japanese car is quite luxurious and prepared with entry-level features. Its cockpit dashboard is not less than a mini SUV because you get a power steering with a power button on it. The tachometer is outfitted with driver-friendly features. The midsection of the dashboard is designed with a modern infotainment system with a 9" inches touch screen LED. The gear handle is also placed on the dashboard beneath the media box.
Moreover, its seats are upholstered with fine-quality jute fabric which is easy to clean. Various safety and comfort characteristics are present inside the car for ongoing passengers.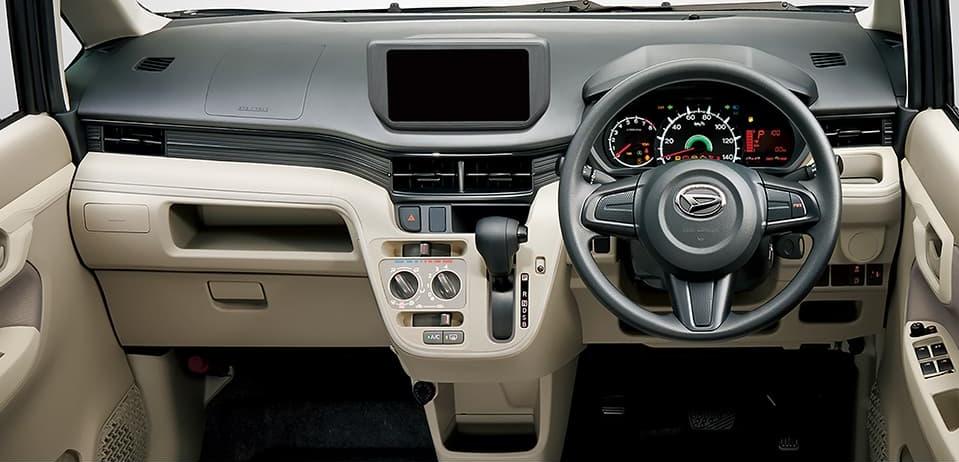 Daihatsu Move Features
Air Conditioner
Tachometer
Defogger(Rear)
Folding Rear Seats
Steering Adjustment
AM/FM Radio
CD Player
Central Locking
Power Door Locks
Steering Adjustment
Daihatsu Move Specifications
| | |
| --- | --- |
| Make | Daihatsu |
| Model | Move Custom |
| Engine Capacity | 660cc (official 658cc) |
| Driving Type | Available in both Two Wheel Drive (2WD) and also Four Wheel Drive (4WD) |
| Steering Position | Right Hand Drive (on the right side of car) |
| Transmission Type | Automatic gear |
| Fuel | Gasoline (Petrol) |
| Passenger Capacity | 5 |
| Engine Type | KF. DOHC. 3 Cylinders. 12 Valves |
| Number of Doors | 5 |
Daihatsu Move Average
Because of the small engine size, the Daihatsu Move fuel average is very good in both cities travel a high way travel.
City = 24 KM / L
Highway = 27 KM / L
Daihatsu Move How Much Cc

It's an entry-level hatchback car for small families and students its engine size is according to its price and capacity which is best. Daihatsu Move is 658 cc.
Daihatsu Move Dimensions
| | |
| --- | --- |
| Wheelbase | 92 inches |
| Length | 134 inches |
| Width | 58 inches |
| Height | 66 inches |
Daihatsu Move Accessories
This is an imported vehicle and its accessories do not come to Pakistan along with the vehicle.
Daihatsu Move Seating Capacity
5 People can easily sit in this car.
Daihatsu Move Battery Size
Daihatsu Move Cruise Control
Yes, in some variants cruise control is available.
Daihatsu Move Engine Oil Capacity
Daihatsu Move Colors
White
Grey
Black
Blue
Silver
Red
Daihatsu Move Ground Clearance
Ground clearance of Daihatsu Move is 150mm.
Daihatsu Move Tyre Pressure
Daihatsu Move Tires Size
Daihatsu Move Fuel Tank Capacity
All the latest information regarding Daihatsu Move Price in Pakistan 2023 is mentioned on this page while those people who are looking at the specification now can take the all information from this page.