Yamaha Dhoom YD 70 Price in Pakistan 2019 = PKR 50,000/.
Can you imagine a stylish, exquisitely designed and high performance vehicle with the price of less than fifty thousand in this era of sky-rocketing inflation, But the dream comes now true in the form of new Yamaha Dhoom YD 70 Price in Pakistan 2019 50,00.With a 70 cc engine, Yamaha introduced its new brand Dhoom. A bike with a stylish and speedy look, gained popularity among its customers.
Available colors in the market are red and black. But of course one can alter the accessories and other according to his desire and style. Even with the ease of affordability, you do not have to make any compromises for the advanced and highly demanded features. Serving the national customers for previous nearly four decades, the Dawood Yamaha Limited has achieved a great success in the field of motorcycle industry. Having a four stroke technology has provided a good and smooth sound to the engine and ultimately to the bike.
The engine is air cooled with a single cylinder. 4-speed transmission system is staged for riding. At high speed, most of the bikes start vibration. It has no problem in this regard. No self-start mechanism is present. Rider has to use kick start method to start the bike which itself is smooth too.Moving to its mileage performance, it has fuel tank of 9.5 liters. Reserve fuel capacity is about 1.5 liters so to alert the rider about the decreasing fuel in the tank.
On the other side, the back light of Yamaha Dhoom is appreciated by large customers of the machine. The speedometer is ordinary with indicator sign for the rider on it. The key insertions hole is also situated within the speedometer. Black leather cover is optimum for sitting, with a grip rod under the seat for the back sitter. While searching for a right kind of bike, the people can never ignore its resale value.
An automobile with a high re-cash potential gives you economic security as your hard earned money remains safe. Sometimes the people are not satisfied with what they have owned and want to go for an alternative after selling their possession with good price. For the achievement of this end, your present motorbike will provide a high return for your investment than any other competitor in the market. Yamaha Dhoom YD 70 Price in Pakistan mention above here.
Yamaha Dhoom YD 70 2019 New Model Shape Pics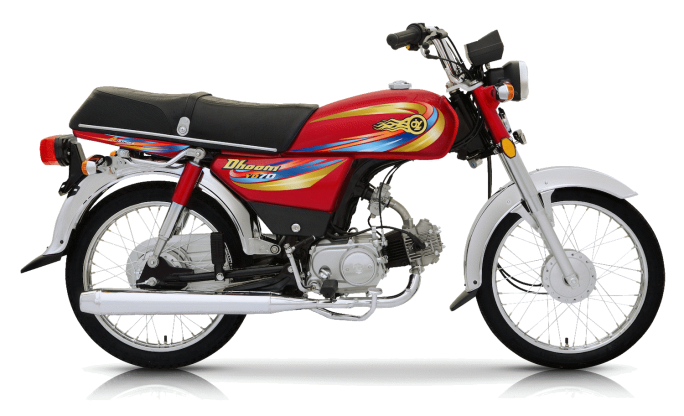 Yamaha Dhoom YD70 Shape and Look in Red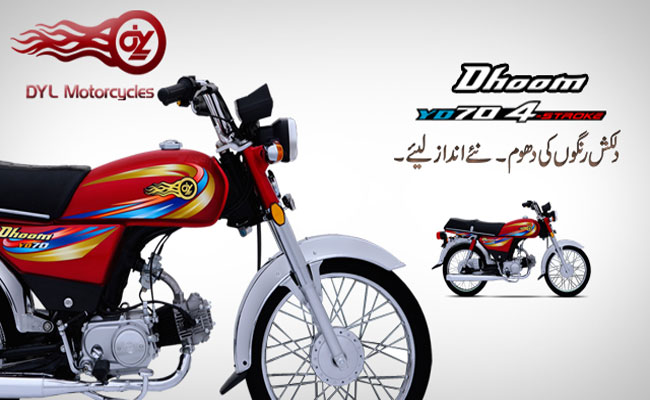 Yamaha YD70 Dhoom 2019 New Shape Colors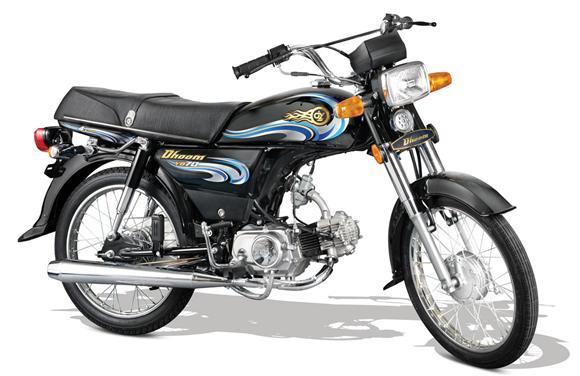 Yamaha Dhoom YD 70 2019 look in Black
Yamaha Dhoom YD 70 Features:-
4-stroke air-cooled Single Cylinder
Kick Starter System
4-Speed Transmission System
9.5L (1.5 Liter Reserve) Fuel Tank Capacity
Fuel reserve capacity is 1.5L
50 to 55 Average (KM/1L)
Prominent Speed Meter
Powerful Rear Jump
Powerful Tail Light
Long-Life Engine
Durable and Comfortable Seat
Yamaha Dhoom YD 70 Specifications:-
| | |
| --- | --- |
| Type | Air Cooled, 4-Stroke, SOHC |
| Compression Ratio | 01:09.1 |
| MaxTorque | 5.4 [email protected] RPM |
| Lubrication System | Wet-Sump |
| Ignition System | 12V/CDI |
| Fuel Tank Capacity | 9.5 Liter |
| Fuel Reserve Capacity | 1.5 Liter |
| Starting System | Kick Start |
| Overall Length | 1915mm |
| Overall Width | 765mm |
| Overall Height | 1000mm |
| Wheel Base | 1210mm |
| Dry Weight | 83kg |
| Tyre Front | 2.25-17-4PR |
| Tyre Rear | 2.25-17-4PR |
Yamaha Dhoom YD 70 Price in Pakistan 2019 is PKR 50,000/-