Suzuki Sprinter Bike Price in Pakistan 2021 latest model specs features mileage details pics. Suzuki Sprinter Bike Price in Pakistan 2021 is available here. Suzuki Sprinter price in Pakistan specification color, fuel capacity mileage detail, engine shape logo new look pics check here from. Suzuki launched an environment-friendly motorcycle to attract more customers. With a strong and powerful engine working capacity it consumes less fuel to give you maximum mileage. It is a very economical and ecological bike. For those people who tired of typical 70cc bikes, this bike is a good option to purchase as the looks are attractive and it offers a comfortable ride for the riders. Suzuki Sprinter ECO Euro 2 2021 is available in black and red colors but can be altered.
Suzuki Sprinter Bike Price in Pakistan 2021:
The price of this bike is 98,000 PKR.
Using an air-cooled system for cooling purposes Suzuki Sprinter 2021 has a four-stroke engine. The bike can produce a speed of up to 110 km/h it is popular among a large number of people. A most important feature of the bike is that when its speed an 80 to 85 km/h it remains smooth which is a drawback in the number of bikes that start vibrating. The secret of smoothness resides in the strong frame of the motorbike.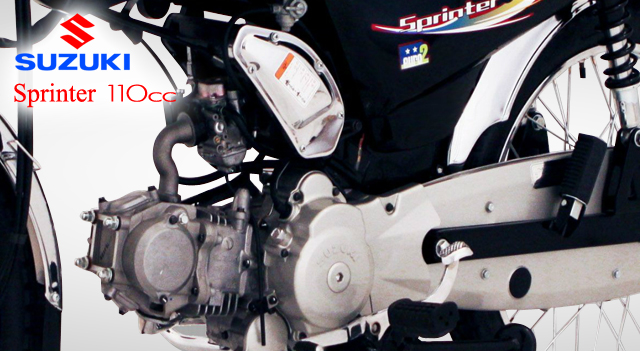 Suzuki Sprinter Bike Engine Look Shape
With a capacity of 10.5 liters, it has a large and dynamic tank. Its reserve capacity is about 2 liters which is more than other bikes that have this capacity of 1.5 liters. The mileage average of this bike is almost 55 kilometers per hour. Kick start with electronic ignition mechanism can be exercised to start it to set in motion. The key feature of this bike is high compression which sets it more prominent. The headlight is looking good with the look of the bike. The rear light is quite small but stylish. For making it more comfortable for the rider the seat is wider long and leather cover. Suzuki Sprinter Bike Price in Pakistan 2021 is some high but this year they manage in reasonable price as we look this ride shape, capacity, a quality so must think for your first choice on buying new bike about it.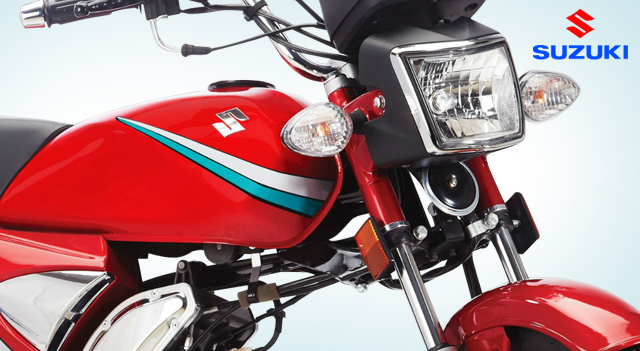 Suzuki Sprinter Bike Front Light Shape Look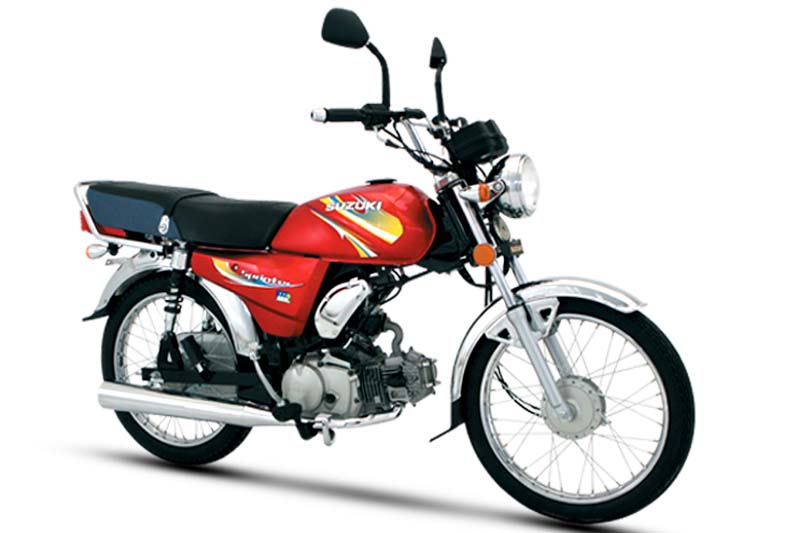 Suzuki Sprinter Bike in Red Color Look
Suzuki Sprinter Bike 2021 Specifications:
The specifications of this bike are as follows:
| | |
| --- | --- |
| Overall Length | 1900mm |
| Overall Width | 755mm |
| Overall Height | 1050mm |
| Wheelbase | 1225mm |
| Engine Type | 4-stroke air-cooled single-cylinder, OHC |
| Displacement | 109cm |
| Bore x stroke | 5mm x 48.8mm |
| Compression Ratio | 6:1 |
| Carburetor | MIKUNI BS22, Single |
| Start system | kick |
| Transmission | 4-speed |
| Air cleaner | polyurethane foam element |
| Clutch | Wet multi-plate type |
| Gearshift Pattern | 4-down |
| Suspension | Front Rear |
| Front Brake | Drum |
| Rear | Drum |
| Ignition type | Electronic ignition |
| Drive Chain | 10 B.T.D at 1500 rpm |
| Ignition Timing | 428, 102 links |
| Spark Plug | NGK CRHS |
| Battery | 12v9kc |
| Fuel Tank | 5 L |
| Reserve | 0 L |
| Engine Oil | 700ml |
| Ground Clearance | 150mm |
| Seat Height | 800mm |
| Dry Weight | 91kg |
| Frame Type | Single Backbone |
Suzuki Sprinter Bike Price in Pakistan 2021 for the latest model with average mileage details fuel efficiency and much more here at. If you need any related information then write us in the comments section below.