United Motorcycle 70cc price in Pakistan 2021 is recently revealed by United company and this beautifully designed model is available at different dealers. United company has made an effort to bring it's newly design and more performance. United US 70 is also famous for the strong quality material. The company has also followed the same fundamentals and standards. It has the stylish look and elegant design. Sleek design with eye catching graphics has made the new model impressive. United US 70 2021 Price in Pakistan model has the new indicators and brake light. It is available in the markets in two colors Red and Black.
United Motorcycle 70cc price in Pakistan 2021
| | |
| --- | --- |
| United US 70CC | Rs. 45,500 |
The price of this bike in Pakistan is 45,500. This is not the final price the negotiation of RS 500-1000 is also provided by the dealer to facilitate its customers at the time of purchase. This bike is currently trying to compete with Honda bikes. United is making the quality and style of its products better everyday it is the main reason that its bikes are being used highly all over the country.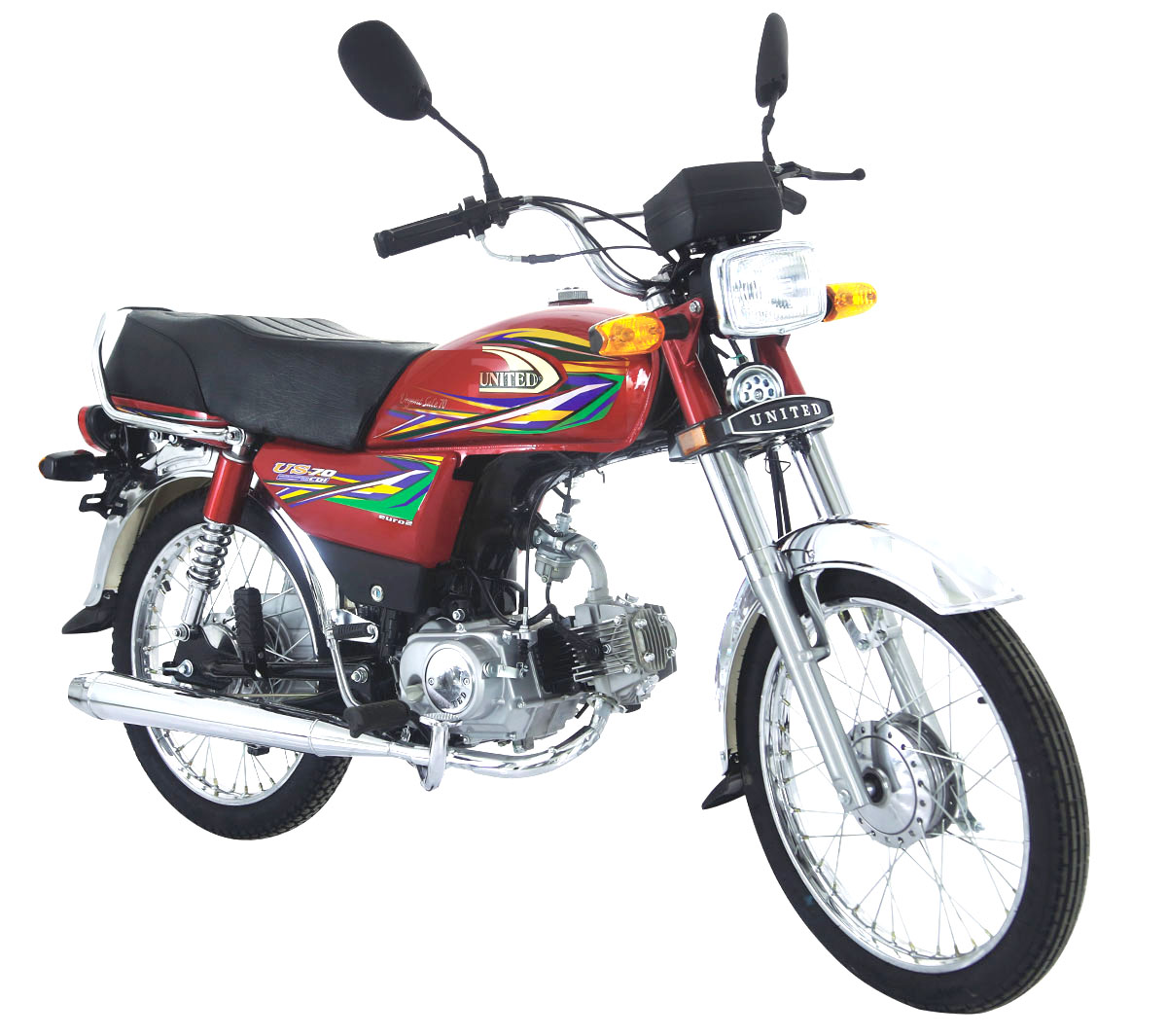 United Motorcycle 70cc Petrol Average
United US 70 has the powerful 4-stroke air cooled engine. Its fuel mileage efficiency is very impressive. It has wide space for fuel. Fuel tank capacity is 8.5 liters. Reasonable price in Pakistan and great performance makes the United US 70 first choice of the young generation. The price mentioned below is not exact price the negotiation in this price will be done by the dealers.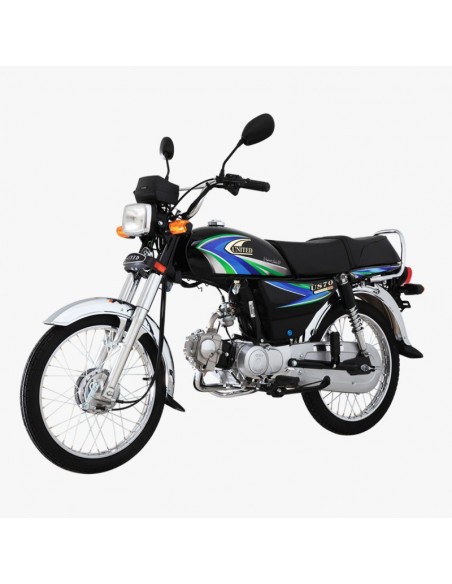 United Motorcycle 70cc 2021 Model Colors
United company has released two colors Red and Black. Red colors is giving the outstanding look to the bike while some people like black colors.
United Motorcycle 70cc 2021 Model Features
In addition to all of these things United is also providing its customers with 6 month of engine warranty at the time of purchase. United dealers are available all over Pakistan. If any problem is found in the engine or other specific parts that are in warranty as mentioned in the manual of this bike then these parts can be changed or repaired by different authorized United dealers all over Pakistan.
4-Speed Transmission System
4 Stroke OHC, Air Cooled, Single Cylinder
Kick Starter System
Attractive Speedometer
Strong Shock Absorber
Lockable Side Cover
Available in two colors (Red and Black)
Enhanced Chromed Rear Shock with matching upper Glass
More efficient, more powerful and ultra compact Engine
Durable and Comfortable Seat
United US 70 2021 Specifications:
Below are few details regarding this model. People who are interested to buy this model can check the details mentioned below and can easily buy this bike from any united dealer nearby.
Specification US 70cc
Engine Type
4-Stroke OHC Single Cylinder cooled by Air
Displacement
78cc
Compression
8.1:1
Front Brake
Drum Mechanical
Rear Brake
Drum mechanical
Transmission
4-Speed
Starting System
Arm Assy Kick
Fuel Tank Capacity
8.5 Litre
Tyre Front
2.25-17/4PR
Tyre Rear
2.50-17/4PR
Battery
12 Volt
Engine Oil
0.7 Litre
These were some of the basic specifications of this model launched by United for the year 2021. The design of this bike is very unique with variety of different colors so that customers can enjoy a new stylish design.