Metro MR 70 Jeet price in Pakistan 2018 = PKR 39, 500/.
Metro MR 70 Jeet price in Pakistan 2018 specs features new model shape pics mileage details with fuel capacity, new specifications, seat height, new logo shape, changes in comparisons. Metro MR70 Jeet is one of the best amongst these Metro bikes. Bikes have become the only lifeline for most of the mediocre working class to cover their distances in lowest possible costs because as the oil prices are increasing and the economy is falling down.
Bikes that are good looking energy efficient and durable the competitors are struggling hard to introduce such bikes. Metro has brought into the competition its new model-MR70. Bike has two editions one is a special and the other is simple. Instead of the other companies Metro has designed something new in its bikes. The looks are different from front to back.
Metro MR 70 Jeet bike comes with a wet sump single cylinder engine two valves with four strokes and an air cooling system equipped with SOHC chain drive. A capacitor discharge ignition (CDI) of great quality and a dry paper element air filtration system which makes it atmosphere friendly. The bike is 1885mm long 760mm wide and 990mm tall and its dry weight is almost of 82 kg. Within this structure of sleek and shiny material its fuel tank capacity is 9 liters and its mileage average is almost 60 kilometer per hour.
Its transmission type is four speed constant meshes and it has a dry charged 12V 2.5A battery that gives it a long battery life. All of them in a better quality standard than competing products the bike contain a speedometer odometer Indicator lights neutral position indicator turn signal indicator and an on/off switch. The bike is available in black and red colors design on its shiny body with a distinctive blue color.
Makes it look more stylish from all angles the glass finish on the bike adds to its appearance. All these specs catch riders to himself but main thing is reasonable price/rate in Pakistan after watch its features his price not much higher may be some cities like Lahore, Rawalpindi, Islamabad, Faisalabad, Dera Ghazi Khan, Karachi, Sindh, Sargodha, Gujrat etc. have some difference in Metro MR 70 Jeet Price in Pakistan 2018 but it's little bit. If you want to know its exact price then stay connect with driver.pk.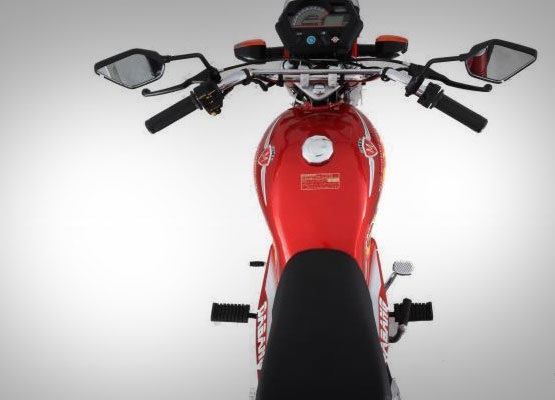 Metro MR 70 Jeet Look Fuel Tank, Meter, Glasses

Metro MR 70 Jeet Warranty Details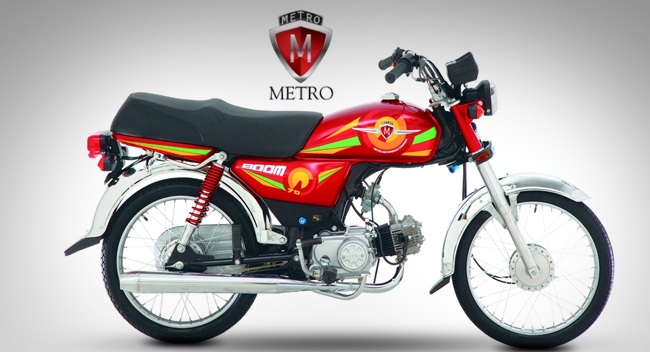 Metro MR 70 Jeet in Red Color Look same as Boom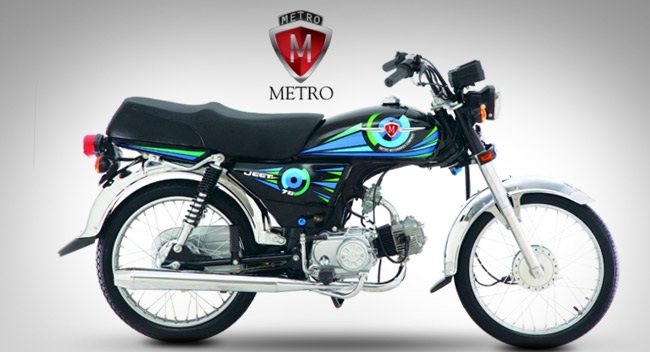 Metro MR 70 Jeet Original Delicious Color Look
Metro MR 70 Jeet Price in Pakistan 2018 Specs Features New Model Shape Pics
Metro MR 70 Jeet Specifications:
Bore & Stroke:                       47.0 x 41.4 MM
Clutch:                                    N/A
Starting:                                 Kick Starter
Displacement:                        72cc
Compression Ration:             8.8:1
Transmission:                         Four Speed Constant Mesh
Frame:                                    N/A
Overall Length:                      1885mm
Overall Width:                       760mm
Overall Height:                      990mm
Petrol Capacity:                     9 L/ 1 liter reserve
Tyre at Back:                          2.5017 PR
Tyre at Front:                         2.2517 PR
Ground Clearance:                135mm
Dry Weight:                           82 kg
Engine:                                 Wet sump, single cylinder, two valves, aire cooled with SOHC chain drive, four stroke
Metro MR 70 Jeet Price in Pakistan with latest launched model specification new features fuel mileage details tank capacity, available colors, new shape, engine interior details check here from. If you want to know any related information about 2018 Metro MR 70 Jeet Price in Pakistan then write us in comments below.