Drive precisely on slop or hills is a challenge drive while you are on automatic transmission. These car could be drive on prearranged principals which a driver has to repeat each time when he is going to start driving. But if you are going to drive somewhere in mountains then the principals will be change. You should be aware with theme so that you can drive safely and efficiently. Here I am telling you the easiest guide for How to Drive Automatic Car Uphill And Downhill in Northern Areas of Pakistan. Driving a car in these areas is not so easy because of narrow and curving roads with sheer slops and sharp knolls. So we recommend you that until you are now aware with driving an automatic car in down slops or uphill, never takes a risk of your pocket and life.
How to Drive Automatic Car Uphill in Northern Areas of Pakistan

Managing an automatic car in uphill is relatively easier than to a manual car. It is because the automatic cars are free of clutch and physical gear shifter. But you still have to follow some rules while drive automatic car uphill in northern areas of Pakistan.
When you start driving upward, you must remember the handbrake along with the brake paddle. Keep the car in "D" (driving mode) and use acceleration and brake paddles to speed up or slower down the car respectively. But in case you have to fully stop during climbing upwards must pull up the handbrake along with brake paddle. When you have to launch drive again you have to put your foot on the Gas paddle and left hand on the handbrake. Gradually release the handbrake and push the acceleration along with it and your car will normally drive forward.
In the older versions of automatic cars, there were only 4 options to shuffle the gear liver i.e.; P (Parking position), R (Reverse), D (Driving Position), N (Neutral). Later that the engineers update the panel with "Gear 2" and L (Lower Gear). Recently the latest automatic transmission is coming with more than 2 and 3 gears option which you can set according to the speed and situation. If you have a latest or older version of transmission the best and the most suitable gear position in uphill drive will be the gear 2 or 3 if the speed the steady. But you must bring the gear liver at position D when you are fully stopped and have to accelerate from zero speed.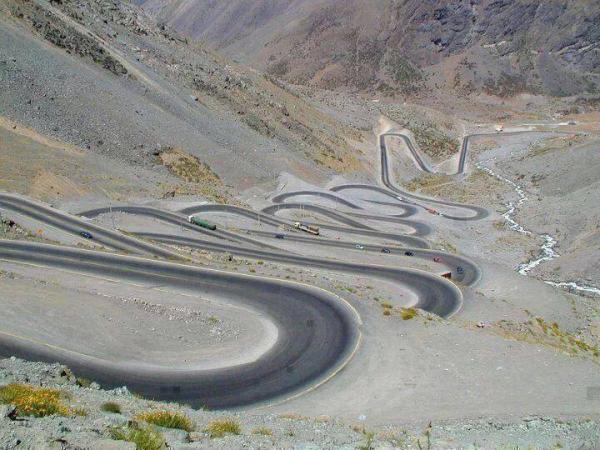 How to Drive Automatic Car Downhill in Northern Areas of Pakistan

If you start driving automatic car downhill in northern areas of Pakistan, you have gravity on your side. Once you release the handbrake on D mode your car will start moving which you have to control with the foot brake instead of handbrake. The steeper slops have more serious aspects which you must be follow to drive without any type of hazard even you are taking a sharp turn facing down.
Your car is in D mode and handbrake has pulled up, your foot is on the brake paddle and you turn the key to start the vehicle. After starting the engine you have to bring the handbrake down first and gradually release the foot brake, your car will start moving. You have no or less need of acceleration according to the slope position. When there is a sharp slide you have no need of acceleration but in case the slope is normal then you can apply a little bit of acceleration to keep the momentum. This will also prevent your car for rolling back.
Gear Position depends upon the condition of slop, such as if you the slope is sharp then you must bring the liver at lower gear (position L). And when the slop is sharp with sharp turns then you must bring the gear liver at position 2 or sometimes position 3 to provide engine breaking. When you are going in long downhill the engine breaking will reduce the chances of brake fail and assist your car in case of sudden brake or stop or even reverse.
Necessary Precautions For Uphill or Downhill:
When you are going to start drive automatic car uphill and downhill in northern areas of Pakistan, the following precautions are mandatory in both the condition in order to make sure the safety and to reduce the chance of any misshape even with the internal tactics of the car engine.
Seat Belt
Fasten the seat belt and make sure the lock is properly click.
Signals
Although it's not a technical aspect of driving, but it is necessary for safety reasons. Whenever you are climbing upward you must on the indication signals to alert the next and the preceding drivers about the urgency. After finishing the hills you must turn off the signals so that to indicate that your car is in normal driving mode.
Mirror and Shoulder Check
Carefully adjust the driver seat according to your height and length so that you can look into the side mirrors to locate the right left sides. It will make you more efficient during sharp driving even you are driving uphill or downhill.
Correct Gear Position
Automatic cars are so fragile so you have to keep the gear liver on the accurate position which the vehicle is requiring on the spot. Such as if you are on a straight road you have to keep it in D position, in case of parking the position if P, when car is on but you done have to drive it should be neutral N position. Similarly when you are driving uphill or downhill in automatic transmission car in northern areas of Pakistan, you must choose the correct gear as per the instruction I have written above.
Mechanical Check and Balance
When you start your trip for northern areas of Pakistan where you will face steer slops and sharp hills to drive. In these circumstances the mechanicals of your car should be up to dated and refresh. You must check out the tire air pressure, brakes condition, fuel tank and safety features of your car. It will keep you safe and sound and your drive will become joyful and pleased.
So now, I am hoping that you are all now well aware about in How to Drive Automatic Car Uphill And Downhill in Northern Areas of Pakistan. But if still you have any confusion or query in your mind you can ask from us via sending your comment in the following comment box. You can also suggest others about any tip or precaution abut to drive an automatic car in these risky roads of mountain areas of Pakistan. Thank You!