Honda CG-125 Vs Yamaha YBR-125 Comparison Price, Mileage, Specs & Features of Two Most Popular 125cc Bikes in Pakistan.Honda 125 and Yamaha 125 sports bike compare in rates, fuel capacity, comfortable, fuel average, shape, ride etc, complete details. Yamaha has launched its new bike YBR 125cc in Pakistan. So the People of the Pakistan now are comparing the YBR-125 and Honda CG-125. The detail of the both bikes are mentioned below,
Yamaha YBR 125 is powered by a 125cc 4-stroke engine coupled with a 5-speed gearbox to provide a smooth drive. The engine is equipped with an engine balance to minimize the vibrate. A powerful 245 mm single disk front brake in tandem with a 130 mm rear brake effective stopping.
Honda Motorcycles is result of the advanced Japanese technology which are best in quality, performance, speed, resale value and economy mileage and that's why Honda is the one of the best company and manufacturers in the world.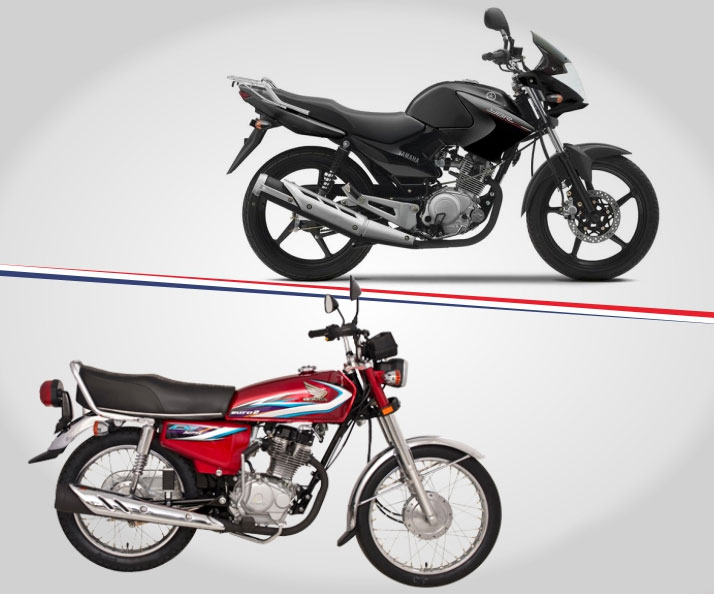 Honda CG-125 Vs Yamaha YBR-125 2016 Comparison Price, Mileage, Specs & Features
Other general features are also describing
Look:
The look of the Yamaha YBR 125 is very impressive. It looks like the 150cc or 200cc, like heavy bikes. Where, the CG 125 does not give the impression of heavy bike even after loads of modification because it is 39 year old design, although Honda had changed the design a little bit.
Performance:
The comparing of performance between the CG125 and Yamaha YBR 125 is very difficult. As YBR is new in the market so the performance of YBR is could not be described on other hand the Honda CG 125 is successful from the last few decades.It never disappointed the riders.
Comfortable:
The YBR 125 is more comfortable as than the CG 125 as its comfortable seat and good quality shocks makes its ride smoother and reduce the vibration.
Sound:
CG 125 has more lively and energetic sound as compared to YBR 125 because of its Euro 2 technology.. YBR's dynamic look does not cater its sound from any aspect.
Fuel Economy:
Fuel economy of YBR 125 is very impressive. It gives 55/km in one liter while the CG125 as not fuel efficient as Yamaha YBR 125.
Price:
In Honda CG 125 and Yamaha YBR 125 model most important distance is price, rate in all over Pakistan. Yamaha launched his model with sports features so price is higher then Honda 125.
Resale Value:
The resale value of the Honda CG 125 is more than the Yamaha YBR 125 as the Yamaha YBR 125 is just arrived and need to make its market value.
The specifications are compared in the following
Compare Specifications
                                                                Yamaha YBR 125                               Honda CG 125
Engine                                  4-Stroke Air Cooled, SOHC                           4-Stroke OHV cooled by air
Displacement                                                    124                                         125 cm3
Bore & Stroke                                    54.0*54.0mm                                     56.5 x 49.5 mm
Compression Ratio                                          10.0:1                                   N/A
Clutch                                                                   N/A                                        N/A
Transmission                      Constant Mesh 5 Speed                                Continuous 4 speed mesh
Starting                                Self Starter/Kick Starter                                                Kick start
Frame                                                   N/A                                                        Diamond Type Steel
Dimension (Lxwxh)                         1975*745*1085mm                         1911 x 732 x 1016 mm
Ground Clearance                           145mm                                                 140 mm
Petrol Capacity                                  13.0L                                                      9.2 Liter
Tyre at Front                                      2.75-18 42P                                         2.50 – 18 4 PR
Tyre at Back                                        90/90-18 51S                                      3.00 – 17 6 PR
Dry Weight                                         114Kg                                                    99kg