Suzuki Cultus EURO II 2018 Price in Pakistan = PKR. 1,034,000/.
Suzuki is famous for its name as family car this car is famous for its high tech performance. The design of this car is very simple yet so brilliant and allows you to behave more and more brilliant performance and you will be having a great ride. The market that Suzuki has built is commendable, and has sold 50 million units all over the globe. This is a most effective Japanese technology that has built is accepted worldwide. In  Suzuki Cultus EURO II model selling was higher than the older versions.
This car is having the great luggage room and having the enough space to accommodate your dear passenger and family. This car is having leg room, and can easily cover the long distance. Suzuki Cultus is very tinted head lights and having the bumpers that are very much elevated the looks that a car carry is very obvious and the looks are truly captivating. The car having four cylinders engine that allows the displacement of 997 cc making it much more efficient against the price that you pay. After include Euro II technology in latest model Suzuki Cultus there is many difference in fuel consumption.
The stability really matters in any car this car is light in weight as the wheels are made up of alloy, allowing you to have great torque facility. The transmission system is manual having the five levels of speed and the gear system is very effective. The new nice shades of Cultus are Metallic Silver, Pearl white, Black, Red ribbon, Icy Blue, Graphite Gray, Indica and many more at least six shades of it are available.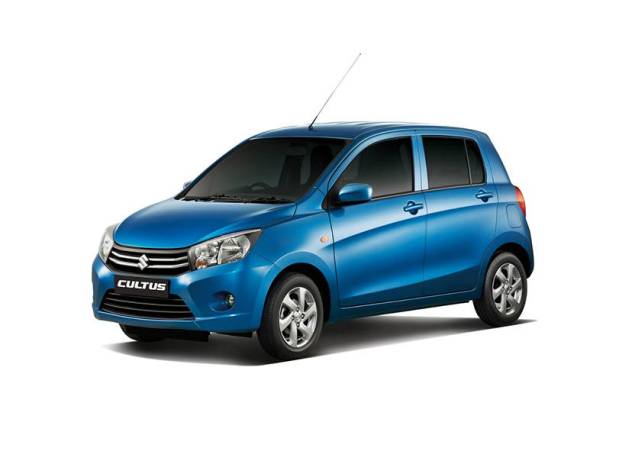 Suzuki Cultus EURO II 2018 Price in Pakistan New Model Features Review Pictures
Suzuki Cultus 2018 EURO II Specifications:
Engine:                                                         997 cc
Transmission:                                             Manual
Fuel Type:                                                    Petrol
Fuel system:                                                EURO II
Fuel Tank capacity (liter):                          40 L
Overall Length (mm):                                3845
Overall Width (mm):                                  1590
Overall Height (mm):                                  1380
Kerb Weight (kg):                                        650
Mileage Overall (km/ liter):                      22km/1L
Seating Capacity (person):                       5
No of Doors:                                               4
Wheel Type:                                               Steel
Wheel Size:                                                13 inch
Front Brakes:                                              Disc
Rear Brakes:                                             Drum
Suzuki Cultus EURO II 2018 Features:
Air Conditioner:                                             Yes
AM/FM Radio:                                                  Yes
Cassette Player:                                               Yes
Remote Boot/ Fuel-Lid:                                   Yes
Cup Holders:                                                     Yes
Folding Rear-Seat:                                           Yes
CD Player:                                                         Yes
Tubeless Tyres:                                                 Yes
Alloy Wheels:                                                   N/A
Power Door Locks:                                           N/A
Central Locking:                                                 N/A
Suzuki Cultus EURO II 2018 Price in Pakistan for new model mention in start if you have any other related best idea about brand new Suzuki Cultus EURO II 2018 then feel free and must share in comments section below.