Rolls Royce Phantom 2019 Price in Pakistan Starts from 6 Crore Approx
World's famous royal class luxurious cars manufacturer Rolls Royce Motor cars (BMW) are presenting the eight generation of Rolls Royce Phantom 2019. This car has launched London on 27th July 2017 at Bonham auction house in Mayfair. The great eight phantoms is bringing in Pakistan on pre-orders for just it real buyers. This is a luxury saloon car designed by the Giles Taylor Alex Innes who has also designed various famous models of Rolls Royce Ghost, Wraith and Dawn. Phantom VIII has 6,750 cm3 (412 cu in) displacement which can produce 563 HP @ 5000 RPM under a handsome torque of 900 NM @ 1700 RPM. In short it is a royalist car with power full specifications and handsome price. From this page you are getting the Rolls Royce Phantom 2019 Price in Pakistan, specifications with exterior/ interior features. So keep on reading to get these details…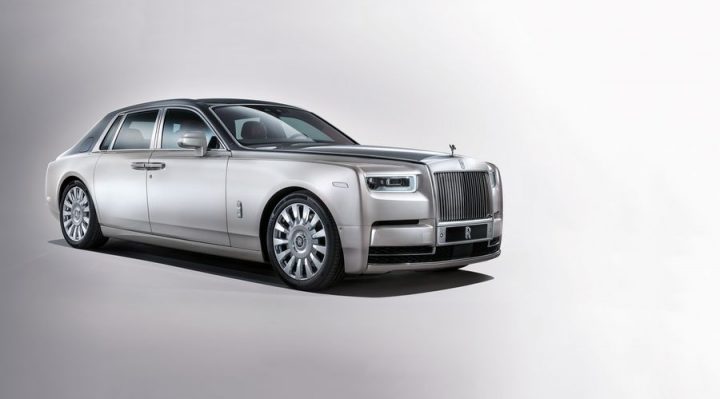 Exterior of Rolls Royce Phantom 2019

The eight generation of Rolls Royce Phantom 2019 exterior is redesigned. A one of the first changing in its exterior is the Rolls Royce logo "Parthenon" radiator grille is integrated in to the surrounding bodywork. This new style will not found in its predecessors. Besides this car has longer wheel base where the front bonnet is half to its passenger's cab. Car has a short front overhang and upright front end. Like its predecessor models this 8th generation of Phantom is also gaining the Rolls Royce Phantom identical coach doors or suicide doors. Besides this the dimensions are written in the following table while the images will clear its exterior details clearly.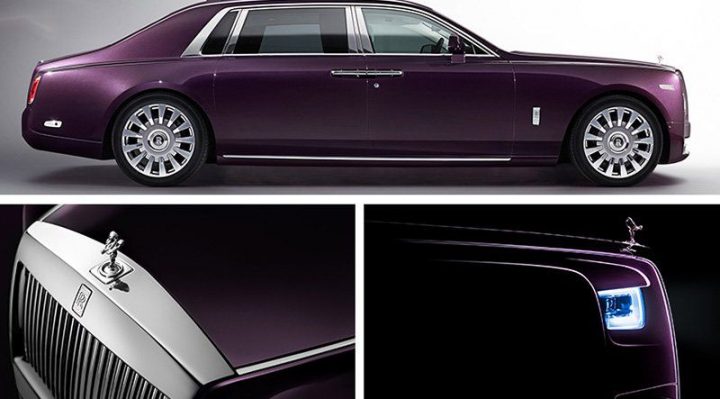 Rolls Royce Phantom 2019 Interior:
Inside the car, it is your drawing room more then to a car. Yes of course! A welcoming, spacious and roomy environment is waiting for you're within beautiful colors combinations and mood lights. Reclining style seats have ample rooms for hips, legs and head in order to make you feel like you are relaxing instead of journey. This luxurious car is loaded with all the safety and security features like Air Bags, bullet proof door mirrors, parking assist, automatic cruise control, accidental alerts and lots of other innovative features which I have written down in the list.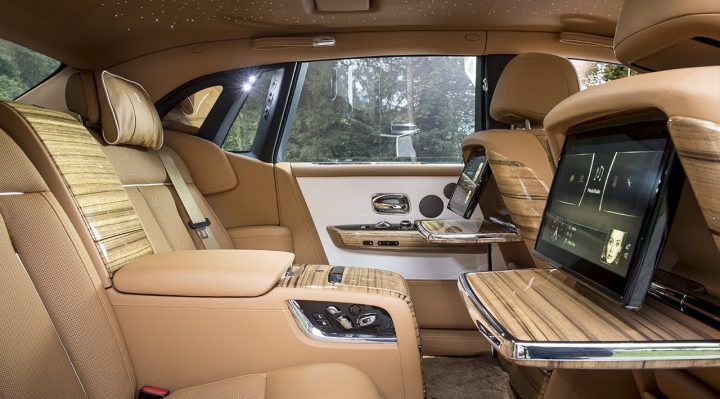 Rolls Royce Ghost 2019 Price in Pakistan
Rolls Royce Phantom 2019 Features:
Twin Turbo Engine
75 L V12 petrol engine
Set back passenger compartment
Aluminum space frame chassis
Self levelling air springs
Electronically controlled dampers
Wishbone front axle
Five links rear axle
Active Anti Roll Bars
Four Wheel Steering
250 KM Per Hour top speed
Night Vision
Active Cruise Control
Laser Headlamps
600 meters high beam range
Stereo Camera
Silent Seal Tires
Rolls Royce Phantom 2019 Specifications:
Powertrains
Model
Phantom
Phantom Extended Wheelbase
Power
563 hp (420 kW) @ 5,000 rpm
563 hp (420 kW) @ 5,000 rpm
Torque
900 N?m (664 lb?ft) @ 1,700 rpm
900 N?m (664 lb?ft) @ 1,700 rpm
Top speed
250 km/h (155 mph)
250 km/h (155 mph)
0-100 km/h (0-62 mph)
5.3 seconds
5.4 seconds
Body and chassis
Class
Full-size luxury car (F)
Body style
4-door saloon
Layout
Longitudinal front-engine, rear-wheel-drive
Platform
Architecture of Luxury
Powertrain
Engine
6.75 L N74B68 twin-turbochargedV12 (petrol)
Transmission
8-speed 8HP automatic
Dimensions
Wheelbase
3,552 mm (139.8 in) (SWB)

3,772 mm (148.5 in) (EWB)

Length
5,762 mm (226.9 in) (SWB)

5,982 mm (235.5 in) (EWB)

Width
2,018 mm (79.4 in) (SWB & EWB)
Height
1,646 mm (64.8 in) (SWB)

1,656 mm (65.2 in) (EWB)

Curb weight
2,560 kg (5,643.8 lb) (SWB)

2,610 kg (5,754.1 lb) (EWB)
Royal Royce Phantom 2019 Price in Pakistan:
It is because the car has not yet brought in Pakistan so that is why company has not officially announce any price tag but the Rolls Royce Phantom 2019 Price in Pakistan is between Rs. 6 crores to 7.5 crores PKR rupees which is a highly expensive car available in Pakistan.