Not everything that looks attractive or true from its external looks turns out to be so. The same case anticipates when you are going to buy a used car in Pakistan. There are lots of veiled aspects that could be hidden behind the paint, chassis, and locomotives. If you are aware of how to detect these blunders then you can only be safe from any fraud. Here we are telling you tips and guide about how to check used cars before buying in Pakistan. Now you can How To Check Used Car Before Buying In Pakistan interesting details. Driver. pk recommends you be aware of these facts and figures so that you own a genuine product in return for your genuine amount. Most of the time the dealers who are dealing in used cars are more clever than the common buyer. They can pelt with even a castoff car as an extant which one can't judge if he is not aware. Besides the dealers, these days online selling and buying websites like OLX and Bole, etc. are dealing with general consumers to a general consumer. Although it's a secure way to buy a car but still you should be aware of important features to check before buying a used car in Pakistan.
How To Check Used Car Before Buying In Pakistan
If you are going to buy a used car then some points must check. So all those points are going to be mentioned below for user information.
External Condition
Body paint is genuine or not
Accidental status
Showered or not
Legal verification online
Car history (police or criminal)
Mechanical and technical status
Engine performance
Suspension
Test drive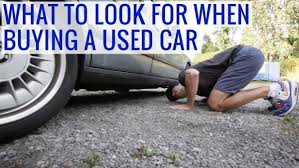 Body Condition:
The thing which you see at first is the appearance of the car or the body condition. You have to make sure that the car body is not healed with paint or tint after accidental damage. The perfection of a car center and good quality paint can vanish even a single scratch on the body but the eye of a skilled car mechanic can detect these spots. Besides the mechanic, a molding spotlight is now available in the market which can highlight any paint work done on the car except the genuine one. So you can manage if there are some sort of small damages but in case of big accidents and body denting and painting, you must be shuffled for the next car examination.
Car Chassis Tempered or Showered?
After making sure of the body condition, the second most important thing is to check if the vehicle is showered or not. You must buy a non-showered car. A showered car means that the car chassis and the documentation are not legally genuine. In case of a non-custom or a shoplifting car, some mechanic or dealer temper the genuine chassis number with a gas heating and place the new number from any other non-existing car documents.
In this case, the chassis number written on the documents and on the chassis would be the same but actually, the car is somewhat else. This is a big problem these days in Pakistani automobile markets. Most online buying and selling are involved in such cases. So must be aware of the recognition of a showered or a non-showered car so that you can stay safe from any type of police action later.
CPLC Online Vehicle Verification:
After the above-written queries, the next important instinct about how to check used cars before buying in Pakistan is the CPLC car verification. You can dial the 1261 CPCL helpline number for more assistance. The Citizen Police Liaison Committee is an online vehicle verification system working all over Pakistan. This is the easiest way to check the first and the afterward ownership of a vehicle including the history of that vehicle.
You have to send the vehicle number from the number plate, registration number, and chassis number to the queries, and in reply, you will get the real status it of the unit record. It tells about if the car was involved in some police or criminal case or not or if the car is legal or not.
Mechanical and Technical Status:
The mechanical and technical status gathers the car's performance, engine condition, and suspension. So in order to check the engine condition you can check the oil lid after opening the engine hood. Afterward, you have to take a test drive if you are experienced otherwise you can take someone who is understanding abilities about a car engine performance after one drive. The test drive will actually tell you all about the engine condition like suspension, fuel consumption, and technical and core positions. Sometimes a car model is newer but the use was so intense and rough that has ruined the real power of an engine.
Similarly, sometimes the car has technical faults genuine by a company which is also a minor factor seen around. According to me, these are minor issues because you can get repair them with a good mechanic. But the main and most important tips and guide about How To Check a Used Car Before Buying In Pakistan are the top three points.