Honda Pridor 2018 Price in Pakistan

= 86500/.
Honda is the leading selling brand of Pakistan as far as the sale of motorcycles is concerned. There is no denying the fact that of all the technological innovations of Atlas Honda Limited, the Honda Pridor is the most successful and very popular product. The new Honda Pridor 2018 is ready for setting new trends in the continuously evolving world of motorcycles. This is one of the best products by Atlas Honda (a joint venture by Atlas Group Pakistan and Honda Motors Japan). It comes as an advanced version of CD 100 that was released earlier.
After the high applause and appreciation of the potential customers for the Honda CD 100, the latest technological innovation is a special updated version for the Honda motorbike lovers. The layout of this motorcycle is similar to those of the other heavy bikes by the company. With the ultimate launch of this highly demanded bike, the next year is expected to be a busy one for the motorbike dealers throughout the country. The engine type is 4-Stroke OHV which is one of the best machines that a company can install in its motorbikes. Further appeal comes in the form of its characteristic feature of being cooled by air.
All these qualities combined, make it the most capable engine with a smooth air exhaust system. As you might have seen that almost all the 125 models launched by the manufacturers were available in both red and black colors. The Honda CD 100 was the first bike of its type that was available in red color only. Being a brand new version of its predecessor (CD 100), for the time being, the motorbike is being provided in red color only. The Honda Pridor 100 is the most stylish and elegant looking one by the renowned Atlas Honda Limited. the contoured sleek design adds to its immense beauty.
In addition to it, garnished side covers of the fuel tank, a glossily lit new dashboard layout speedometer, stylish and vivid headlight with visor and modish winkers and backlight impart the vehicle extra elegance. With all these upgraded features, you get an attractive new design for the two-wheeler. Some additions have also been made in the headlight which seems like a crystal covered bulb emitting a beautiful stream of light and adding greatly to the front look of the bike. On the other hand, the dashboard layout speedometer shows close resemblance with those of the heavy bikes.
Honda Pridor 2018 New Model Shape Pics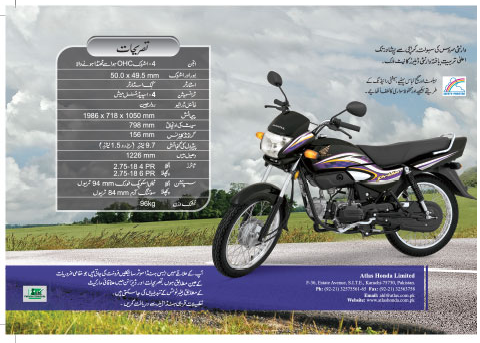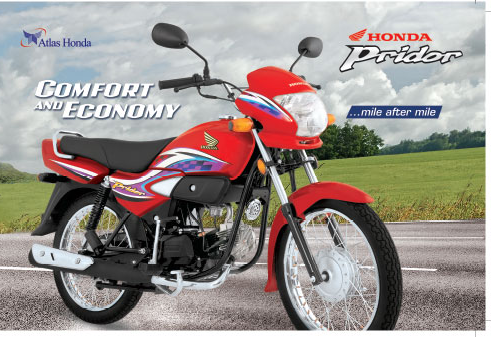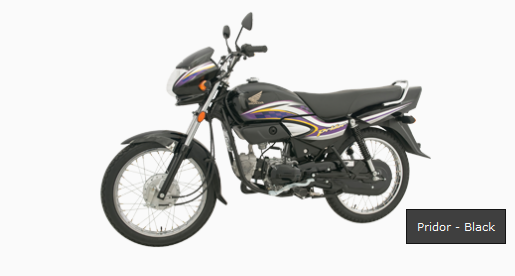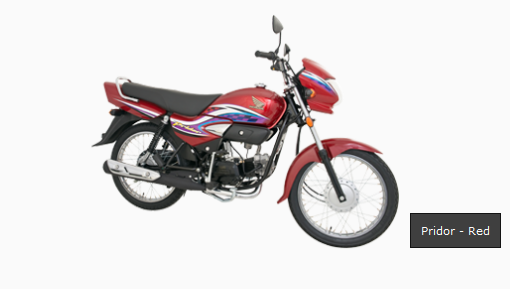 New Honda Pridor 2018 Specifications:-
Engine 4-Stroke OHV air-cooled single cylinder
Bore & Stroke 50.0 x 49.5 mm
Starting Kick starter
Transmission 4-speed constant mesh
Final Drive Roller Chain
Measurement 1986 x 718 x 1050 mm
Seat height 798 mm
Ground Clearance 156 mm
Fuel tank capacity 9.7 liters (reserve 1.5 liters)
Wheel base 1226 mm
Tyre at Front 2.75 – 18 4 PR
Tyre at Back 2.50 – 18 6 PR
Suspension at Front Telescopic fork 94 mm travel
Suspension at Back Swing arm 84 mm travel
Dry Weight 96 KG