Unique UD 100 2018 Price in Pakistan = PKR 85,500/.
D.S Motors has launched their new bike under the brand name Unique UD 100. D.S motors launches the all UNIQUE bikes in Pakistan Include 70cc, 100cc and 125cc. Unique is one of the leading company of the China bikes. Unique bikes are the most selling bike in the Pakistan because of its quality products. Unique UD100 is the stylish and dashing bike.
Unique UD100 has 4-stroke powerful engine cooled by the air. It has dashing engine sound which also indicates its powerful engine. It is self starter displacement is 100cc. It has great fuel economy which is better than the other 100cc china bikes. Unique UD100 petrol tank capacity is 10 liter and dry weight is 150 kg. Unique UD100 has strong side cover with lock.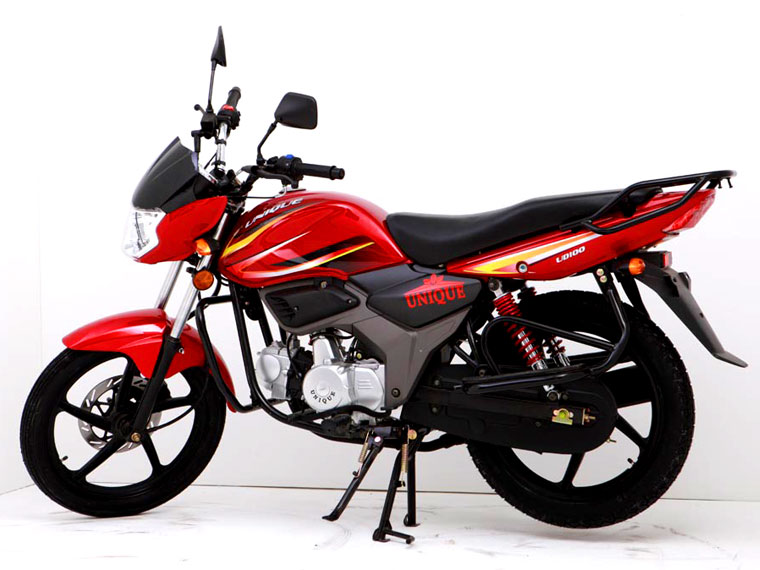 Unique UD 100 has great resale value. When you are need to sale the bike then you can sale the bike at reasonable price at any time. It is a high performance, elegant, fuel economical and reliable motor bike. It is the beautiful bike of Pakistan of the modern era. Unique UD 100 is now selling like a hot cake because of its stylish look and design.
Unique UD 100 Features:
Unique UD 100 is stylish bike of the modern Era.
Unique UD 100 is made by the solid material.
Classical fuel mileage
Stylish and new design petrol tank with newt graphics.
Disk Break means more safety.
Unique UD 100 is self starter.
Dashing and smooth sound
Unique UD 100 Specifications:
Engine                                    4-stroke air-cooled
Displacement                          100c
Bore & Stroke                        N/A
Compression Ratio                 N/A
Clutch                                   disk break
Transmission                         4-speed
Starting                                Self Start
Frame                                   backbone type
Dimension (Lxwxh)                 N/A
Ground Clearance                 N/A
Petrol Capacity                    10L
Tyre at Front                         N/A
Tyre at Back                          N/A
Dry Weight                           150Kg
Unique UD 100 2018 Price in Pakistan is PKR 85,500/.