Treet TR 70 Self Start 2018 Price in Pakistan =  PKR 48,000/-
Treet Company has launched the new Bike Treet TR 70 Self Start 2018 model Bike with new shape and decent look. The Treet Corporation Limited is an internationally famous manufacturer of razors, blades and other products. The company is based in Pakistan and exports its products to over 35 countries in the world.
Treet a motorcycle company established with the cooperation of China. Keeping in mind the growing importance of engine and fuel efficiency, Treet has introduces its latest Treet 70 Self Starter bike in the market which is powerful and more dynamic. In addition to its established superiority in terms of durability and fuel economy. Treet TR 70 Self Start 2018 Price in Pakistan is an ideal combination of attractive design with super econo-power and smoke-free 4 stroke engine which promises you the most economical of your life.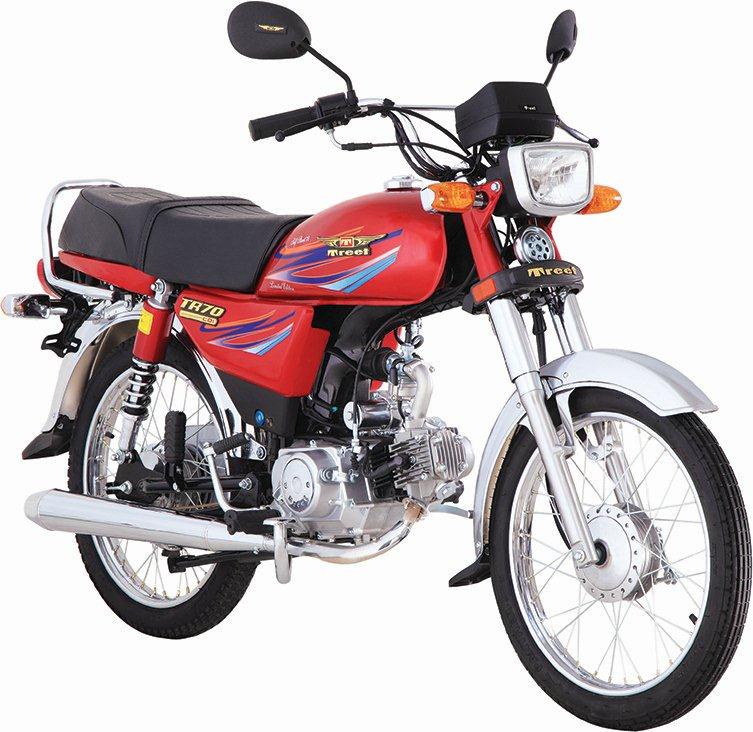 The peculiarity about the Treet Bikes is that they are not merely highly fuel efficient but also come with eco friendly features. Also give you a comfortable drive no matter whatever road condition. Treet TR 70 Self Start Bike available in market with new light, Dimmer and attractive look. Company use the Air Cooled 4 Strock engine OHV, Drum Break, Center Axel from 277 Tube and self Starter. Treet TR 70 is the only model that comes with the latest technology Self Starter. The bike will cause least pollution in the already polluted environment of your country as well as cover more distance in less fuel.
Treet TR 70 Self Start  2018 Model Features:
Self starter
Air Cooled, 4 Strock OHV
Elegant Design
Latest Graphics
outstanding Fuel mileage
Great performance
Treet TR 70 Self Start 2018 Specifications:
Engine Type Air Cooled, 4 Strock OHV
Bore & Stroke 50.0 x 49.5 mm (1.85x 1.53 inches)
Brake System Drum Break (F & R)
Starting type Self Starter
Frame Back Bone Type
Front Suspension Center Axel From 277 Tube
Back Suspension Spiral Spring
Size Length X Width X Height 1885mm x 815mm x 1190mm
Front Tyre 2.50 – 17 4PR
Rare Tyre 2.50 – 17 4PR
Dry Weight 82kg (180 lbs)
Colour Red / Black
Treet TR 70 Self Start 2018 Price in Pakistan =  PKR 48,000/-