Super Power SP 70 Price = PKR
42,500/.
China company product this bike. .The Super Power SP-70 is a struggling motorcycle brand in Pakistan. The company has tried its level best to bring up its newly designed motorbike. But to give your product an attraction so that it can catch the eyes of people, a company needs to present a product based on innovation, reliability and style.With smart engineering and innovative intelligence, Super Power has made an effort to bring up its newly designed SP-70CC bike to meet the present need of Pakistani bike riders. The company has followed the same fundamentals and standards which are already famous in Pakistan for designing and shaping the bike. The bike is virtually identical while comparing it with other company's bikes.This motorbike is almost identical to other 70CC bikes in the country. But in our opinion this motorbike could multiply a huge business with something innovate in it.
The bike is comparatively lighter in weight than other replica bikes like metro, super Asia and road prince. The headlight is exactly the same as of other bikes of similar category but the indicators and brake and brake lights are illuminated with LEDs. And the indicators are comparatively larger than other bikes. We feel that this motorbike lacks a sporty look and innovative design. Furthermore, the long term reliability of this motorbike is a huge question mark.
If this motorbike is fascinating you, we would suggest you to visit the entire motorbike market and compare this motorbike with other bikes. You will come to know about some important facts. The internal features of this motorbike such as torque rate, suspension system and engine capability is exactly the same as other bikes. After a distinct analysis I have concluded that this motorbike is not worth purchasing. If you need a motorbike with a lower price tag, go for some other one but not the Super Power SP 70. Super Power SP 70 price in Pakistan New Model mention above here.
Super Power SP-70 New Model Pictures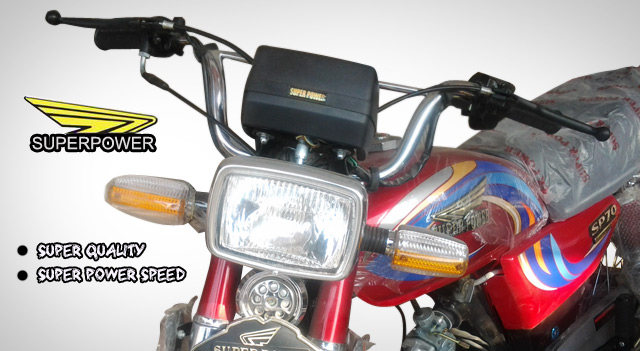 Super Power New Model Front Look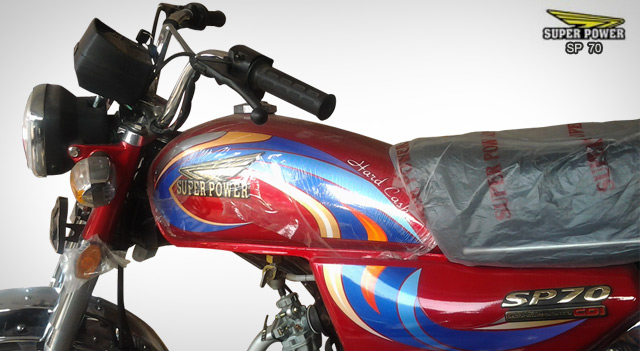 Super Power SP-70 New Model Look Shape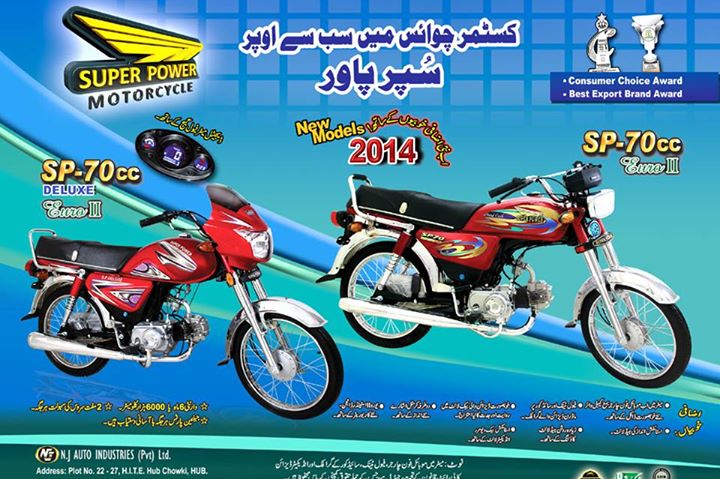 Super Power New Model Details
Super Power Features & Specifications :-
4-Speed Transmission System
4 Stroke OHC, Air Cooled, Single Cylinder
Kick Starter System
Attractive Speedometer
Strong Shock Absorber
Lockable Side Cover
Enhanced Chromed Rear Shock with matching upper Glass
More efficient, more powerful and ultra compact Engine
Durable and Comfortable Seat
Fuel Tank Capacity 10L
4 Speed Gear Transmission
Mobile Charge Facility in Meter
| | |
| --- | --- |
| Model | Super Power SP-70 |
| Transmission | 4 Speed Gear Transmission |
| Year | New Model |
| Engine Type | 4 stroke air cooled single cylinder |
| Starting | Kick |
| Petrol Capacity | 10 Liter |
| Weight | 82 Kg |
| Fuel reserve capacity | 1.2 Liters |
| Brakes | N/A |
| Color | Red, Black |