RAVI Hamsafar is a motorcycle company that is newly approved by the government of Pakistan. Ravi Humsafar 70 New Model 2021 Price in Pakistan is available here. It is certified by PSQCA as the 5th brand in Motorcycle Industry. Ravi new model ensures better reliability, stability, and quality. It is based on Japanese technology which is 72cc, 4 strokes, and single cylinder and weighs almost 82kg.
Ravi Humsafar 70 New Model 2021 Price in Pakistan:
The price of this bike in Pakistan is 45,000 PKR which is surely a good price with this kind of bike with such unique features.
Ravi's 4 strokes 72cc engine has made a benchmark in mileage with mile coverage of 70km per liter. The compression ratio of Ravi 70cc is 8.1:1, maximum Horse Power is 7.0 PS @ 6500 rpm that is able to produce 5.4 N.M @ 6500 rpm torque. The Transmission rate is 4-speed constant mesh with all gears forward. The bike can store almost 9.5 liters of petrol on the stylishly designed tanker. The bike has to be started with the kick that uses a capacitor discharge ignition system.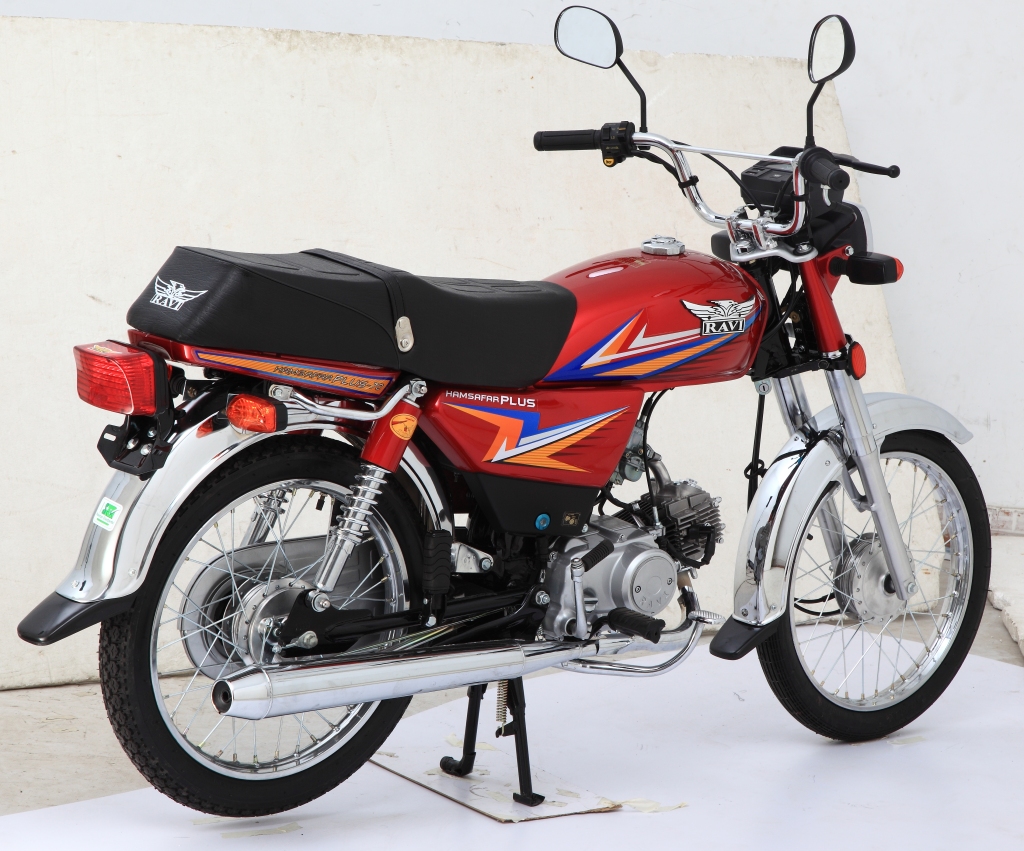 The suspension of the bike is highly fixed and comfortable with coil springs Telescopic Hydraulic Forks in front and double-acting hydraulic shock absorbers, with coil springs at rear, gives really a smooth drive. The Speed-o-meter is stylish and colorful with a sleek design. The headlights and indicators are equally smart with crystal lights.
The overall impression is excellent. Every year, RAVI Hamsafar introduces so many motorcycle models for the customers. Recently, RAVI Hamsafar has introduced another motorcycle model names Ravi Hamsafar 70. This model of the motorcycle has incredible and the latest features. We would like to mention that the suspension of this motorcycle is highly fixed and it is very comfortable with coil springs. In this post, we will discuss the important specifications and price of Ravi Hamsafar 70. Ravi Humsafar 70 Price in Pakistan mention above in the post.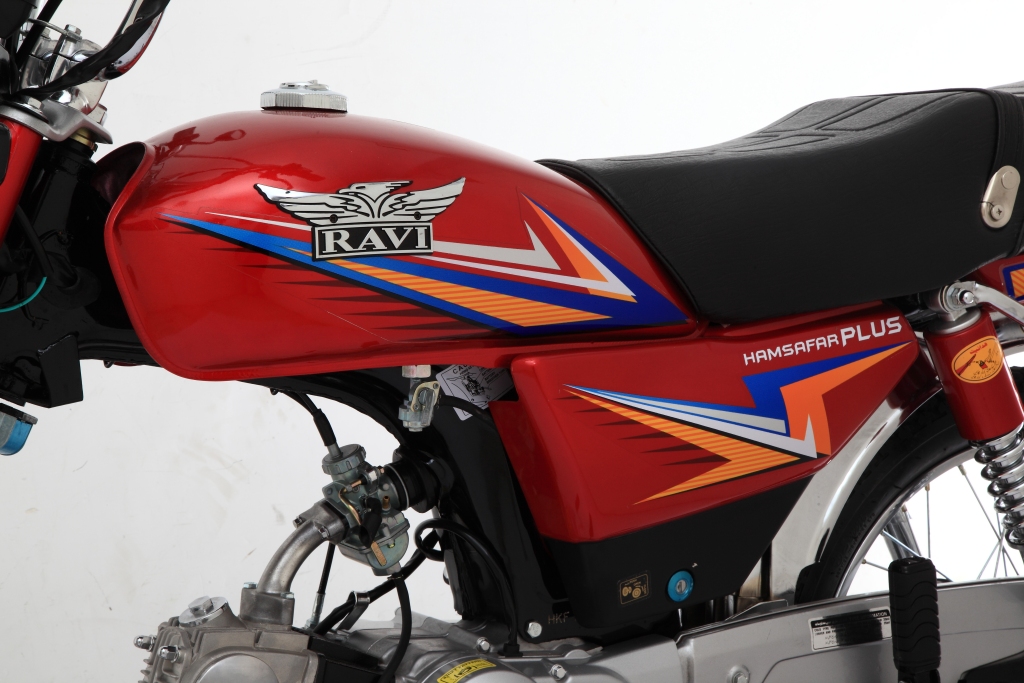 Ravi Hamsafar 70 Features & Specifications:-
The features and specifications of this bike are enlisted below:
The most important specification of Ravi Hamsafar 70 is that it has 4 strokes, a single-cylinder, and air-cooled.
The second important specification is that it has a kick-starter system along with a 72cc economical engine.
Another important specification is that Ravi Hamsafar 70 is that it has a 4-speed transmission system.
Moreover, Ravi Hamsafar 70 has a fuel tank capacity of 9.5L.
Furthermore, this advanced motorcycle has comfortable seat along with an elegant front as well as a backlight.
Lastly, Ravi Hamsafar 70 is available in many colors such as red, black, gray, and blue.
These were all the specifications and features of this bike. Ravi Humsafar 70 New Model 2021 Price in Pakistanis slightly reliable.