Honda CG 125 2017 mileage fuel average details in Pakistan. Latest model of Honda CG 125 Euro-2 fuel capacity, average on all Pakistan cities roads, village roads with and with out weight.New launched models of Honda 125 mileage details with speed also described. Honda has earned a great name in Pakistan because of its quality products.Honda Company has recently launched the Honda CG 125 Euro 2 in Pakistan.The latest model of Honda CG 125 Euro 2 gives great fuel economy. Honda CG 125 Euro 2 generates 11 horsepower with low fuel consumption and that's why fuel consumption even on the tough roads is very low.Its fuel tank volume is 9.2 liter and fuel system is direct injection. Honda's CG 125 Euro 2 fuel type is Petrol (Gasoline).
On stock/ Factory setting the mileage of the Honda CG 125 is hardly 30-35 km/liter. Factory setting should not be change even 7000 km and after this bike can be readjusted and it will give the average of 45 km/liter. The mileage average is also depending upon the way that you drive; Fast driving is also the decrease the mileage.
Honda CG has tachometer with fuel gauge which indicates the remaining amount of the fuel which helps the riders to refill the fuel before the tank gets empty. Its average is about 45 km/liter which is very good and it has smokeless engine which helps to protect the environment. It is Honda's first ever bike in Pakistan with 5 gear box.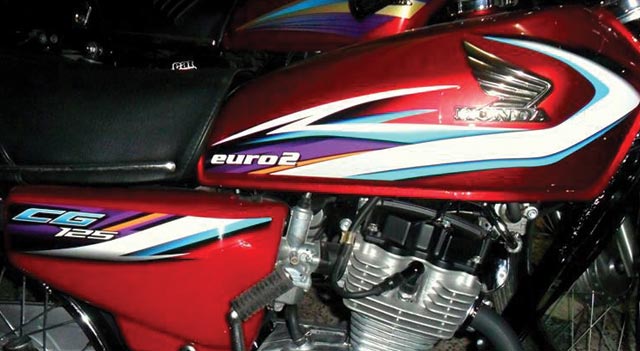 Honda CG 125 Mileage Fuel Average Details in Pakistan
In the latest model Honda CG 125 Euro 2 has 12 volts battery instead of 6 volt which generates great fuel for lights and indicators. It also helps the easy starting. Honda CG 125 Euro 2 has stylish and comfortable seat for better riding. Its shocks decrease the vibration of the tough roads. It has stylish front and back light. Honda CG 125 Euro 2 is kick starter. Honda CG 125 Euro 2 has dashing sound because of its Euro 2 engine power.
Improvements:
Euro 2 Technology
Improved Valve set and Tappet Assembly
Improved Rocker Arms and Came Assembly
Black colored silencer with chrome platted guard
New Graphics
Key Features:
Comfortable Seat with Rear Grip
New Beautiful Petrol Tank with Graphics
Strong 4-Stroke Smoke less Engine
Stylish Speedometer with Economy Zone
Elegant Front Light
New Shape for Back Light
New tachometer with fuel gauge
Honda CG 125 Euro 2:

   Engine:                                     4-stroke OH V air-cooled
   Displacement:                          125cc
   Starting:                                   Kick Starter
   Petrol Capacity:                       12 liters
   Dry Weight:                             99 KG
   Colors:                                     Red and Black
   Fuel Efficiency:                         50+KM/1L
Honda CG 125 Mileage Fuel Average:
Honda CG 125 Fuel Tank Capacity:  12 Liter
Average Fuel in Per Liter:  50+KM
Average with weight in Per Liter:  45+KM